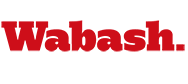 Basketball Team Advances to NCAC Semifinals
by Jim Amidon

February 25, 2004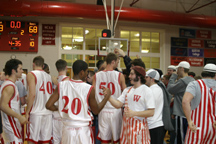 Players and fans celebrate the victory over Allegheny

Senior Matt Storm scored 18 points and sophomore Adonis Joseph added 17 points to help the Wabash basketball team advance to the semifinals of the North Coast Athletic Conference tournament by virtue of a 73-68 win over Allegheny in first round action.

Wabash, which led by 14 points in the first half, had to come from five points down with seven minutes to play to collect the victory, the team's 12th on the season and 10th in NCAC competition.

The Little Giants face stiff competition when the NCAC Tourney resumes Thursday night in Springfield, Ohio. Wabash will play top-seeded Wittenberg in semifinal action. The Tigers won the regular season title with an unblemished record, including two wins over Wabash.

With their backs to the wall on their home court, the Little Giants went on a 15-2 run to retake the lead. Two seniors made the ultimate statement in their last game on Chadwick Court. Zeljko Gavranovic stepped in front of an Allegheny pass, stole the ball, and heaved it half court as he fell out of bounds. The ball was calmly collected by Storm, who made the layup to give Wabash the lead for good.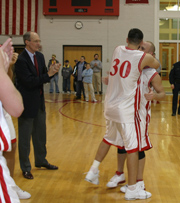 Gavranovic and Storm celebrate their last game at Chadwick Court

Gavranovic fouled out in the game, but not before he scored four points, gabbed a team-high six rebounds, made two steals, and dished out two assists. Storm did his part, too. Although his long range shot wasn't falling, he weaved inside to score 18 points, collect six rebounds, and he added three steals.

Eleven Little Giants played more than 11 minutes in the game and all 11 players scored points. All but one had a rebound, too.

Joseph continued his excellent play of late, hitting 7of-10 shots for 17 points with five rebounds and a pair of steals. Nate Bell added nine points on 4-of-6 shooting and George Colakovic scored seven points with three board and three steals.




For more information see: