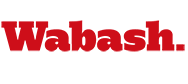 Wabash to Present THE ILLUSION February 18-21
February 10, 2004

Get directions to Wabash College Fine Arts Center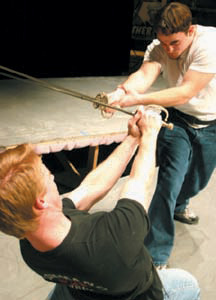 Crawfordsville, Ind.— The Wabash College Theater production of Pierre Corneille's The Illusion, freely adapted by Tony Kushner, will begin a run of four performances on Wednesday, February 18 at 8:00 p.m. in Ball Theater in the Fine Arts Center. Performances will continue nightly through Saturday, February 21.
Tickets for the play are free. However, you must obtain your free tickets at the Fine Arts Box Office before attending a theater production. Tickets are available from the Fine Arts Box Office Monday through Friday—8:30 a.m. to 12 noon and 1:30 to 4:00 p.m. or you can email them at boxoffice@wabash.edu. The Box Office will open 90 minutes before curtain time. For phone reservations, call 765-361-6411.
The production is directed by Wabash College professor of theater, James Fisher, with scene design by Michael Bricker, lighting design by James Gross, costume design by Laura Conners, and fight choreography by Mark McCarthy. The cast includes Sterling Carter, Denis Farr, Anna Fisher, Abby Gillan, Wayne Lewis, Matt McKay, Jason Roberts, and Richard Winters. Donald Claxon is stage manager and Brett Gann is assistant stage manager.
The Illusion is a modern rendering of L'Illusion Comique by Pierre Corneille (1606-1684) tells the story of a contrite father, Pridamant, who seeks news of the prodigal son he ordered from his house years before. Pridamant goes to a magician, Alcandre, who conjures three episodes from the young man's life. Inexplicably, each scene finds the boy in a slightly different world: names change, allegiances shift and fairy-tale simplicity evolves into elegant tragedy. Pridamant watches, enthralled by his son's struggles, but only as the strange tale reaches its conclusion does he confront the ultimate – and unexpected – truth about his son. An enchanting argument for the triumph of theatrical imagination over reality, The Illusion weaves obsession and caprice, romance and murder, fact and fiction, into an enticing exploration of the greatest illusion of all—love.
Pierre Corneille was one of the dominant figures in the development of 17-century French neoclassical drama. During his long association with the theatres of Paris, he wrote more than 30 plays, including comedies and the tragedies for which he is best remembered. His early plays include Clitandre (1631), La Veuve (163-32), La Galerie du Palais (1632), La Suivante (1633), La Place Royale (1633), Médée (1635), and L'Illusion Comique (1636). In 1637, the production of his most celebrated play, the tragicomic Le Cid, marked the beginning of a major resurgence in French drama, and in 1647 Corneille was elected to the Académie-Française.
Corneille's L'Illusion Comique has been freely adapted by Pulitzer Prize-winning playwright, Tony Kushner, author of Angels in America (1992-93) Kushner's other plays include A Bright Room Called Day (1985), Hydriotaphia, or The Death of Dr. Browne (1987), Slavs! Thinking About the Longstanding Problems of Virtue and Happiness (1994), Homebody/Kabul (2001) and Caroline or Change (2003). Kushner is also the author of numerous one-act plays, screenplays, opera libretti, essays, and adaptations of plays and stories by Goethe, Heinrich von Kleist, The Brothers Grimm, S. Ansky, Bertolt Brecht, and Ariel Dorfman.
The final theater production for the 2003-2004 season will be The Lord of the Flies on April 14-17.