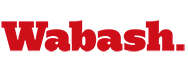 Admissions Blows By 1,000 Applications
by Jim Amidon (this column originally appeared in the Journal Review)

January 22, 2004

I was in a meeting not long ago when Wabash's Dean of Admissions Steve Klein announced matter-of-factly that his staff had gone over the 1,000-application mark that day. Without taking a breath, Steve moved on to the next item on his list of reports. I interrupted him with a faux round of applause. Suddenly everyone in the meeting had come to the same realization that I had: reaching what was once only a long-shot goal has become so commonplace under Klein's leadership that we don't even pause to recognize it any more. Not that long ago, Wabash scoured the country in search of 600 or 700 applications from qualified young men. When Klein and President Andy Ford set the goal at 1,000 applications, some of us thought it was a pipe dream. A couple of years ago when the Admissions staff reached 1,000 applications in February, we celebrated with cake. Now that milestone gets only a brief mention. The goal this year is 1,400 applications for roughly 250 spots in the freshman class. And I bet Steve Klein and his staff of counselors get pretty close after two straight years of more than 1,300 applications. If Wabash receives 1,300 applications for admission, about half will be admitted and somewhere around 40 percent will choose to enroll. The target is always about 250 new freshmen. What's the secret to the Admissions Office's success? President Ford, with a nod to football coach Chris Creighton, reminds us that the reason Wabash is so successful in recruiting men when other colleges struggle to do so is because from the very first interaction, Wabash shows them that we care about them and value them as individuals. Coach Creighton was recently interviewed by a national coaching magazine. In the story he said, "From the very beginning, our freshmen know that they are important and valued." Ford continues, "They know we like them, respect them, and will care for them." The president and coach are dead right. The reason Steve Klein and his talented admissions counselors have been so successful where others have failed is because they develop very personal relationships with the men they recruit. It continues to pay off for Wabash and for the young men who eventually enroll here. When our counselors show such intense interest in these men they get only a sneak peek into what four years on the Wabash campus will be like. Dean Klein and his staff can't pause to celebrate the 1,000 applications because they're still looking to develop relationships with 400 more prospects. But the rest of us who care so much about Wabash should pause to give the Admissions Office a round of applause. Jim Amidon is director of public affairs and marketing and secretary of Wabash College.