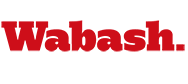 Conservative Columnist to Speak at Wabash
January 22, 2004

Conservative columnist and frequest television commentator Ann Coulter will present a public lecture at 7:00 p.m. on Thursday, January 29 in the Wabash College Chapel.

Her talk, entitled, "Liberalism and Terrorism: Different Stages of the Same Disease," is sponsored by The Wabash Commentary, The Clare Boothe Luce Policy Institute, as well as the Wabash Student Senate.

The lecture will be followed by a question and answer session. Ms. Coulter will sign copies of her books, Slander and Treason at a public reception to follow in the Little Giant Room of Sparks Center.