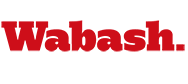 Paul McKinney: A Man of Ideas
by Jim Amidon

January 12, 2004

When Paul McKinney passed away on December 20, I was literally on my way out of town to spend the holidays with my family. The time away gave me ample opportunity to reflect on the legendary chemistry professor and dean of the college who for 50 years had a profound impact on this community and the men who attended Wabash College.

The long drive to and from Florida allowed me to recall fondly my interactions with Paul McKinney. He was Dean McKinney during my time as a student at Wabash. I no longer remember when I first heard him lecture, but do remember his dynamic orations on Nietzsche and Plato, two scholars near and dear to his heart.

I thought about his words to the graduating seniors of 1987 when he addressed us at breakfast on the Saturday before our commencement. I can still picture him at the podium, arms raised high in the air as he explained confidently that we could and would change the world.

And I distinctly remember his keynote speech to the football team at the 1986 awards banquet. Nobody but Paul McKinney could keep 100 men riveted to his every word as he described the vastness of the universe; the physics that allow a football to fly through the air; and the love of Wabash men for the sport.

Paul McKinney was a man of ideas, and throughout his lifetime he taught hundreds if not thousands of Wabash men and their teachers to think deeply and critically. In fact, to this day when I recite Wabash's mission statement, the phrase "think critically" causes me to think of Dean McKinney. To him, Wabash succeeded in its mission if it graduated men equipped with keen critical thinking skills.

In one conversation he could wrestle with the biggest questions mankind has ever posed—why do we exist? what theories govern the universe?—and in the next breath discuss a poem with meaning that touched him.

He could also comfort the lost or ambling student who needed a guidepost, or play a beautiful concerto on the piano. He loved the theater, both acting and attending a good play. (I know that when I was a student actor I always tried my best when I knew he was in the house.)

Paul McKinney was that way. He always brought out the best in Wabash men, for many of us aspired to be a man of his ability and character, knowing full well we could never achieve his intellectual status. Still, he gave us the best possible model for a liberally educated man.

Young alumnus John Deschner wrote to us last week when he heard of Professor McKinney's death. John is somebody who loves challenging ideas. He recalled after-class conversations with McKinney: "He's got a mild look in his eyes and a bit of a smile on his face, and he's dropping things on me that are going to keep me up at night flipping through a new world."

Paul McKinney kept a lot of Wabash students up at night, striving to be their best; challenging existing ideas; trying to figure out the forces that bind the universe and the equations that explain our existence; and listening for subtle nuances in symphonies that otherwise would have gone unheard. I'm thankful, like so many Wabash men before me, to have known and studied under Paul McKinney. May God bless him, his wife, Irmi, and their children.

Paul Caylor McKinney — Some Little Giant!