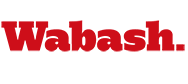 Wabash on the Road in Indianapolis
by Michael Warren

January 8, 2004

Wabash professors Rich Dallinger (chemistry) and Bobby Horton (psychology) have teamed up on a research project for the Center of Inquiry in the Liberal Arts to study the effects of intercollegiate athletics on liberal arts institutions. On January 7 they were on the road in Indianapolis to reveal the results to several alumni and friends of Wabash at the IAWM's 2004 edition of "Wabash on the Road." Throughout the presentation the audience would interject questions pertaining to the study and state their opinions on reasons for certain results in the data. If you would like to see the results you can find their report at www.liberalarts.wabash.edu/inquiries/athletics.html.

The event was held downtown at the Indianapolis Athletic Club. Thanks to event organizers Tim Oliver '91 and David Waldman '93 from the IAWM Board for handling all the arrangements for the evening.