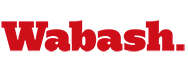 Campaign for Leadership Tops $120 Million
by Jim Amidon (765) 361-6364

October 8, 2003

RELATED


• Voices Raised


• Campaign for Leadership Tops $120 Million




Wabash College's unprecedented Campaign for Leadership, an ambitious six-year, $132.5 million comprehensive capital campaign, has reached an important milestone. Thanks to the generous planned gift of alumnus Bruce Baker '65, the Campaign for Leadership has surpassed $120 million and stands currently at $121.8 million.

"When we began the Campaign for Leadership with a $100 million goal we thought $120 million would be the limit of what we could raise," said Dean for College Advancement Joseph R. Emmick. "Surpassing that total with nine months remaining in the campaign is a testament to the loyalty and generosity of our friends and alumni and it is a tribute to the strength of our mission."

Baker's $2 million planned gift will fund the David O. Justice Chair in Economics at Wabash, which will be dedicated to the study of emerging economies in developing nations.

"It is my strong feeling that the industrial nations have a moral and self interested imperative to enable all humanity to achieve a standard of living commensurate with human dignity," says Baker on the chair that his gift will endow. Baker says his views and opinions on the economies of developing nations have been shaped by Justice, who is a professor and vice president at DePaul University in Chicago and a Wabash alumnus, Class of 1965.

Baker has spent his career developing and improving technologies to assist those who are unable to communicate due to physical injuries or disabilities. Baker developed Minspeak, which uses icons rather than letters, to assist in communication. Baker majored in classics at Wabash, and much of his augmentative communication technology work with Minspeak borrows from his knowledge of ancient hieroglyphics.

Baker's gift is among the ten largest during the Campaign for Leadership, which began officially in 1998 with the announcement of Robert Allen's $10 million lead gift, the largest single-donor gift in Wabash history.

Gifts and pledges to the Campaign for Leadership thus far have funded the $20 million Allen Athletics and Recreation Center; the $30 million Science Center; a new million Malcolm X Institute; and three fraternity renovation and new construction projects. The Campaign also partially funded Trippet Hall, which houses the College's admissions and financial aid offices, as well as the Center of Inquiry in the Liberal Arts. In addition, the Campaign has ushered in a new era of teaching and learning experiences for students, including Immersion Learning courses that thus far have taken more than 300 students around the world to give depth and breadth to their classroom studies.

"The $120 million benchmark is an important one for this campaign—it puts us within legitimate striking distance of our ultimate goal of $132.5 million," adds Emmick. "We are now truly in the stretch run of this campaign. For those who have not yet committed to the Campaign for Leadership, now is the time to get on board."