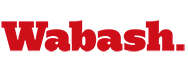 Legendary Speech Prof O'Rourke Dies at 93
by Jim Amidon

August 20, 2021

Joseph O'Rourke, Jr., who taught speech and debate at Wabash for 37 years, has died at the age of 93.

Affectionately nicknamed "Papa Joe" by his adoring students, O'Rourke joined the Wabash faculty in 1960 and taught continuously until his retirement in 1997. Together with Vic Powell, they produced generations of articulate communicators and brilliant lawyers, as well as state and national debate champs. O'Rourke chaired the Speech Department (now Rhetoric) for 20 years.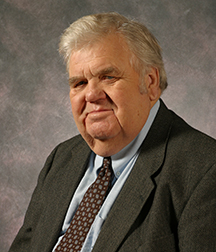 He was born May 11, 1928 in Davenport, Iowa and raised in St. Louis, Missouri. He graduated from Southwest High School in 1946, after which he enlisted in the Army and served as part of the General HQ staff during the occupation of Japan.
After his service, Joe returned to attend the University of Missouri for undergraduate studies and enlisted in the ROTC program. While at Missouri, he met the love of his life, Beverly Miller, while both were working together in the Theater Department.
Upon Graduation in 1952, he was commissioned as a 2nd Lieutenant and served as an Information and Education Officer with multiple assignments stateside. Joe and Bev were married in 1952 and stood united for the next 66 years until Bev's passing in March of 2018.
Joe began his teaching career in Speech and Theater at the University of Hawaii-Hilo from 1954-1956, after which he returned to University of Missouri to teach while earning a master's degree and Ph.D.
Bev and Joe moved to Crawfordsville in 1960 for what Joe described as "a temporary assignment." But the two of them fell in love with West Central Indiana and would spend the rest of their lives at Wabash in Crawfordsville.
Joe was very active in the community, serving in Kiwanis and at his church, St. John's Episcopal Church. He helped launch the Sugar Creek Players and Vanity Theater, was a leader of the Montgomery County Democrats, and was a founding member of the Montgomery County Leadership Academy. He was also instrumental in launching the Opportunities to Learn About Business program at Wabash.
At his retirement ceremony in 1997, friends from campus and alumni across five decades of Wabash alumni gathered to celebrate his accomplishments. Long-time Wabash Magazine Editor Steve Charles captured the event – and Joe's impact on Wabash students – perfectly in his coverage of Joe's retirement ceremony. Follow-up letters from alumni appeared in a subsequent issue of Wabash Magazine, which included some of O'Rourke's famous witticisms.
He is survived by son Jerry (Linda) O'Rourke; grandsons Jonathan (Stacy) O'Rourke, Colin (Kristin) O'Rourke, and Christopher O'Rourke; niece Leslie Griffith and nephews Todd (Sue) and David (Susan) Griffith; and many great nephews.
Memorial gifts may be made to the Joseph O'Rourke, Jr. Award in Rhetoric, which is presented to the graduating senior with the best senior project in the Rhetoric Department. Gifts may be made through the Wabash Advancement Office, 301 West Wabash Avenue, Crawfordsville, IN 47933, online at wabash.edu/give, or by phone at 877-743-4545.
Online condolences are welcome at www.IlesCares.com.
A private funeral is planned for Saturday, September 4 at St. John's Episcopal Church. Friends can watch a livestream of the service.
A celebration of Papa Joe's life will be held in Spring 2022.