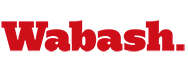 'An Insane Line of Work': How Wabash Influences Life of EMT
by Matthew VanTryon

June 30, 2021

Josh Myers '22 was just 18 years old and still a student at New Castle High School when he had an experience he'll never forget on his first run as an Emergency Medical Technician (EMT).

The memories are vivid four years later – the smell of a home-bound, overweight patient who was having a seizure in what Myers describes as "a hoarding situation." None of his training prepared him for what he saw.

"It was something I never would have imagined," Myers said. "In training you talk about vomit and how to clean it up, but it just ended up being a big bloody mess. I was right in the middle of it."

Myers made three other runs that day, but he couldn't get those images out of his head. Even for a self-described "adrenaline junkie," this was something else.

"I was in shock after that happened," he said. "This is an insane line of work, but it's also adrenaline-filled. Most 18-year-olds haven't seen anything like that."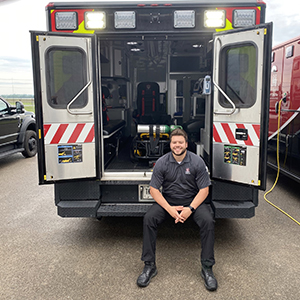 Now a senior at Wabash, Myers has been working as an EMT since high school after taking a training class at New Castle. He says he's unlikely to turn emergency medicine into a career, though he won't shut that door just yet. But the things he has seen have had an undeniable impact on how he sees the world. His classes as a psychology major at Wabash have allowed Myers to thrive in a tumultuous environment.
"It connects to almost every aspect of my job," he said. "We have a lot of psych patients on runs. It helps me understand the root causes of some of the things that are going on. It's helped me cope and helped my co-workers cope, especially if they have a run that is traumatizing. I can help ease that a little bit for them."
That experience has helped Myers grow, maturing immensely since that initial run left such an impression on him as an 18-year-old. He credits Wabash for aiding that process. He's seen his coworkers process the stress and trauma that come from dealing with some of life's harshest realities.
"Going to Wabash speeds the maturation process," Myers said. "Learning how to talk to adults and being able to relate to adults, especially when I was 18 or 19, helped immensely. Wabash has given me great communication skills."
What Myers has experienced as an EMT has had an enormous impact on his life at Wabash, too, from the classroom to the football field. He's learned that you never know exactly what someone is going through.