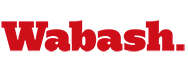 Virtual Summer Course Offered for Incoming Freshmen
by Richard Paige

April 23, 2021

Students who have been admitted to Wabash College and submitted their enrollment deposit by May 1 are invited to participate in a free credit-bearing course that will be offered this summer. The course, "Justice, Community, and the Liberal Arts," will be offered May 25 through July 1.

"Justice, Community, and the Liberal Arts" (HUM-176) asks students to consider what the disciplines of the liberal arts offer those who wish to fight for justice and build community.

"We are living in a pivotal moment in history, when people around the world are asking questions about the effects of a devastating global pandemic, enduring racial violence, and growing political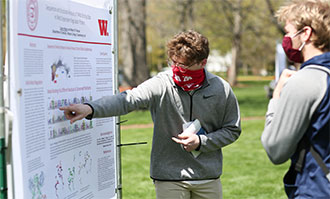 division," said Associate Dean of the College Jill Lamberton. "This course introduces students to Wabash and the value of a liberal arts education by examining how thinkers past and present have grappled with similar issues and found ways to make a difference."
The half-credit course will be taught through the College's Canvas system using Zoom Videoconferencing. It will feature lectures by 12 Wabash professors, followed by virtual classroom discussions of short essays and films led by the professors and Wabash student preceptors.
Class sessions occur every Tuesday and Thursday from 7 to 8:30 p.m. EDT over six weeks for students who wish to explore challenging questions and are eager to embrace responsible action and effective leadership in today's world.
Admitted students who have not deposited must first accept their offer of admission and make their enrollment deposit on or before May 1.
Through this course, students will understand the value, relationship, and distinctions among liberal arts disciplines as they approach questions of how humans practice justice and live in community; analyze and interpret a variety of texts that provide diverse disciplinary perspectives on questions of community and justice; and effectively communicate ideas and insights, and/or describe personal impacts, related to the challenges of building community and working for justice.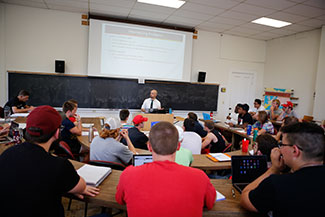 "Members of the Class of 2025 will get an early start on building the foundation of their liberal arts education and they will establish bonds with the professors and classmates," said Dean for Enrollment Management Chip Timmons.
Each class is a 90-minute, synchronous Zoom session, featuring a 30-minute Zoom lecture by the professor, 30-minute small-group discussions facilitated by Wabash student preceptors, and follow-up discussions synthesized by the professor. Short readings, film study, and Canvas discussions/reflection assignments are to be completed ahead of each lecture.
"In addition to hearing from our talented Wabash professors, students in this course will have a chance to learn discussion and class participation techniques from current Wabash students," added Scott E. Feller, Wabash College President. "We are excited about the many ways students who take advantage of this free course will experience the incredible learning community we have at Wabash."
Students and peer leaders will be guided through the course by Dr. Richard Warner, Associate Professor and Jane and Frederic Hadley Chair in History, who will connect each new lecture to previous themes in the course and will grade students' assignments. Final course grades will be assigned on a credit/no-credit basis.
Professors from each of the College's academic divisions—science and mathematics, humanities and fine arts, and social sciences—offer a perspective on how their discipline speaks to young men who are eager to embrace responsible action and effective leadership in today's world.