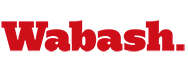 Political Spark Carries Griffen '18
by Richard Paige

January 20, 2021

The last two months have been a whirlwind for Kevin Griffen '18.

He was working as the deputy field director in Georgia for Amplify Good Trouble, an effort centered on turning out the Black vote in that state's Jan. 5 senate runoff elections for Rev. Raphael Warnock and Jon Ossoff. Griffen was responsible for managing and training volunteers and paid canvassers, who made calls and knocked on doors to encourage people to vote.

Amplify Good Trouble staffers knocked on more than 111,000 doors and made more than 308,000 phone calls to registered voters.

"The power of organizing and mobilizing people is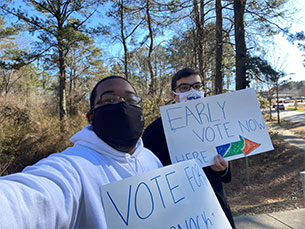 incredible," Griffen explained. "The collective power people have when they band together is unmatched, whether it's getting the first black senator elected from the state of Georgia or it's fighting for access to clean water in places like Flint, Michigan."
Griffen's political interest was sparked at Wabash in a political theory class. He loved the idea that no matter what issue one fights for, politics and government always will play a significant part.
A meeting with Jeremy Bird '00, Barack Obama's 2012 National Field Director, helped Griffen start his career in politics by helping him land an internship with Indiana Senator Joe Donnelly's 2018 re-election campaign, traveling the state with the Democrat.
"I became politically active when I interned for the senator," Griffen said. "I'm forever grateful for Jeremy investing in me."
He's worked on a number of campaigns since, including Minnesota Senator Amy Klobuchar's presidential primary run a year ago.
Following the November elections, Griffen wanted to stay involved and relied on his growing political network to plug himself in and help where needed. It turns out that the state director for Klobuchar's South Carolina campaign work was the founder of Amplify Action, the non-profit that supported Amplify Good Trouble's work in Georgia.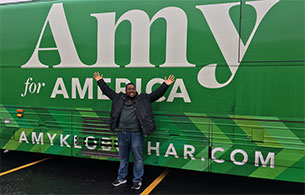 "After the down ballot losses for Democrats last year, I asked myself how I could help," he said. "I love organizing and building relationships and community, and I knew there was a lot of work to be done in Georgia."
Now, months after the decision to lend a hand, Griffen is heartened by not only by a pair of wins, but by what he left behind.
"The goals when I organize are to build community, leave long-lasting change in the areas I've served and to inspire action and mobilization long after I've left," he concluded. "It's important to pass on the tools of organizing to help communities create the change they want. Seeing this work in action is one of the things I enjoy most about this work."
He recently started an internship with Congressman André Carson (IN-7) through his Washington, D.C., office with the hopes of working as a legislative staffer in a congressional or senate office.