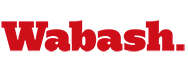 A Remarkable 97.6% First Destination Rate
by Richard Paige

November 30, 2020

In a year of near-constant upheaval, Wabash College has delivered another remarkable success story.

Six months after graduation, 97.6 percent of the members of the Class of 2020 have settled into a first destination—employment, graduate school, or service. It marks the fourth consecutive year in which Wabash graduates have claimed their first destinations following graduation at rates among the highest in the nation, a feat even more impressive given the current job market.

"This is, without a doubt, the story of the year at Wabash College," said President Scott Feller. "With COVID gripping the country and the economy weakened, our students graduated in May and within six months, virtually all of them have settled into a meaningful first destination. This is a testament to the value of a Wabash liberal arts education paired with the College's nationally ranked career services staff and program."

Over the last four years, Wabash graduates have secured first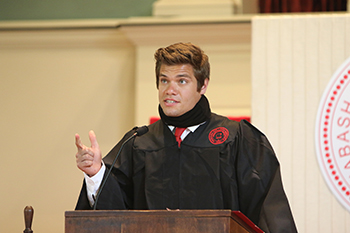 destinations within six months at a rate of 98.8 percent, well above the national average of 64 percent at six months. In 2017, the Wabash six-month rate was 98 percent, 100 percent in 2018, and registered 99.5 percent last year.
"Our outcomes are a team effort, particularly during a pandemic," said Steven Jones, Dean for Professional Development. "Professors, faculty, staff, friends, and alumni continue to assist in ways that make a significant difference for our graduates. We continue to stress the importance of 'early and often' as it relates to student engagement with Career Services. Building strong relationships with our students is important."
Aside from receiving an outstanding liberal arts education, two underlying factors also propel Wabash graduates to high levels of success: the nation's top-ranked internship program and alumni network, according to the Princeton Review.
Due to the work of the Schroeder Center for Career Development, students are routinely engaged in programming that keeps them focused on the big picture. Weekly "Coffee and Careers" sessions and virtual recruiting events are two of the many opportunities for students to connect with potential employers and graduate schools.
Further, the Career Development staff have developed more than 150 opportunities for students to use over the extended winter break to strengthen their skills in coding (Python and Java Script), project management, and sales. Students also have the opportunity to serve in short, intensive internships.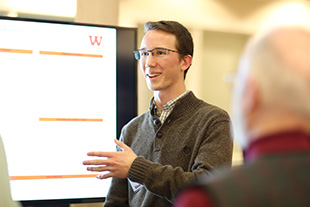 The College's alumni routinely engage with students – this year over Zoom and Teams – and help them sharpen interview skills and build a reliable and supportive professional network outside of campus.
"The on-going support of our alumni demonstrates why Wabash is a unique and special place," said Jones. "E-mails, phone calls, and social media posts from alums are regular occurrences as graduates search for the best fit after Wabash. That support provides Career Services with a competitive edge."
The solid post-graduate success rates echo much of the news for the 188-year-old liberal arts college. In addition to the internship program and alumni network, the Princeton Review spotlighted 12 other areas that Wabash ranked in the top-20 nationally, including access to professors, career services, great financial aid, and classroom experience.
In October, three Wabash majors (Classics, German, and History) were ranked tops in the nation by College Factual with three others placing in the top one percent (English Language and Literature, Mathematics and Statistics, and foreign languages and linguistics).