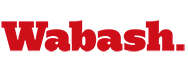 Five Professors Earn Tenure
by Richard Paige

December 12, 2019

Wabash College President Gregory D. Hess and Acting Dean of the College Todd McDorman announced the promotion and tenure of five faculty members. Professors Bradley Carlson (Biology), Matthew Carlson (Philosophy), Damon Mohl (Art), Annie Strader (Art), and Heidi Walsh (Biology) all successfully completed the tenure process and will assume the rank of associate professor at the 187-year-old liberal arts institution.

"This year's group of tenured professors include faculty with a broad range of academic and co-curricular interests, but all are deeply committed to good teaching and the mentoring of our students in and out of the classroom," said Hess. "These five professors have involved students in their research and creative work, thus inspiring our young men to ask difficult questions and seek meaningful answers. They are outstanding teacher-scholars and it was an honor to review their work and grant them tenure at Wabash."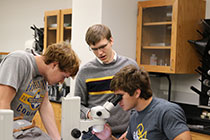 Dr. Bradley Carlson joined the faculty in the Biology Department in 2014. He earned his bachelor's degree in biology from Bethel University in 2008 and a Ph.D. in ecology with a minor in statistics from Pennsylvania State University in 2014.
"The quality of the faculty here makes getting tenure at Wabash especially meaningful, and I have grown tremendously as a teacher in my time working alongside them," said Carlson. "My work is ultimately centered on teaching and building relationships with students, so it is incredibly rewarding and validating to have students involved in the review process and supporting me. I look forward to sharing my passion with, and getting to know, many future Wabash students."
Carlson's academic interests include ecology, zoology, and animal behavior, centered around two related questions: why do animals differ from each other in phenotypic traits, and what are the ecological consequences of these differences?
"Brad is appreciated by students for his passion, organization, and clarity as a teacher and is poised to make ongoing contributions to the College in his attention to experiential, hands-on learning and investment in student success in varied fashions," said McDorman. He has an impressive research program in evolutionary and behavioral ecology that frequently involves students while he has developed a valuable national network of collaborators. He also has made important service contributions, particularly through his attention to environmental concerns, that better our community."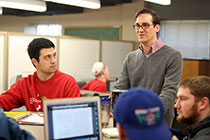 Dr. Matthew Carlson joined the faculty in the Philosophy Department in 2014, having spent the previous year as a visiting lecturer in the Department of Philosophy at the University of New Mexico. He received his bachelor of arts in philosophy in 2005 from Oberlin College and his Ph.D. in philosophy with a minor in history and philosophy of science from Indiana University in 2013. Carlson also earned a BMus in tuba performance from the Oberlin Conservatory of Music in 2005.
"My time teaching at Wabash has really been everything that I'd hoped for when I decided to try to become an academic," Carlson said. "At Wabash, I have tremendous opportunities to pursue topics and methods that I find interesting, and to work with interesting people in developing my thoughts and my skills as a teacher and philosopher. I am grateful for the opportunity that tenure affords me; the opportunity to keep growing by engaging in intellectually interesting pursuits with interesting people."
Carlson's research primarily concerns related issues in epistemology, philosophy of logic, philosophy of science, philosophy of mathematics, and the history of analytic philosophy, particularly Frege, Carnap, and Quine.
"Matt reflects the spirit of the life of the mind in his teaching and scholarship," McDorman said. "Matt has taught an incredible range of classes, each of which has effectively engaged students through his innovative approaches. His course on Philosophy and Videogames uses a range of methods of student engagement while his argument mapping efforts in Symbolic Logic and other courses take students deep inside texts."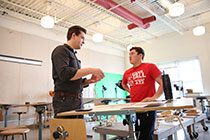 Mohl joined the Art Department faculty in 2014 after serving as a studio instructor and lecturer at the Rocky Mountain College of Art & Design (2010-12), Front Range Community College (2011-14), and the University of Colorado (2010-2012) He earned his B.F.A. in Painting and Drawing from the Pennsylvania Academy of the Fine Arts and the University of the Arts in 2000, and an M.F.A. in Painting and Drawing from the University of Colorado in 2010.
"Receiving tenure at Wabash is an honor and a great professional validation," said Mohl. "It is fantastic to know I can continue student-centered instruction in my art studios, personal creative research and work, and collaborative film projects with students in the future. I would like to thank the students I have worked with over the last five years for making this college a unique place to teach and my job as enjoyable as it is. Without them, none of this would matter."
Mohl is a filmmaker and multi-media visual artist whose work has been screened in more than 30 countries. His recent academic offerings have included art studio fundamentals, mixed-media painting, digital filmmaking, drawing, new and expanded media, and technology and art.
"Damon has been integral to the development of film and digital media at Wabash," said McDorman. "Students praise his technical knowledge in the classroom as well as his ability to subtly guide them while allowing their creative work to remain entirely their own. His exhibition record may be unmatched for this stage of his career and he has received acclaim as a world-class filmmaker whose work not only has frequently involved Wabash students, but has been recognized at film festivals around the globe."
Strader joined the faculty in the Art Department in 2015. Previously, she was an associate professor and Gallery Coordinator at Sam Houston State University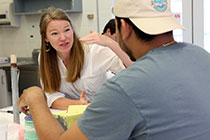 (2009-15), Director of Shift Space Gallery at Wichita State University (2008-09), and visiting artist and faculty in the School of Art and Design at Wichita State (2006-09). She earned her B.F.A. from Ohio University in 2002 and an M.F.A. from the University of Colorado in 2005.
"Being granted tenure gives me the opportunity to plant deeper roots and to think in the long term in a way that I have not before," Strader said. "I left the process thinking about developing exciting new courses, planning research projects and thinking of innovative ways to creatively engage our community. I feel fortunate to work at an institution that values and supports my contributions and allows for creative risk taking and flexibility in academic life. I feel deeply excited to continue my commitment to excellence at the College and I am thankful for the outstanding support I received throughout the process and for the wonderful relationships I continue to develop throughout the Wabash community."
Strader is an accomplished studio and performance artist with more than 80 solo or group exhibitions and performances to her credit. Her recent academic offerings have included performance and video art, ceramics, fundamentals of art, Western Art History, and senior studio.
"Annie has an incredible talent to inspire student creativity and transform how they see the world and their ability as artists within it, regardless of what major or minor a student might be," McDorman said. "By positioning students as makers and problem solvers, she effectively opens students to the promise and power of art in the world. Students praise her methods of teaching and critique, her accessibility, and the impact her courses have on them. Annie is also an immensely talented artist producing exhibits and engaging performance art that is provocative in its attention to technology, identity, and, often, gender."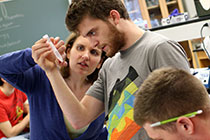 Dr. Walsh joined the faculty in the Biology Department in 2014, having spent the previous academic year as visiting lecturer of biology at the University of Richmond. She received her bachelor of science in neuroscience from Allegheny College in 2002 and her Ph.D. in neuroscience from the University of Virginia in 2008. Walsh also performed postdoctoral research in the Department of Metabolism and Aging at The Scripps Research Institute (2009-13) and served as an adjunct professor of biology at Florida Atlantic University (2010-13).
"Whenever someone asks me what I like about working at Wabash, my answer is always its sense of community," Walsh said. "While being granted tenure is a wonderful recognition of my own contributions to the Wabash community, none of it would have been possible without the support of the community itself. I'm extremely grateful for the support of our students, faculty, staff, and alumni, especially my colleagues in the Biology Department. I am proud and excited to be part of the Wabash community for many years to come."
Walsh specializes in understanding how obesity affects a part of the brain called the hypothalamus – the brain's central regulator of food intake, metabolism, hormone release, and reproduction. She is also President-elect of the Indiana Physiological Society.
"Heidi has attended deeply to the scholarship of student learning in continuing to better herself as a teacher, an appropriate course for a former chair of our Teaching and Learning Committee," McDorman said. "In particular, she has developed a focus on scientific communication with innovative attention to oral presentations, an outreach project that puts Wabash students in the community middle school, and a video project aimed at translating science writing to general audiences. Heidi regularly engages students in her work, and has worked with more than 20 of them in internships and in her lab since her arrival at Wabash while at the same time making significant scientific contributions in her scholarship."
These promotions are effective July 1, 2020.