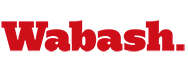 Final Day of Giving Numbers Break Records
by Ryan Horner

May 6, 2019

For the past five years, the Wabash College community has come together for record-breaking 24-hour "Day of Giving" fundraisers for the College's Annual Fund. True to form, that wasn't enough for the College this year, which has come to be known for its best-in-class single-day fundraising.

Wabash's 2019 iteration of the Day of Giving again broke total amount and donor records, but it's another number that is raising eyebrows: $1,361, the average amount raised per student—a figure that is nearly $400 higher per student than the universities that are considered national leaders in single-day fundraising.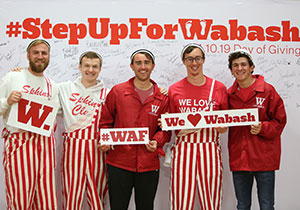 The Day of Giving—which took place on April 10th and asked supporters of the college to "Step Up For Wabash" in reference to the recently launched Giant Steps campaign—garnered 5,238 gifts and $1,165,444.
President Gregory Hess is quick to praise the College's supporters. "These are impressive numbers—compare them to any college, large or small, and your heart will swell with pride, just as mine does. But the numbers are only benchmarks and ways of counting our accomplishments. It's the people, young and old, on campus and around the world, who made our Day of Giving so meaningful and successful.
"The Day of Giving raises our expectations for what we as a College can accomplish when we band together for the good of our students."
Watch the video recap of the Day of Giving here.