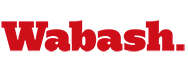 Five Students Earn Fellowships
by Richard Paige

April 17, 2019

Five Wabash College students have accepted postgraduate fellowships to serve in Germany, Spain, the United Kingdom, and Japan. In all, 43 Wabash men have earned international fellowships in the last six years.

Four students – David Daugherty '19, Ian Finley '19, Cal Hockemeyer '19 and Jordan Ogle '19 – received awards from the Fulbright U.S. Student Program, while another, Justin Woodard '19, earned a year in Japan as part of the Japan Exchange and Teaching (JET) program.

"I could not be more pleased about this news," said Susan Albrecht, Wabash College Fellowship Advisor. "These five Wabash men are exceptionally hard-working and deserving of their awards, and they will make terrific cultural ambassadors. Each one has demonstrated an abiding interest in the country which will serve as their home for the next year, and I am certain they will take full advantage of the opportunities the Fulbright and JET programs afford."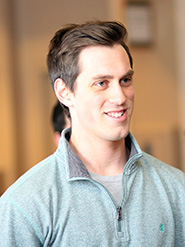 An economics major with minors in Spanish and business, Daugherty received a Fulbright English Teaching Assistantship (ETA) to Spain, He was a two-year member of the Wabash soccer team, is a Senior Innovation Consultant with the Center for Innovation, Business and Entrepreneurship, and a member of Sigma Chi fraternity. Daugherty took an immersion trip to Iceland in March, and studied abroad previously in Granada, Spain.
"Returning to Spain will provide the opportunity to further hone the most valuable skills to be used in my future – managing diverse relationships, optimizing the strengths of those around me, and remaining open to ideas that are contrary to my own," said Daugherty, a native of Indianapolis. "Participation in the Fulbright Program will prepare me better than any other first-year, post-college experience."
While in program, Daugherty will be based in the Canary Islands.
"David is very bright, hard-working, and conscientious," said Frank Howland, Professor of Economics. "What impresses me most about David is his intellectual curiosity about a wide range of subjects. I look forward to hearing about his experiences in the Canary Islands."
Finley, a triple major in Spanish, religion, and economics, received a Fulbright ETA to Spain. He has been active in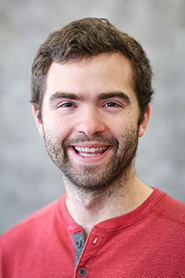 College Mentors for Kids, as well as Roundup River Ranch, a camp for children with serious illnesses, in Gypsum, Colorado. He also volunteered as an English language tutor for a student in Madrid through Fundación Tomillo's Programa Access initiative. Previously, Finley has taken immersion trips to Kenya and Iceland, studied abroad in Valencia, Spain, in the Spring semester of 2018, and visited Argentina through a grant from the Dill Fund.
"I realize the impact that a person can have on others, especially in an academic setting, and the power of having a teacher or mentor who actively cares," said Finley, a native of Carmel, Indiana. "I hope that in planning and participating in this experience, I will be able to provide a positive impact."
Finley hopes to pursue a career in immigration law and policy with hopes that this experience abroad serves him well.
"Ian is an exceptional student," said Gilberto Gomez, Professor of Spanish. "He is a great example of what effort, focus, engagement, and diligence can do for you."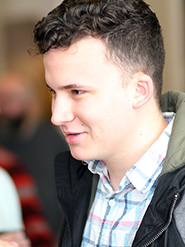 Hockemeyer, a double major in financial economics and German with a minor in mathematics, received a Fulbright ETA to Germany. He is a member of the Sphinx Club, the Sons of Wabash, the German Club, and served as an economics tutor for the Quantitative Skills Center. Hockemeyer has volunteered with College Mentors for Kids, is a tour guide for the Admissions Office, and is a member of Theta Delta Chi fraternity. He's studied abroad in Heidelberg, Germany in the Fall of 2017 and took an immersion trip to Tübingen, Germany, in 2016.
"My experiences as a mentor instilled in me a desire to teach," said Hockemeyer, a native of Ft. Wayne, Indiana. "This fellowship will allow me to gain valuable teaching experience, something that will benefit me in the future. It will also allow me to return to a country which I have grown to love."
Following completion of the fellowship, Hockemeyer plans on pursuing a Ph.D. in economics with the goal of becoming a professor.
"Cal is smart and thoughtful," said Greg Redding, Professor of German. "He values the kind of fun that builds positive relationships. With his organizational and leadership skills, he is the type of person who creates order in otherwise unstructured situations."
Ogle, an English Literature major with a minor in philosophy, earned a Fulbright U.K. Partner award to the United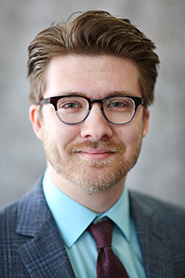 Kingdom. He was a consultant for the Wabash Writing Center, advancing to the role of Student Director, as well as a columnist for The Bachelor. Ogle is the first Wabash student to earn a fellowship in the Fulbright U.K. Partner program.
"The Fulbright U.K. Partner program provides the opportunity to realize ambitions that are extraordinary," said Ogle, a native of Clinton, Indiana. "I've learned to be an educator who is interested in incorporating the identities and experiences of my students to create an effective, diverse, and challenging learning environment."
Ogle will pursue a master's degree, focusing on 20th century literature, theories of the self, and feminist literary theory, and will be based at the University of Exeter while a part of the Fulbright U.K. Partner program. Further, he has been accepted into a Ph.D. program at the University of Iowa and will begin studies when his master's work is completed at Exeter.
"He was setting the bar in literature classes as a freshman," said Jill Lamberton, Associate Professor of English and Senior Associate Dean of the College. "When I talk to him about literature, I often feel like I'm talking to a colleague rather than a student. More inspiring to me, Jordan is a first-generation college student who has shown remarkable fight and resilience throughout his time at Wabash."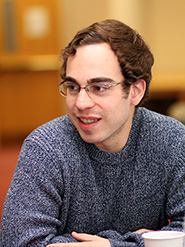 Woodard, a chemistry major with a double minor in Asian Studies and economics, is a member of the service organization Circle K, and regularly volunteers as a tutor at Crawfordsville Middle School. He is a member of the International Students Association, served as an alumni engagement intern and a biochemistry research intern, and is a member of Delta Tau Delta fraternity.
"I've noticed that one of the difficulties of learning a new language is having natural conversations in the new language," said Woodard, a native of Lebanon, Indiana. "From my own experiences as a language learner, my approach in the JET program will be to focus on those natural conversations in English with the students, alongside the grammar and reading exercises."
Woodard hopes to use his JET experience to obtain his Teaching English as a Foreign Language license or to use the experience as a cultural ambassador, along with his degree in chemistry, in international business.
"His punctuality, seriousness, perseverance, and passion have functioned together to lead him to the stage – a stage that offers him cultural exchange on a higher level," said Yao Li, Visiting Instructor of Chinese. "I am so proud of him, as a Japanese learner, and a new cultural ambassador."
The Fulbright U.S. Student Program is the largest U.S. exchange program, offering opportunities for students and young professionals to undertake international graduate study, advanced research, university teaching, and primary and secondary school teaching worldwide. The program awards approximately 1,900 grants annually and operates in more than 140 countries worldwide.
Fulbright's ETA program places recipients in a classroom abroad to provide assistance to teachers of English to non-native English speakers, while serving as a U.S. cultural ambassador. It is the job of these native English speakers as teaching assistants to make learning a foreign language a lively cross-cultural encounter for their students. The age and academic level of classroom students varies by country, ranging from pre-kindergarten to university. Further, the Fulbright UK partner program offers the opportunity to pursue a master's degree at one of several U.K. universities.
The JET Program is a competitive employment opportunity to represent the United States as cultural ambassadors throughout Japan. Most participants serve as Assistant Language Teachers and work in public and private schools in Japan, while some work as Coordinators for International Relations as interpreters or translators. The JET Program seeks participants who are adaptable, outgoing, and who have a deep interest in Japan. Participants work in schools, boards of education, and government offices throughout Japan, as it is the only teaching exchange program managed by the Japanese government.
Over the last six years, 43 Wabash men have earned international fellowships. The list includes a Rhodes Scholar, 21 Fulbright recipients, 13 Gilman Scholarship recipients, five USTA fellowship recipients, a TAPIF English Teaching Assistant (France), one JET recipient, and a North American Language and Culture Assistantship in Spain.