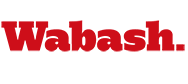 Wabash Receives $7 Million Anonymous Gift
October 4, 2017

Wabash College will dedicate the sprawling Ott Residential Life District on Saturday (October 7) following the receipt of an unrestricted $7 million anonymous gift to the College. The new housing district honors the memory and spirit of philanthropy of John N. "Fuzzy" Ott, Wabash Class of 1920.

The event will take place at 11:00 a.m. at the district, which is located on Crawford Street at the intersection of Harry Freedman Place.

"What we know about 'Fuzzy' Ott was that he deeply valued the liberal arts education he received at Wabash, and that he loved the lifelong connections he made during his time as an undergraduate here," said Wabash President Gregory D. Hess. "We can think of no better way to honor his memory than to name our new Residential Life District after him since it is in this intersection that the majority of our students cross paths with one another on a daily basis."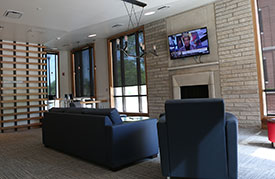 The Ott Residential Life District is located on the western edge of the Wabash campus, adjacent to the Malcolm X Institute of Black Studies, the Allen Athletics and Recreation Center, and four Wabash fraternities. It is home to six new student residences, including Williams and Rogge halls, Butler and Seymour houses, and two lodges. The Ott Residential Life District is home to 130 Wabash men.
A native of nearby Rockville, Indiana, John "Fuzzy" Ott was a consummate "big man on campus" during his time at Wabash. He was a psychology major and proud member of Sigma Chi fraternity. He was also a strapping athlete, serving as captain of the baseball team for three years, and he was elected captain of the football team in his senior year. He was a member of the Wabash Student Council, the yearbook staff, and the Student Army Training Corps.
Upon graduation, Ott moved to Indianapolis, where he began a long and distinguished career with Eli Lilly and Company as a purchasing manager. He and his wife, Jeannette, and daughter, Elizabeth, were members of the Tabernacle Presbyterian Church. He was also a Mason, and held memberships in the Indianapolis Athletic Club and the Chamber of Commerce.
"It says so much about the loyalty and breadth of the Wabash alumni network when an anonymous gift honors the memory of another Little Giant," added President Hess. "When we recruit young men to Wabash, we invite them to join the brotherhood. To fully understand the Wabash brotherhood, one needs only to walk through the Ott Residential Life District and see the names on these buildings. You will see alumni honoring their brothers and their former professors, which is a remarkable statement about their love of this good place."
Construction of the Ott Residential Life District was funded by alumni and friends of Wabash College, and was officially dedicated in May 2016. The anonymous gift in memory of Mr. Ott comes only months after Wabash announced it had received a commitment from the Pritzker Foundation to establish the Stephen S. Bowen Professorship in the Liberal Arts in honor of longtime Board of Trustees Chair Stephen S. Bowen '68, and an $8.1-million grant from Lilly Endowment Inc. to support programming for the Wabash Center for Teaching and Learning in Theology and Religion through 2021.