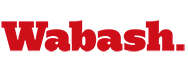 Peter and the Starcatcher at Wabash
by Jim Amidon

October 3, 2016

Jessie Mills and the cast of Peter and the Starcatcher invite audiences to give in to the power of imagination and enjoy a magical evening filled with comedy, romance, and adventure. The five-time Tony Award-winning play opened at Wabash College Wednesday and runs nightly through Saturday in Ball Theater of the Fine Arts Center.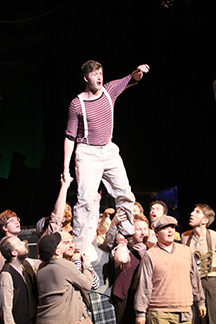 Wabash is the first college in Indiana to produce Peter and the Starcatcher, the absurdly funny and imaginative play based on the novel by Dave Barry and Ridley Pearson. Curtain is at 8 p.m. each evening. Tickets are free, but must be reserved at www.wabash.edu/boxoffice
Peter and the Starcatcher, a grownup's prequel to Peter Pan, tells the story of the orphans before they became Lost Boys, and the Boy who would become Peter — and why he will never grow up.
"The legacy and mythology of Peter Pan and the whole idea of boyhood are exciting topics to explore, especially at Wabash," said director Jessie Mills.
"This is a play that is built on a fantastic, chaotic ensemble, and the production absolutely requires a multifaceted, multitalented, and extremely generous cast, and we have that here. They have embraced the themes of the play and thoroughly explored the process of creating this whole new world. They are so good at working together."
Climb aboard the sailing ships Wasp and Neverland as they set course for a mysterious island on a top-secret mission for Queen Victoria.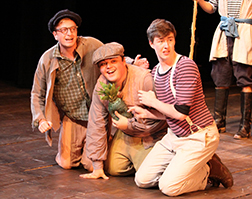 Senior Rory Willats plays the Boy, an abandoned, abused orphan who, along with Ted (Austin Yeomans) and Prentiss (Griffin Levy), are sold to a villainous captain of the Neverland to become slaves — or something even worse.
"Rory brings a real sense of boyish wonderment to the role," Mills said. "There is something eternally optimistic about him that fits the role perfectly, and at the same time, he is also quite vulnerable.
"As the play evolves, we see the creation of Peter Pan, which includes these dark memories of having been abandoned as a child and living in St. Norbert's Orphanage for Lost Boys. That vulnerability has to come through; that pain creates his need to never grow up. And Rory has worked so hard to figure out how to make that happen on stage."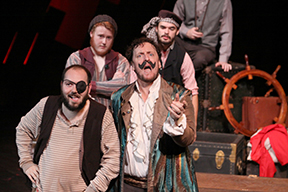 Leading the Wasp on its voyage to the kingdom of Rundoon is Lord Aster (Quinn Cavin), who is a Starcatcher charged with getting rid of trunk of magical Starstuff (think Pixie Dust) so that it never falls into the wrong hands. Not long at sea, the Wasp is overtaken by a band of pirates, led by Black Stache, the most feared, funny, and clueless pirate on the seas who forever seeks a worthy rival. The real trunk of Starstuff, though, is safe and sound on the Neverland.
Theater professor Jim Cherry plays Stache, and he both terrifies and charms the pirates into working for him. "And that's Jim," Mills says. "Jim can be this towering, intimidating figure, but he's utterly charming and you'd do anything for him. He's simply amazing in this role."
Cherry's humorous cluelessness matches his charm, though, and he's fortunate to have a steady sidekick, Smee, played by Chris McCloskey, who frequently corrects Stache's blunders. "Chris and Jim have incredible chemistry together," Mills said.
Crawfordsville High School senior Sammie Amidon, appearing in her seventh Wabash production, plays Lord Aster's daughter, Molly, the smart, heroic, competitive, and socially awkward Starcatcher-in-training.
"When I cast Quinn as Lord Aster, it meant that he had to play someone's father — a person 30 years older than everyone else," Mills said. "He's worked very hard on this role, and he really feels like a dad; he's a serious, committed father.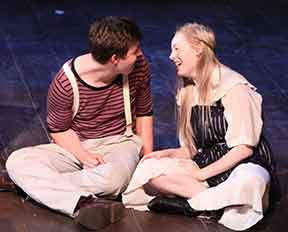 "At the same time, Sammie is our youngest actor, and yet she has real weight in this play as we watch this fantastical world form around her. She evolves from a spirited Tomboy to become someone more mature who is deeply protective of the orphan boys — as if she was born to do this. Sammie is such a veteran of the Wabash theater, the other actors look up to her, and that fits with her character."
As orphans Prentiss and Ted, Levy and Yeomans further the evolution of Peter Pan's world. Prentiss wants to be a leader, but is too scared. Ted is completely obsessed with food and wants to eat constantly. "As Molly begins to mother them, they emerge as incredibly strong pillars of support for the others around them," Mills said.
The audience will be taken on a fabulous adventure that includes a shipwreck at sea, and an island filled with Fighting Prawns, mollusks, disguised pirates, magical amulets, mistaken treasures, squid poop, a yellow bird-turned pixie, mermaids, and enchanted grottos filled with mermaids, er, mermen.
Creating the magical world on the Ball Theater stage are veteran costume designer and artist Andrea Bear, whose costumes Mills described as "stunning" and "incredible," and newcomer Bridgette Dreher, the College's new scenic designer. "Bridgette has created a whimsical world that is just beautiful — lights, lanterns, ropes, steamer trunks, wooden ship decks — everything is just smartly done."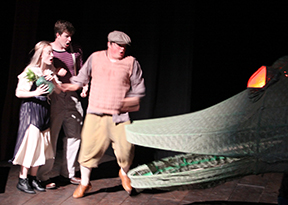 Bear also created a massive crocodile puppet creature manned by Aaron Boyd, Chris Diaz, Will Maloney, and Austin Ridley.
Mills — and the writers who adapted the novel — insist that Peter and the Starcatcher is a play with music and not a musical. There are plenty of good voices in the cast to carry the tunes, including Jared Cottingham, who plays both Captain Slank of the Wasp and Fighting Prawn on Mollusk Island. "Jared is just so reliably sturdy as an actor," Mills said. "He can literally handle anything — from a ship's captain to the lead mermaid and then a prawn. He's just hilarious."
Julia Phipps returns to the Wabash stage as Ms. Bumbrake, Molly's nanny, who falls for the ship-hand Alf, a lovable old salt played by newcomer Ian Little. Will Maloney has memorable scenes as both Grempkin, the dark, evil head of the orphanage, and as a mermaid named Teacher, who gives Peter his last name.
"One of the themes throughout this play is getting to Pan," Mills explained. "It has this meaning of fun and mischief, which boys like, but it also means all-ness. This show cuts across the full spectrum."
Peter and the Starcatcher at Wabash College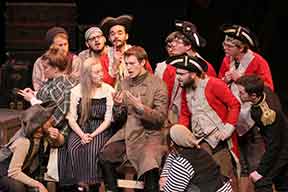 Featuring: Rory Willats as Boy; Griffin Levy as Prentiss; Austin Yeomans as Ted; Sammie Amidon as Molly; Quinn Cavin as Lord Aster; Julia Phipps as Ms. Bumbrake; Chris McCloskey as Smee; Jared Cottingham as Slank and Fighting Prawn; Will Maloney as Grempkin and Teacher; Ian Little as Alf; Brennan Davenport as Captain Scott; Nathan Hubert as Sanchez; Ben Cramer as Hawking Clam; and Aaron Boyd, Chris Diaz, Will Maloney, and Austin Ridley as Crocodile Puppeteers. And starring Jim Cherry as Black Stache.

Production Staff: Jessie Mills, Director; Bridget Dreher, Scenic Designer; Andrea Bear, Costume Designer; Tony Stoeri, Lighting Designer; Nathan Muha, Musical Director; Rory Willats, Choreographer; Todd Handlogten, Props Designer; Zachary Anderson, Associate Director; Brandon Johnson, Light Board Operator; and Dan McCarthy, Stage Manager and Sound.

Band: Cheryl Everett, Piano; Mario Arango, Violin; and Alex Pittsford, Drums.




For more information see: