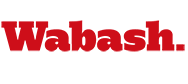 Honor Scholarship Weekend Opens
by Richard Paige

March 18, 2016

Nearly 300 prospective members of the Class of 2020 were challenged Friday by Wabash College President Gregory D. Hess with a simple question during the opening of Honor Scholarship Weekend.

What kind of man do you want to be?

The high school seniors are on campus for the 123rd consecutive Wabash scholarship competition. Honor Scholarship Weekend includes testing and ample opportunities to explore and get acquainted with the 60-acre wooded campus.

President Hess spoke to the soon-to-be incoming freshmen about immersing themselves in the Wabash experience and the benefits of a liberal arts education.

"Honor Scholarship Weekend is your time to come and simply enjoy the College," Hess said. "You get to soak in the experience, enjoy the brotherhood, wander the Mall and imagine yourself in the classroom, in a play, on the field of play. You are here this weekend because Wabash College provides the most exceptional education for young men today."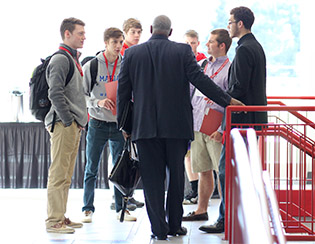 The morning welcome session also featured voices of Wabash's past and present, CEO of Monon Bioventures Joe Trebley '01 and current student Jack Kellerman '18, vice president of the student body.
Trebley's message to the parents and students was rooted in the steps that lie ahead as they grow both personally and as life-long learners. He suggested a place like Wabash can raise your expectations, and that simply being present was an indicator they could do just that.
"We don't help you find the answer to the question of what's next," Trebley said. "Whatever I think the answer is, I need to raise my expectations. Wabash taught me that I have another gear. It's a collaboration between alumni, students, and faculty that give us the confidence to do bold things."
Kellerman acknowledged the importance of the weekend for the attendees and stressed their impact on the institution.
"While this weekend is important for all of you, I can't help but feel this weekend is just as important to the College because in the audience, sitting to your left and right is the future of this institution," the Indianapolis native said. "In a few short years, you will lead our classroom discussions, our clubs, and our student government. That journey begins today."
In addition to President Hess' welcome, there was a student activity fair, a parents' Q&A session, and academic open houses in addition to the testing to unlock one of up to six full-tuition awards and as many as 50 runner-up awards of $2,500 in scholarship funding. Also scheduled were living unit tours and the opening of fraternity rush.
Hess closed with a description of the characteristics Wabash men share.
"The common denominator is that Wabash men get a liberal arts education, and not just a degree," Hess said. "They have an education not for the first career they think they might have, but for the five or six careers they actually will have. They've learned grit and determination and have made lasting friendships."