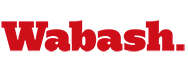 Lecture Highlights MLK Day Plans
by Richard Paige

January 14, 2016

Wabash College presents noted educator and pubic speaker Alonzo Jones, whose talk at 7:30 p.m. will highlight a day of activities commemorating the life and leadership of Rev. Martin Luther King Jr., on Monday, Jan. 18.

The Associate Dean of Students at Arizona State University, Jones has spent more than a quarter century creating and managing programs that support the academic, cultural, and personal development of students. On the Tempe, AZ-based campus, he is leading a university-wide effort to elevate engagement in culturally related programs. In addition to his educational and oratorical exploits, Jones is an author and successful entrepreneur.

"Wabash College is pleased to have Mr. Jones on our campus during our MLK Day of Celebration," said Alan Hill,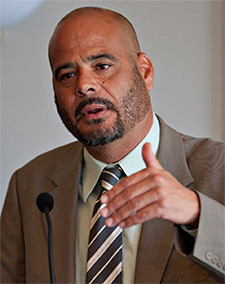 Dean for Professional Development. "We are strongly committed to being a campus that appreciates, values, and respects differences. Having Mr. Jones present on topics related to personal and cultural development will assist in our overall effort to truly be a welcoming community and will further enhance the professional growth and development of all of our students."
Jones' talk, "A Man among Men, but indeed only a Man!" will take place in Baxter Hall room 101, and is one of many activities on campus that afternoon. The slate begins at noon, when Jones will lead a lunch discussion with students at the Malcolm X Institute for Black Studies (MXIBS). The discussion, the "Situational Identity Matrix Workshop," acknowledges the profound, multifaceted beauty that resides in each individual that makes understanding which one of our selves should be front and center essential for success.
Jones also will be a guest speaker in Professor Sabrina Thomas' history class, "Sports, War, and Masculinity."
"Alonzo's personal and professional experiences have provided him with the tools to connect with students intellectually and to challenge them in the art of self-reflection," said Thomas. "He is a dynamic speaker who engages his student audiences while forcing them to deeply consider issues of identity, masculinity, and manhood. I have observed his success with student-athletes and professional athletes in the NFL and I am excited for him to share his knowledge with the students at Wabash College."
From 2-5 p.m. there will be a campus screening of "King: A Filmed Record…from Montgomery to Memphis," the acclaimed documentary that speaks to Dr. King's place in American history. The screening will take place in MXIBS, room 109.
Members of the community are encouraged to participate in an interactive reading of Dr. King's monumental "I Have a Dream" speech from 4-4:15 p.m. on the north steps of the entrance to the Allen Athletics and Recreation Center.
The film screening, "I Have a Dream" speech reading and evening talk are free and open to the public.