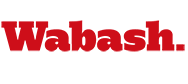 Wabash Day 2015 - Houston, TX
October 13, 2015

Houston Area Alums met on Saturday October 10 at Memorial Park to volunteer with the Memorial Park Conservancy. Memorial Park is one of the largest urban parks in the United States - approximately 1,466 acres. The park is dedicated to the memory of soldiers who lost their lives serving in World War I.

Houston Alums pruned trees and cut suckers along the Memorial Drive section of the park stretching from the volleyball and softball field areas to the park's entrance. Volunteers included: Jason Cantu '05, Tavis Janeway '09, and Dr. David Stockwell '03.