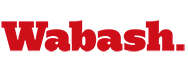 Watson Earns McLain-McTurnan-Arnold Award
by Richard Paige

July 7, 2015

Dwight Watson, a 34-year teaching veteran at Wabash College, received the McLain-McTurnan-Arnold Excellence in Teaching Award, announced at the College's Awards Chapel, the annual honors convocation, in April.

Watson, a Professor of Theater, is the Charles D. and Elizabeth S. LaFollette Distinguished Professor of Humanities at the liberal arts college in Crawfordsville.

Possessing an unparalleled ability to engage an audience, Watson is "someone who has drawn me in, anxious to hear his next word, time and time again," said Dean of the College Scott E. Feller in presenting the prestigious award. "The love for language, its sound and its imagery, come through in all of Dwight's work. He has a distinct style in which every word has meaning and affect, a style that comes through in lectures and in writing, in comments at meetings, and most importantly, in excellent work as a teacher."
The Excellence in Teaching Award honors the memories of Reid H. McLain '27, Clair McTurnan '10, and Kent Arnold '29, and has been given annually to a member of the faculty who has distinguished him or herself by innovative and engaging teaching since 1965.
"We try to make good use of all the minutes we have in our rehearsal time," said Professor Watson, "so I think about that kind of process. Similarly, I try to shape the classroom in such a way that has a dramatic arc; that it leads to some kind of enlightenment, or that what we study is informative and educational. I do see similarities between the theater and classroom. It's a remarkable gift to be able to see education from those various viewpoints, and theater, my lab, allows us to do that kind of investigation."
Watson joined the Wabash faculty in 1981 after completing a bachelor's degree in dramatic literature and theater at the University of North Carolina, Pembroke; and a master's of fine arts in acting and directing at UNC, Greensboro.
Teaching courses in acting, playwriting, and dramatic literature, Professor Watson has led immersion class trips to Scotland to work with the Centre Stage Theatre Company at the University of Aberdeen, and to London where students studied the history and performance of the London stage. Watson also has directed more than forty productions at Wabash. Additionally, the Wabash Theater has produced several of Dwight's plays including Dapple Gray, Eden Creek, and Dewey Boy and Wookie.
Watson served for many years as chair of the theater department and chair of the division of humanities and fine arts.
"Dwight has established himself as a professor with an exceptional capacity for productive scholarship, for exceptional creativity in the arts, and most importantly, as an outstanding teacher of Wabash men," said Dr. Feller. "The author of nine books and plays, with creative work appearing in seven different anthologies, this colleague has received playwriting awards in more than a dozen different competitions. He has taken our students on immersion trips across this country and across the world and has traveled to China to teach theater courses."
His teaching covers all levels, from introductions and surveys to seminars, he has presented or published nearly 30 papers, and has received 15 grants or fellowships in addition to his creative work. Further, he has served as an editor, consultant, and evaluator in service to multiple service organizations and workshops.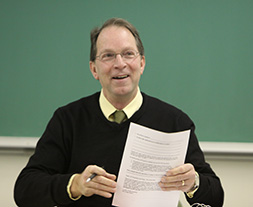 Watson's seamless transition from the stage to the classroom takes root in his desire to break down perceived barriers to learning and engage students where they are comfortable.
"I remember a conversation with former Dean Paul McKinney, who told me, 'you should teach like you direct.' That has always stayed with me and allowed me to think more completely about my work as a teacher. These divisions we have between the classroom and the stage or the classroom and immersion learning are just manufactured walls. It all flows in a way. We need to meet students in all of those various places. I've been enormously lucky to have been placed in situations where I've been encouraged to grow and develop in my time at the College, so I'm enormously grateful."
Outside of his theatrical and academic interests, Watson enjoys the outdoors, Wabash Athletics, the Blues guitar, and the view of the Arboretum from his office window.
You can listen to Watson's "Wabash On My Mind" podcast by clicking the play button on the link below.