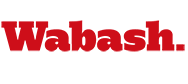 Batchelder, Klembara Honored at Senior Breakfast
by Richard Paige

May 16, 2015

Two Wabash College seniors were honored Saturday morning at the traditional Deans' Senior Breakfast.

Grant Klembara earned the Frank Hugh Sparks Award for All-Around Student Achievement and Stephen Batchelder claimed the John Maurice Butler Prize for Scholarship and Character.

Named in honor of the College's eighth president, the Frank Hugh Sparks Award for All-Around Student Achievement is given to a senior who has done the most to promote the true spirit and purpose of Wabash College.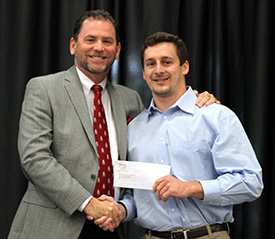 A native of Dallas, TX, Klembara is a member of the Sphinx Club, Sons of Wabash, and Sigma Chi fraternity, having served previously as the SCAC Chairman and IFC Secretary. The rhetoric major was a columnist for The Bachelor, and earned the Joseph O'Rourke, Jr. Prize in Speech and was recognized with a Nicholas McCarty Harrison Essay Award. He earned four varsity letters as member of the Little Giant football team, helping the squad to a cumulative 39-6 record (.867) over the last four seasons.
Given annually since 1923, the John Maurice Butler Prize for Scholarship and Character is voted on by the entire Wabash faculty and is given to a student of high character and great ability.
A native of Orland, CA, Batchelder is a member of Phi Beta Kappa who is a double major with distinction in religion and English. He was a columnist for The Bachelor and earned the Walter L. Fertig Prize in English, the John N. Mills Fellowship in Religion, the Robert O. Petty Nature Writing Prize, and the Indianapolis Alumni Student-Athlete Award. A four-year member of the Wabash swim team, Batchelder served as captain, was a CSCAA Scholar All-American, an all-conference honoree, and posted four new times on the Wabash top-10 list in 2015.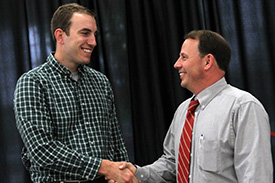 The Sparks Award and Butler Prizes are the top student honors for a Wabash graduate.
The Dean's breakfast concluded with remarks from Dean of the College Scott E. Feller, who delivered the speech in his first year as dean, noting "for so many of you I see myself as your teacher instead of your dean."
Feller challenged the Class of 2015 to acknowledge the responsibilities that come with graduation – the transition from student to alumnus.
"While it is obvious that tomorrow you end your time as an undergraduate and transition to a vocation or possibly graduate school, it is perhaps less obvious that as you move from student to alumnus, you become someone who has responsibility for this institution. I love the quote I found from a previous Deans' breakfast, 'In a peculiar reversal of roles, tomorrow afternoon you will become a part of the structure that has ultimate control of this college.' Think a little bit about what that means."
In what was the penultimate gathering of all members of this year's graduating class, Feller also paid homage to the event itself and the simple connections that make it special, saying, "I love this breakfast. I love to see the interactions between students and faculty and among the students. I love the Sparks and Butler awards...and this last opportunity to enjoy each other's company."
Wabash celebrates its 177th Commencement Exercises on Sunday at 2:30 p.m. on the College Mall. The ceremony will be streamed live at www.wabash.edu/live.