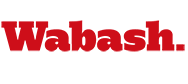 NSF Grant Improves Cyber Network
by Richard Paige

March 11, 2015

The Wabash College Information Technology Services department was awarded a National Science Foundation (NSF) grant to upgrade campus cyberinfrastructure.

The two-year NSF project, totaling more than $347,000, boosts the campus network infrastructure and improves network performance for very large file transfers (gigabytes to terabytes). The improvements will open new research and scholarship opportunities for our students, and will enable the College to build on its research successes.

The improvements focus on three areas. First, by supporting increased demand by researchers accessing resources and sharing data both across campus and off campus. Second, it increases Wabash's connection to Internet2 and other national research networks by a power of 10 (from 1Gbps to 10Gbps) via Indiana's regional network provider, I-Light. Third, it increases connection speeds from the network core to the campus science buildings to 10Gbps and provides redundant network paths to those buildings.

"From a networking standpoint, this puts us on par with major research institutions, and provides opportunities for collaboration," said Brad Weaver, director of information technology services. "Not only will this save time, but it allows our professors to do more experimental runs than might otherwise happen, to work with larger data sets, and to get more students involved in the research process. With this level of gain, it fundamentally changes what we can do."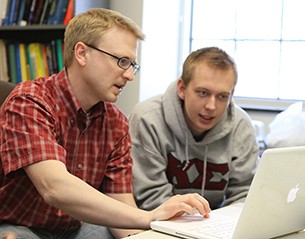 Once the upgrades are completed, the transfer speeds would be nearly 100 times faster than they are now. A 1.5 terabyte file transfer would go from the current 42.4 hours to 37 minutes.
These network improvements address immediate research needs for projects in chemistry, biochemistry, physics, biology, psychology, and mathematics, and also benefit researchers in all STEM disciplines at the College. The improvements will also facilitate faculty and student research at the National Superconducting Cyclotron Laboratory (NSCL), and with the Midwest Undergraduate Computational Chemistry Consortium (MU3C).
"Wabash offers our students a strong undergraduate research program in the physical sciences," said Weaver. "Just as quality undergraduate research experiences require experienced faculty and well-equipped laboratories, research today demands network infrastructure that supports distributed data flows, large file transfer, and real-time instrument access, whether across campus or around the globe."
I-Light and the Global Research Network Operations Center (Global NOC) at Indiana University will provide technical and consulting services as part of the grant.
Work is ongoing and expected to be completed by the Summer of 2016.