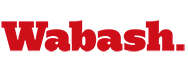 Top 10 Visitors Get Campus Immersion
by Richard Paige

February 16, 2015

High school seniors were on campus today as part of Top 10 Visit Day, as what will become the Wabash College Class of 2019 begins to take shape.

Students from as far away as California, Texas, and Florida immersed themselves in a day of lectures, alumni panels, lunch, and the Wabash classroom experience.

Wabash's Top 10 program spotlights students who rank in the top-10 percent of their high school graduating class. That accomplishment in addition to their attendance today qualifies admitted students to an annual scholarship of $17,500.

Upon his welcome, Wabash College President Gregory D. Hess spoke on the breadth, depth, and lasting value of a Wabash education.

"Wabash College makes a decisive difference in lives," Wabash President Gregory D. Hess told the students in attendance. "It instills a passion for listening, which means gathering information, learning, which is a desire to figure out how to do things right, and leadership, which teaches you how to do the right things. That's what a liberal arts education can do for you."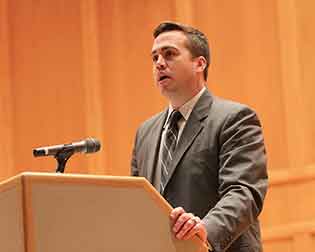 Ryan Vaughn '00, Indiana Sports Corporation president, delivered the keynote address to students and parents. He focused on how leadership opportunities at Wabash can benefit students in the future, no matter the course of study.
"Those are formative opportunities for you to develop the skills which will makes you successful in the real world," he said. "There is a strength of friendships and the respect for shared experiences here. You will wear this degree like a badge of honor. Whether it's personally or professionally, we help to enrich each other's lives. Come put yourself to the test. Be a critical thinker, a leader in whatever you do, and see if you have the confidence and the ability to achieve whatever pursuits you value."
Vaughn, who has previously served as a lawyer, city-county council president, and Indianapolis Mayor Greg Ballard's chief of staff, feels that his liberal arts education prepared him to tackle just about any subject.
"You will be asked to think across a broad spectrum of ideas – philosophy, rhetoric, physics, chemistry, language – all of which will tax you, and find yourself constantly interrelating the disciplines in unique ways," Vaughn said. "There are opportunities to engage at a deep level that were instrumental in my preparation."
Following Vaughn's address, the students and their parents separated for presentations featuring a number of alumni panelists.
Marty Brown '06, vice president of marketing at One Click Ventures., spotlighted how higher expectations led to greater personal growth.
"It's tough to overstate the importance of the Wabash experience on me," said Brown. "I do know that I'm a different person when comparing then to now. I chose Wabash for the opportunity to play football and enjoy the athletic experience, but when I graduated other things grew in importance. Wabash was exactly what I wanted. Everything about it sounded different, and it is. This place carries a different and higher expectation for the men who come here."
Participating alumni panelists included Marty Brown '06, Director of Marketing, One Click Ventures; John Castro '97, Senior Equity Trader at Cheevers and Co.; Drew Howk '08, attorney, Hall Render; Joe Johnson '11, Account Executive for CareerBuilder; Jake Koeneman '06, Senior Program Manager, Salesforce; Deonte Singfield '11, educator in Memphis, TN; and Todd Vogel '04, spinal fellow, University of California-San Francisco School of Medicine.
Vaughn remembered the impact of the people he met on his recruitment visits as essential to shaping his experience and who he would become.
"They were challenging, thought provoking, and they taxed my thought process and the way I engaged," he said. "I got to meet people from across Indiana, across the country, and the world. We had conversations about what college meant, and I began to appreciate the company I was in. These were intelligent, hard-working, dedicated, moral men who were looking to make their lives better."