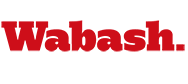 Feller Earns Thompson Award
by Richard Paige

February 11, 2015

Professor of chemistry and Dean of the College Scott E. Feller was named the 2015 winner of the Thomas E. Thompson Award, as given by the Membrane Structure and Assembly Subgroup of the Biophysical Society.

The Thomas E. Thompson Award recognizes outstanding contributions and excellence in research in the field of membrane structure and assembly. The award was given Feb. 7 at the Biophysical Society's annual meeting in Baltimore, MD.

"This is a huge honor for me because the Membrane Structure and Assembly group has been my scientific home for twenty years," said Dr. Feller. "It is comprised of colleagues whose work inspires and motivates me."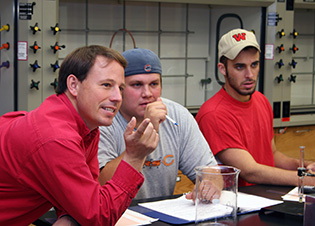 Feller joined the Wabash faculty as an assistant professor of chemistry in 1998. He was promoted to associate professor in 2003 and to full professor in 2009. Additionally, he has held administrative posts since 2006, serving as Chair of the Chemistry Department (2006-2009) and Chair of the Division of Natural Sciences and Mathematics (2009-14). He was appointed Dean of the College on July 1, 2014.
Biophysics seeks to bridge the gap between the complexity of life (biology) and the simplicity of physical laws (physics). Practitioners use math and physics as the driving force for analysis in gaining insight into the patterns of life.
The Membrane Structure and Assembly Subgroup advances knowledge on the fundamental physicochemical properties of biological membranes by bringing together a diverse set of scientists from around the world to discuss the latest experimental and theoretical developments.
As part of the Thompson Awards program, Feller delivered a lecture to the subgroup entitled, "Musings at Mid-Career: What Is So Special about Omega-3 Fatty Acids?" The talk led the audience through Feller's understanding of how omega-3 fats, which are positively associated with health, differ from saturated and other unsaturated fats.
"This is a research project that has spanned my entire career at Wabash and has involved a large group of collaborators, both Wabash students and scientists at other institutions," Dr. Feller said.
Feller is the second recipient of the award, and the first from an undergraduate-based research program.