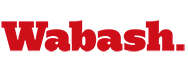 Record Numbers Give to Annual Fund
by Richard Paige

July 24, 2014

A record number of donors contributed to the Wabash College Annual Fund during the 2014 fiscal year, topping $3.2 million in unrestricted donations for the second consecutive year.

A total of 5,208 donors contributed $3,271,804, which is the second-highest unrestricted dollar total in Wabash history, and included an increase of 575 donors over last year.

"We are very thankful to alumni and friends who made a gift to the Annual Fund during the 2013-14 fiscal year," said Joe Klen, associate dean for college advancement. "Every gift to the College demonstrates to current students that alumni and friends are serious about their education and want them to have an unparalleled liberal arts learning experience."

The total number of donors also included 4,538 alumni donors – the highest on record with 377 more than last year – and marked the fourth consecutive year to have an increase in the number of alumni donors.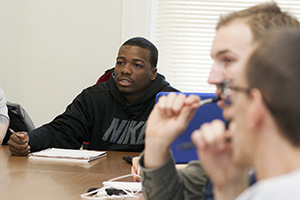 Perhaps the most talked about success of fiscal year 2014 was the 430 on 4/30 one-day giving challenge. Beyond the 2,363 gifts and 2,226 unique donors on the day, the first-ever Day of Giving for Wabash will be remembered for uniting the College community and expanding the College's strong and storied culture of philanthropy.
In terms of graduation class participation, nine of the top-10 were at 50 percent or better in terms of alumni participation and 21 classes in total were above the College's alumni participation rate of 40.2 percent.
Celebrating its 10-year reunion, the Class of 2004 had the highest number of alumni donors dating back to the Class of 1991 (91 for 2004 versus 92 for 1991) and the highest giving percentage (45.7%) of any graduating class all the way back to 1984 (46.5%). The Class of 2004 increased its alumni donors by 35 in fiscal year 2014.
The Class of 1969, celebrating its 45-year reunion, had the highest number of alumni donors of any class with 106 generous contributions. The Class of 1961, led all classes in alumni participation with 59.5% of the class making a gift in 2014.
Seventy-four percent of the of the Class of 2014 (128 of 172) made pledges to the College as part of the senior gift campaign for $4,489, making it highest number of donors on record by a graduating class in a single fiscal year, and four more donors than the Class of 2013.
"The loyalty and generosity demonstrated by alumni and friends during the 2013-2014 year reminds us of the greatest, most enduring tradition we celebrate at Wabash: the tradition of philanthropy—one generation after another standing on the shoulders of giants to propel Wabash boldly forward," said Klen.
| | | | |
| --- | --- | --- | --- |
| Class Year | Total Donors | Class Year | Giving Percent |
| 2014 | 128 | 1961 | 59.50% |
| 1969 | 106 | 1964 | 58.17% |
| 1991 | 92 | 1965 | 56.88% |
| 1967 | 92 | 1967 | 54.76% |
| 2004 | 91 | 1951 | 54.41% |
| 1965 | 91 | 1969 | 54.36% |
| 1964 | 89 | 1959 | 52.94% |
| 1968 | 88 | 1954 | 52.94% |
| 1966 | 85 | 1962 | 51.85% |
| 1983 | 84 | 1968 | 49.72% |
| 2003 | 83 | | |
| 1984 | 80 | | |