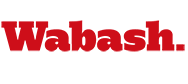 Batchelder '15 Lands Spot with TFA
by Clayton Randolph '16

July 8, 2014

Stephen Batchelder'15 knew helping others was a lifelong goal.

Batchelder, a Religion and English double major, was hired by Teach for America nearly a full year before he receives his sheepskin diploma. He will join the team upon finishing his career at Wabash.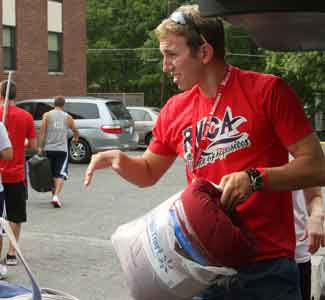 Teach for America places educators in low-income communities for two years, hoping to provide educational stability in regions located across the U.S. Teachers are sent to many big cities, from Phoenix to Indianapolis to Baltimore and everywhere in between.
"We recruit a diverse group of leaders with a record of achievement who work to expand educational opportunity, starting by teaching for two years in a low-income community," according to the Teach for America website.
The most important trait Teach for America recruiters look for is leadership. And, they are committed to helping leaders become better educators and role models. "We provide intensive training, support and career development that helps these leaders increase their impact and deepen their understanding of what it takes to provide an excellent education for our most underserved kids."
Batchelder already has many leadership characteristics. Few recognize it more than Religion Professor Derek Nelson, who has taught Batchelder throughout his Wabash career.
"He's uncommonly serious, thoughtful and a good analytic thinker," Nelson said. "He is a very good analyst of arguments and the world."
Batchelder's swim coach, Brent Noble, also saw leadership qualities when he first arrived. "He's not extremely vocal," said Brent Noble, Batchelder's swim coach. "I think what he says means something, he doesn't waste words. He certainly leads by example."
Teach for America is only a step towards Batchelder's career. The goal is to become a pastor upon completing the two-year Teach for America commitment. He was not interested in taking the easy route to ministry. Instead, he wanted to gain a deeper understanding of the hardships faced in low-income communities.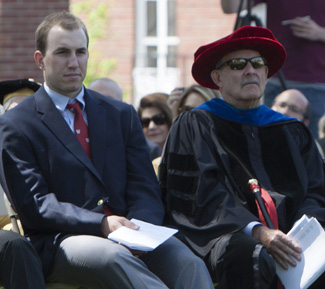 "I'm very interested in going to divinity school and becoming a pastor, but didn't want to take the fast track," Batchelder said. "I wanted to get out and experience the world and social justice issues and see if it's something I am capable of handling for the rest of my life."
Batchelder grew up in the small, agricultural community of Orland, California located in the heart of the Sacramento valley. He felt coming to Wabash was a prestigious opportunity.
"I come from a low-income community in northern California," said Batchelder. "A lot of times people don't think about California as a place facing issues like poverty and educational inequality.
"I grew up in a county where eight percent of the population has a college degree. I feel like being able to come to Wabash is a big deal. I can think of very few men in my high school graduating class that are in college and going to receive a four-year college degree."
According to Neighborhood Scout, a website that monitors city demographics, Orland is well below the national average of 21.8 percent of people holding a college degree at 10.3 percent.
That number did not prevent Batchelder from being selected as one of 50 students to take part in an undergraduate fellowship during the school year to prepare him for his role with Teach for America. He will officially accept his Teach for America position in November. After graduation he will head to Phoenix where he will begin his teaching duties.
"I think it speaks to Teach for America's recruiting styles," Batchelder said. "They want to get top graduates and identify them earlier than other recruiters. I think a lot of credit goes to them for making this an opportunity, especially for myself where I knew this was something I was motivated to do from the start."
The impact Batchelder has made reaches students and faculty alike, especially a few of his mentors in Noble and Nelson. They spoke with pride when talking about him.
"I think he understands the opportunities he has had," Noble said. "I think he understands he has had certain privileges not everyone will have … he doesn't take it for granted. He is pretty focused on helping others accomplish their dreams."
Nelson echoed Noble's sentiments.
"What's different about Stephen is his earnestness and convictions," said Nelson. "It is not so much that Thinker A has Position B about Issue C. But, it's 'I, Stephen Batchelder care about issue C and so I want to get to the bottom of it and find out what can help.'"
Throughout the summer, Batchelder is participating in the Pastoral Leadership Program with Nelson, strengthening his leadership abilities and further preparing him for his future career.