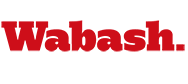 Colloquia: Alums Share Passions
June 6, 2014

A big part of the Wabash reunion weekend traditions is colloquia sessions. Wabash men tell stories of their interests, careers and adventures.

The sessions are spread throughout the weekend and give the returning graduates a chance to learn, share and celebrate the lives of Wabash men.

Saturday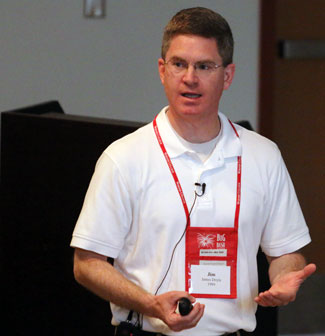 Doyle '89: JEH & MLK, George W. & Edward Snowden
FBI Special Agent Jim Doyle '89 really packed in the alums Saturday morning for his talk about security investigations and privacy before and after 9-11.
More than 100 Wabash men packed Hays 104 to hear Doyle talk about the history of investigation and abuses of J. Edgar Hoover through today's news and the actions of Edward Snowden.
He shared the changes in investigation laws and procedures and how striking a balance remains the biggest concern to all citizens. "It's a balance in that we're constantly trying to protect our privacy rights versus protecting our citizens," he summarized.
Doyle used a series of videos and animations to set up his points and illustrate the national debate. He got the biggest laugh of a weekend from an opening short video featuring a teenage girl explaining the different forms of government for Division 1 majors.
Education: How We Got There and What It Means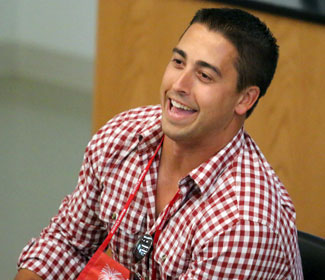 Three recent Wabash graduates shared high school teaching experiences and perspectives on education today during a Saturday afternoon session in Hays Hall.
Classmates from 2004 Stu Johnson, teaching in Texas, Jacob Pactor, Indianapolis, and Jeremy Robinson, Chicago, shared the ups and downs of classroom teaching and the impact it has had on their lives.
Each shared positive and negative influences in today's classroom but captured the large group listening with the really special moments that have happened to them in their young teaching careers.
Pactor told the story of correcting a sophomore student's paper in an English class and writing 'If you have this many mistakes as a doctor, your patients will die.' He then said the young lady wrote him a note as a graduating senior thanking him for the remark and how it impacted her to take studying more seriously.
Johnson shared that he was one of the first teachers in his school to have all 24 students pass a Texas standardized test. But specifically recalled one troubled young man he took under his wing for special attention. "Three years later he came up to me and said 'I'd be dead right now if it wasn't for you.' "
Robinson shared his experiences in inner-city Chicago schools and a high school student named Francisco Huerta. Huerta went on to attend Wabash, was president of the Sphinx Club and walked across the Wabash stage this spring and picked up his degree.
Steve Fox '69 - The Sausage Factory: An Insider's View of Making U.S. Foreign Policy
Retired Foreign Service Officer Steve Fox '69 spent almost 35 years representing the U.S. around the world. In his colloquium session he shared his experience in assisting USAID in evacuating Kurdish refugees from Iraq in 1996. In all, more than 3,500 refugees were brought to the United States during the course of three evacuations that Fall.
"The US resettles approximately 50,000 refugees a year," Fox said. "These are people who have no place else to go. The goal is always for them to be able to return home. But that is not always possible."
Last year Fox met a woman who had been evacuated with her family when she was a teenager. When he asked about her time in Turkey (as a point of processing before being settled in the United States) she said it was "the worst three days of my life, but worth it."
Fox said, "That conversation brought closure for me."
Ken Crawford '69 - Bringing Home the Missing from World War II
Crawford brought to life his work in the search and recovery of missing servicemen from the second World War. From 1997 through 2002,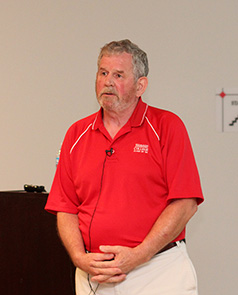 he was a key part of the effort to investigate, search, recover, and identify those lost on the battlefields of Europe, and the efforts to return those servicemen home for burial with full military honors.
Crawford used maps, missing crew reports, and behind-the-scenes photography to give a deep understanding of the rigors of what is essentially an archaeological dig at each identified crash site. Team members use both part numbers and DNA fragments to properly identify missing soldiers and airmen.
He spoke of one particular search in April 1998 of a downed B-24 plane where 2,000 bone fragments were discovered and every one on the fragments were used to identify a majority of the crew, who had previously been listed as missing for a half century.
Crawford said, "The important thing with the cemeteries and gravestones is that these guys are not forgotten. We don't want to forget them, and we know there are a lot of guys out there still missing."
FRIday
John Caviglia '64 - Chile: Past and Present, Fact and Fiction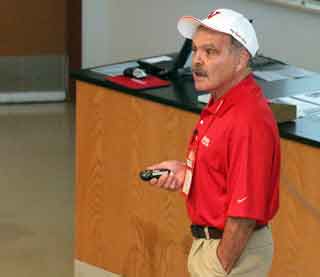 Caviglia was born in Chile to his native Hoosier mother and Chilean born father. A true liberal arts man, Caviglia has been a professor of Spanish and Comparative literature. He has also taught pottery and martial arts.
Caviglia walked attendees through his novel Arauco, sharing the history of two peoples. The book details the sixteenth century Spanish invasion of Chile. The conflict took 300 years. Caviglia walks the reader through the invasion and shares the point of view of the conqueror and the conquered.
The book is available through Amazon and other online sites.
Roger Paluska '59 - Seeing Europe from a Bicycle Seat
Throughout the last decade Paluska and his wife have travelled through Europe more than a dozen times by bicycle. Included in their journeys have been France, Italy, Switzerland, Austria, Norway, and Slovenia.
During his presentation he shared many photos from their journeys with the "Bicycle Adventure Club" and some of the ups and downs of travelling by bike. Each of the trips is generally two weeks in length and while they travel by bike between stops, they eat well and stay in many beautiful places.
"One of the delightful things about biking is passing through all the small towns," Paluska said. "Everybody has a festival at one time or another and they are eager to say 'Come on in and join us.'"
President Gregory D. Hess - Strategic Planning and the Campus Master Plan
Wabash President Gregory Hess presented his vision to a packed crowd Friday afternoon at Big Bash. Hess explained, one quick change he implemented upon his arrival was referring to Wabash as "THE" Liberal Arts College for Men which was met with much applause.
Hess' vision has grown from seeking to align the mission of the College with the ambition of the College. To implement that vision Hess has established a culture of continuous improvement and laid the foundation for growth in four areas: articulating the value of a liberal arts education, expanding the academic and geographic footprint, enhancing the leadership education of each Wabash man, and enhancing the culture of philanthropy.