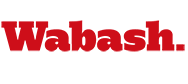 Phillips 'Put Students First'
by Steve Charles

May 11, 2014

Students completed finals this week and most had left campus by the time faculty and staff gathered in Detchon International Hall on Friday to thank Dean of the College Gary Phillips for his eight years of service to Wabash.

Even so, the students came first.

"Gary was our first outside dean," said Professor of Chemistry Scott Feller, noting that previous Deans of the College had been either Wabash professors or alumni. Phillips came to Wabash in 2006 from the University of the South, where he was Chair of the Religion Department. "Yet somehow he came in and immediately realized what was most important to us, and that was the focus on our students.

"For the last six years, I have been fortunate to watch Gary guide discussions in terms of impact on our students," said Feller, who succeeds Phillips as Dean in July. "The issue is everywhere for Gary: hiring, programming, curriculum, budget. You name subject and Gary will ask you to frame the discussion in terms of what is best for our students.

"He pushed me to think hard about our students, our faculty, our College. He pushes us all and we are the better for it."

Professor of History Stephen Morillo said the Dean had "led the College through progressive curricular change, increased diversity hiring, a constant emphasis on finding and retaining quality faculty and making their whole lives more humane, all in the service of offering our students the very best education they could possibly receive."

Professor of Philosophy Cheryl Hughes served alongside Phillips as associate dean and thanked him for teaching her much about leadership and teaching.

"When I served in the Dean's office I learned the most from consultation with Gary—simply listening and talking through a problem with him, thinking together and asking questions, sometimes to arrive at a good solution, sometimes only to work out a process for wider consultation and more creative solutions."

Hughes also thanked Phillips' wife, Alice, "since I'm sure she has helped the most in supporting Gary and helping him keep his sense of humor and resilience."

"A hallmark of Gary has always been doing what's best for the college, and what's best for the college is what's best for our students, said Dean of Students Mike Raters '85. "He cares about our students' experience, he has a vision across the institution, he cares about people as individuals. He is a great leader, colleague, mentor, confidante, family-leading role model, and friend."

Morillo opened the mic to others guests, and several faculty members stepped forward.

Associate Professor of History Rick Warner thanked Phillips for bringing to Wabash "the art of the question," and thanked Alice for her service.

"Thirty-four years of teaching in the arts at Wabash sometimes feels as though you're paddling against the current, and at times, I've been exhausted," said Professor of Art Doug Calisch. "Gary is one of a very few people who encouraged me with incredible sensitivity to put my paddle back in the water and to continue to power forward and do what I believe. Gary inspired me back on track.

Assistant Professor of Chemistry Laura Wysocki told a humorous story about her arrival at Wabash, when colleagues from other smaller schools shared their experience of not getting what they needed to teach and urged her to be a tough negotiator, particularly when it came to her choice of computers.

"So I talked to Gary and said, 'I'm a Mac user, and it's really important that I get a Mac," and Gary said, 'Yes. And we'll give you a bathroom and running water as well," Wysocki recounted as guests laughed. She concluded. "Gary, thank you for always giving the faculty the resources we need to do our work, so that joke is really a joke. It's because of your support that we can do what we do.

Associate Professor of Psychology Eric Olofson offered thanks for the way Phillips had facilitated and supported his teaching, research, and service.

Assistant Professor of Political Science Lexi Hoerl expressed her appreciation for Phillips kindness and for providing resources for her work, even at the last minute, the sort of support "that can't happen anyplace else."

Professor of English Warren Rosenberg expressed his admiration for Phillips' writing and presentations, singling out two talks which were so powerful they moved him to tears. Rosenberg looked forward to the fact that, following a year sabbatical, Phillips will return to Wabash to continue his career as a professor of religion.

"I can't wait to hear you give another talk," Rosenberg said.

Associate Professor of Theater Jim Cherry recalled arriving at Wabash as a visiting professor, when Phillips took time to make sure that he was comfortable in his new living quarters.

"I think of this place as a place that's deeply caring toward students, but it's also a place where faculty and administrators are deeply caring toward each other. That's had a remarkable impact on me, and that day and his caring about a visiting professor told me so much about Gary's nature, his humanity and his kindness."

Phillips stepped to the mic and praised those who had worked closest with him.

"Whatever success that happens out of the Dean's office happens because of the people I work with there. The most important are [senior administrative assistant to the Dean] Chris Duff, [senior administrative assistant to the Dean of Students] Sheri Ross, it's [administrative assistant to the Registrar Pat Zorger, it's [Registrar] Miriam Foster, it's [Associate Dean of the College] Jon Jump. It's these folks who make the Dean's office function.

Phillips said his colleagues on the senior staff are "an unbelievably close and well-functioning group. The way the faculty is with one another in departments here—that's what we experience, and that's really unusual. So the hard things that get negotiated and that you have to make decisions about, you make those in the context of a humanity where people are caring about the students, the faculty, and the staff."

Phillips emphasized a need to better support and recognize the College's staff as a whole.

"Staff are an underappreciated, under-recognized, and under-acknowledged group," Phillips said. "So please, lift your glass and salute my colleagues in the library, IT, Campus Services, Bon Appetit, my senior staff."

He thanked the division chairs he had worked with, particularly those he worked with when he first arrived—Melissa Butler, Dwight Watson, and David Polley.

"I learned at that moment how important the division chairs are to the life of the College."

Phillips became emotional when thanking those who had supported him through some difficult moments here, especially his wife.

"When I got the call to come to this place, I had no idea what I'd be getting into, but I knew from the experience of the first interview session here, that first meeting I had a chance to see what this place in its humanity is like. I told Alice, and she said, 'Let's do it.'"

Phillips' mother lived with them during most of his tenure at Wabash. She died last year.

"Her seven years here with us was a splendid time when she got to live in a place of such care and graciousness. Thank you for that."

Phillips will take a year sabbatical and return to Wabash as Professor of Religion in 2015.