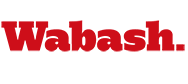 176th Commencement set for Sunday
by Richard Paige

May 9, 2014

Click here for a complete 2014 Commencement schedule

Tassels will turn and sheepskin will change hands as Wabash College celebrates its 176th Commencement Exercises on Sunday, May 18 at 2:30 p.m. on the College Mall. The ceremony will be streamed live at www.wabash.edu/live

President Gregory D. Hess will ring out the Class of 2014 while leading his first Wabash Commencement. Nearly 175 men are scheduled to receive their sheepskin diplomas in the ceremony.

Two graduating seniors, Ryan Adam Cloyd and John Andrew Walsh, will be the only featured speakers at the Commencement in keeping with a long-standing Wabash tradition.

Mr. Cloyd majored in biochemistry and minored in psychology, classics, and biology. A Dean's List student, he received the Dr. Paul T. Hurt Award for All-Around Freshman Achievement and was a finalist in the Baldwin Oratorical Contest as a sophomore. He received the Underwood Chemistry Award and was inducted into Phi Beta Kappa in his junior year. A native of Beech Grove, Ind., Cloyd is a member of Kappa Sigma.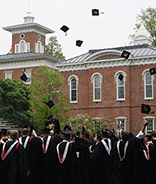 Mr. Walsh majored in psychology. A Dean's List student in all eight semesters, he was inducted into Phi Beta Kappa and served as president of Psi Chi (co-), the psychology honor society, WAR Council, and AMPED, in addition to memberships in Sons of Wabash and Senior Council. A native of Clinton, Ind., he earned five varsity letters as a student-athlete, including three in basketball and one each in football and track and field.
The College will award honorary degrees to a trio of Wabash alumni during the ceremony. Receiving honorary doctorates are Stephen L. Ferguson '63, David J. Lahey '60, and David Warren Givens '56.
Friday's events are highlighted by this year's Senior Cookout. The National Association of Wabash Men will host members of the Class of 2014 at 6:30 p.m. at the Sparks Center west portico (between Morris and Wolcott Halls).
On Saturday, May 17, 22 students will be inducted into the Wabash chapter of Phi Beta Kappa, the nation's oldest honorary society. To be inducted this year are seniors Adam Barnes (Bradford, Pa.), Samuel Bennett (Indianapolis, Ind.), Bryce Biberstein (Markle, Ind.), James Blaich (Crawfordsville, Ind.), Scott Campbell (Rushville, Ind.), Nathaniel Chapman (Evansville, Ind.), Michael Del Busto (Carmel, Ind.), Kevin Downey (Michigan City, Ind.), Cory Kopitzke (North Vernon, Ind.), Matthew Michaloski (Evansville, Ind.), Jared Miller (Wildwood, Mo.), James Morrison (Merrillville, Ind.), Taylor Neal (Yorktown, Ind.), Peter Nicksic (Valparaiso, Ind.), Adam Pagryzinski (Leo, Ind.), Mark Riffle (Greenwood, Ind.), Patrick Stroud (Noblesville, Ind.), Jared Valentine (Portland, Ind.), John Walsh (Clinton, Ind.), Bradley Wise (Monroe, Ga.), and Michael Witczak (Indianapolis, Ind.).
Those seniors join Ryan Cloyd (Beech Grove, Ind.), who was elected as a junior last year. Junior William McManus (Fort Wayne, Ind.) will also be inducted.
Other Saturday events include the Senior Art Exhibition from 8 a.m.-5 p.m. in the Eric Dean Gallery and the President's Reception honoring the Class of 2014 and their families at the Elston Homestead from 4-5:30 p.m.
Commencement Day at Wabash begins at 11 a.m. with the Baccalaureate Service, which will be held in Pioneer Chapel. Stephen S. Bowen '68 will give the morning prayers, and Dr. Derek Nelson will give the Baccalaureate sermon. Dr. Nelson is an associate professor of religion and Director of the Wabash Pastoral Leadership Program.
President Hess will continue a tradition when he guides the graduates through the Senior Arch at the conclusion of the ceremony.
Following the ceremony, there will be a reception for the Class of 2014 at 3:30 p.m. in the Great Hall of the Frank Hugh Sparks Center.
In the event of rain, Sunday's Commencement Exercises will be held in Chadwick Court of the Allen Athletics and Recreation Center.