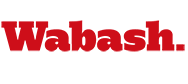 Wabash Alums Honor Greek Life
by Tyler Hardcastle '15

April 7, 2014

Nearly 200 students, faculty, and alumni gathered in the Knowling Fieldhouse Sunday for the 2nd annual Fraternity Day. The lunch provided an opportunity for different houses to share in their successes and struggles through short presentations and discussion. Specific houses and members were then recognized for their campus achievements and contributions.

"It's an absolutely terrific event I think each fraternity demonstrates their passion for the institution and how they fit into the mosaic of Wabash college," President Greg Hess said.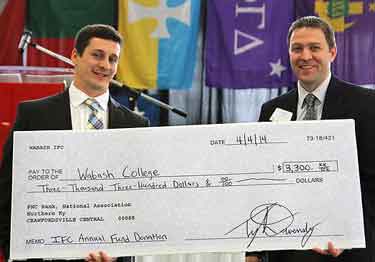 Each house sent a representative to speak. Many of the speakers went beyond expounding upon their house's achievements and focused on areas that they needed to improve.

"People spoke about all their priorities and what inspired them about being fraternities [they] … even spoke to some of the challenges that they face out there more broadly," President Hess said. "All of them know they have to continue to step up to the challenge and we've got administrators and great alumni who are willing to help."

Among the topics discussed were campus unity, dealing with reputations, and community service. Seton Goddard '15 specifically addressed what he saw as an issue for his house and campus as a whole in a lack of service learning.

"We do have a lot of talented individuals who are willing to work hard to improve our community," Goddard said. "As individuals who have been privileged to earn a degree that equips us to be problem solvers we also have an obligation to serve our community and our world. I think that our fraternity system is equipped with the infrastructure and human capital to make a larger more coordinated and substantial impact in the area of community service."

Grant Klembara continued the theme of self-improvement beginning a discussion about recruitment that was carried out at each table. The tables featured "United Nations" so that each table sat members from multiple fraternities. For the next 15 minutes the groups discussed the various aspects of Honors Scholar Weekend.

"We did a good job at honor scholar, but it is something that we could improve on and do better," Klembara said.

Before beginning the awards segment of the day the Intra Fraternity Council (IFC) presented the college with a jumbo check for $3,300 to the annual fund.

"The fraternity system came together to make a donation to the annual fund." Klembara said. "I mean it's tough to tell college guys that they need to give more money to the school sometimes but it's important and just shows that these guys really do care about the college."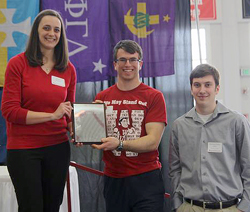 BKT Assistant Professor of Chemistry Laura Wysocki presented the awards for the event. A new award this year was the Dean Michael P. Raters Award which went to Franciso Huerta '14 for best exemplifying the ideals of his own fraternity and the college. Lambda Chi Alpha was awarded both the Philanthropy Award and the Freshman Impact Award. Phi Gamma Delta left with the Senior Impact, Highest Chapter GPA, and Highest Freshman GPA awards. Andrew Dettmer, corresponding secretary for Phi Gamma Delta spoke to his house's efforts.

"A lot of it is that we try to get good guys, we look at ACT, SAT, and GPA coming out of high school to see if they are academically serious and want that to be their primary focus," Dettmer said. "It's also a lot of mentorship and leadership. Putting guys in place with the right kind of guy to help them. We check in with professors and try to find any guys that might be struggling to identify that as fast as possible."

The closing remarks recognized the challenges and possibilities for campus greek life. Before group sung the school song, Jon Pactor '71 called the students to recognize the positive role that the alumni advisors and follow in their footsteps.

"Frankly I think this Fraternity Day is different than something any other school does," Klembara said. "Mr. Pactor and I have had discussions about it, we feel that we do something that no other school does and that's celebrate all of Wabash fraternity life as a whole."