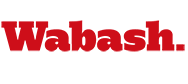 Rival Fraternities to Relay Monon Game Ball
November 14, 2013

Members of the Phi Delta Theta fraternity chapters at Wabash College and DePauw University will be running the ceremonial game football for the 120th Monon Bell Classic from Crawfordsville, Ind. to Greencastle, Ind. on Friday, November 15, 2013. The event aims to raise awareness and funds for the international fraternity's charity, the ALS Association.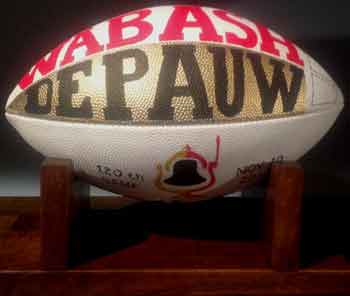 The Wabash Phi Delts will begin the relay at 10 a.m. (EST) Friday on the steps of the Pioneer Chapel in the heart of the Wabash College campus. They'll run past their chapter, Indiana Beta, and follow the route of the old Monon Railroad both for symbolic and safety purposes. The route will run south and east from Crawfordsville, through the towns of Lodoga, Roachdale and Bainbridge, to Greencastle: all former stops on the Monon Railroad. This 37-mile route will keep those relaying the ball on secondary state and county roads and away from busy highways.
At 12:30 p.m. (EST), the Wabash Phi Delts will arrive in Roachdale. At the northeast corner of the intersection of Indiana St. and Highway 236, Wabash chapter president, senior Drew Songer, will formally present the game ball to DePauw chapter president, junior Jake Rust.
From there, the DePauw Phi Delts will relay the ball, running and cycling, arriving at the DePauw campus in Greencastle at about 2 p.m. (EST).
Prior to the 120th Monon Bell Classic football game on Saturday, November 16, 2014, representatives from both chapters will present the commemorative game ball onto the field.
You can follow the relay on Twitter at #MononBellRelay, #ALS and #IronPhi.