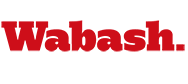 Alums Impress Top 10 Student Visitors
by Howard Hewitt

November 1, 2013

Nearly 150 high school seniors heard prominent alumni along with President Gregory Hess tell them Wabash would help shape not just their careers but their lives. The annual Top 10 Visitation Day gives prospective students an in-depth look at Wabash College.

"Wabash is a little college with a giant footprint," President Hess said in his welcome. "Many schools you visit will make you promises like comfy dorm rooms or a rock wall. We will make you one singular promise. We will take you seriously. As a student here you will become infinitely and intimately connected to our network of alumni. We will do everything in our power to make your dreams come true."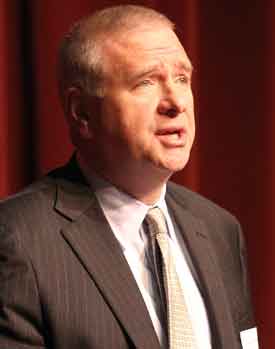 The Top 10 program focuses on students who rank in the Top 10 percent of their high school graduating class. That distinction plus attendance at the Top 10 day assures admitted students of an annual scholarship of $17,500.
The day is designed for the young men to have an on-campus experience in the classroom and to hear from Wabash alums. Brian Edelman '82, VP of Corporate Finance and Investment Banking for Eli Lilly, gave the keynote address.
"What's the value of the liberal arts," Edelman began. "The liberal arts college asks, 'What should every college graduate know?' vs. other institutions that ask, 'What should every college graduate know how to do.'
"Liberal arts graduates have flexible and adaptable minds, are able to think analytically, read critically, and write clearly. They are problem solvers and can communicate solutions."
While some parents worry what their sons will do with a liberal arts degree, Edelman assured parents and students that a liberal arts education will best prepare the young men for success.
"As the person responsible for the hiring at Eli Lilly I am looking for the following characteristics: intelligent, have a history of working hard, have led others effectively, is a good communicator," he explained. "Wabash College directly produces what I'm looking for in a hire. One-quarter of the CFO staff (of 16) at Lilly are Wabash grads."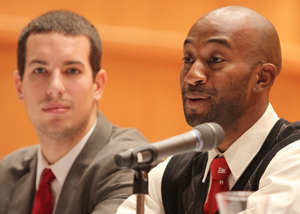 After the keynote, the students and parents focused in on the details with more alums. Students first met with a panel of young alums while the parents followed with a different group of graduates.
"Be prepared to be challenged and pushed. My fraternity brothers told me 'You aren't cutting it,'" said Scott Benedict '98. "When I thought I hit my limit I pushed a little more, went a little further and set a new limit. You keep doing that you find there isn't anything you can't do."
One parent, probably like many in the audience, asked the alums how a student makes a decision when they don't have a particular career path in mind.
"The real benefit of Wabash is it teaches you to learn and figure it out," responded Charlie Kelly '11. "I absolutely support the liberal arts – especially for those who don't know what they want to do."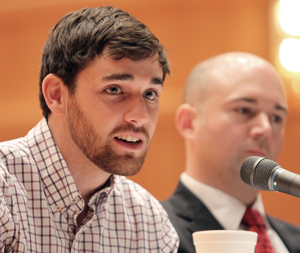 Rob Rudicel '92 uses his personal experience to convince Wabash is a great choice. "Guys are going to be 18 – they have to make their own decision," he said. "They need to know there is no back row at Wabash. Their professors are going to know them. They are going to be there to help them. Help [your sons] really think about what they want to get out of college."
The participating alumni on the two panels were: Emmanuel Aouad '10, Process Analyst, State Farm Insurance: Scott Benedict '98, Senior VP TX: Team; Tyler Buresh '12, Computer/Electronic Accommodations, Dept. of Defense; Allen Clingler '02, VP and Private Banker, The Northern Trust Company; Charlie Kelly '11, Founder, FindJive; Rob Rudicel '92, Pediatrician, North Star Pediatrics; Ben Seib, VP Finance, Cancer Treatment Centers of America.