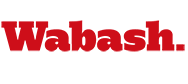 Wabash Among Top Liberal Arts Colleges
by Howard Hewitt

September 9, 2013

U.S. News has again singled out Wabash College as one of the best private liberal arts colleges in the nation.

The annual U.S. News & World Report Best Colleges of 2014 features just two Indiana private liberal arts schools. Wabash was 57th on the list. Four North Coast Athletic Conference schools, Oberlin, Kenyon, Denison and DePauw, also made the list. The recent news complements with The Princeton Review and Fiske Guide to College singling out Wabash College for excellence and value.

"The rankings allow you to compare at a glance the relative quality of institutions based on such widely accepted indicators of excellence as freshman retention, graduation rates, and the strength of the faculty," the publication reported today on how it compiles the rankings. "And as you check out the data for colleges already on your short list, you may discover unfamiliar schools with similar metrics, and thus broaden your options."

Wabash College President Gregory Hess said such guides can be a useful tool. "College guides, like the one produced each year by U.S. News & World Report, are helpful to college-bound students and their families, so it's good that Wabash is ranked in the top tier of all national liberal arts colleges," the President said. "What we value most, however, is fit, and no guide book can measure that. Students and families who visit Wabash come to learn that Wabash does a superior job educating young men because we take them seriously and we push them hard, in and out of the classroom. By measures such as critical thinking and the development of leadership skills, Wabash is doing very important work with the young men who enroll here."
Wabash has historically done well on the prestigious U.S. News list. This year Wabash was singled out as one of the country's best liberal arts schools on a list called "A+ Schools for B Students."
"If you're a good student with less than stellar test scores or a so-so GPA, these are the schools for you," was the list description posted on the publication's website. "These colleges, which have strong ratings in the 2013 U.S. News Best Colleges rankings, accept a significant number of students with nonstratospheric transcripts
"The U.S. News Liberal Arts list was topped by Williams, Amherst, Swathmore, Middlebury, and Pomona,

Prior to the start of the school year, The Princeton Review published its 2013 findings based on a survey of 126,000 students nationwide. The Review placed Wabash among the nation's very best for Career Services, best classroom experience, athletic facilities, science labs, and for professors getting high marks.

The Fiske Guide to Colleges named Wabash a "Best Buy." Only 20 liberal arts colleges are named to the Fiske list. No other Indiana college made the Fiske rankings.