Carry on a Legacy
Printer-friendly version | Email this article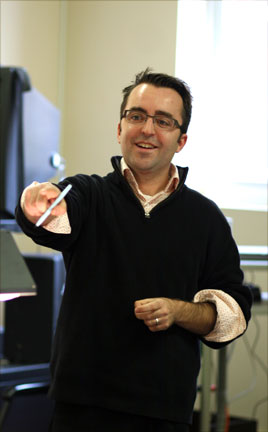 When Jeremy Hartnett began teaching at the College the year his former advisor—Classics Professor John Fischer H'70—was retiring, he mentioned three things he'd learned from his Wabash mentor.
"First, teaching and learning never stops at the classroom door," Hartnett said. "And they should take myriad forms. John has led scores of students throughout Europe, and his kitchen has taken still more into further culinary territory. John relishes unsettling students, opening their eyes, and pushing them. Second, a professor's job isn't just to teach. Third, honesty counts."
Or as Hartnett told students in a recent Chapel Talk: "A 'D' or an 'F' now may inoculate you from bigger mis-steps later in a harsher world."
Granted tenure in December, Hartnett seems to embody in his own way much of what he admired in Fischer, and his work is ensuring the Classics' essential place in the Wabash curriculum.
"Infectious passion for the ancient world and a critical imagination that brings the past to life mark Jeremy Hartnett's teaching and scholarship," Dean of the College Gary Phillips said in the December tenure announcement. "Whether in his introductory Latin class or on an immersion trip in Rome, Jeremy shows how careful attention to language, architecture, literature, and image shapes a discerning eye and an empathetic intelligence. His focus on the concrete street life of Pompeii sends the message to students that liberal arts learning not only makes the past sensible, but also equips them with the means to live humanely in the present. Jeremy's is a model of interdisciplinary teaching and research and compelling evidence of the vital role Classics plays in the Wabash mission."
"I'm honored to join this faculty because I hold it in such high esteem," Hartnett said. "This is especially true of my colleagues in Classics, who first inspired me to pursue this field as a Wabash undergrad and who have provided ceaseless support and encouragement since I've come back to campus. I'm looking forward to the formidable challenge of carrying on the legacy of Leslie and Joe Day, David Kubiak, and John Fischer."