Getting Good Things Done
Printer-friendly version | Email this article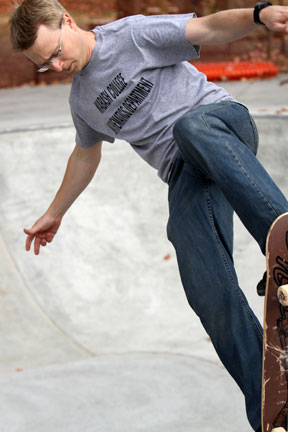 From the intense conversation he was having with students from the College's Summer Institute in Mathematics as the group strolled down Wabash Avenue last July, you might have thought Chad Westphal had nothing else on his mind.
Certainly not his upcoming final tenure review, nor the new engineering dual-degree partnership he was negotiating for the College through the various levels of Purdue University's bureaucracy. Not even the $250,000 effort he was leading to build a skateboard park in Crawfordsville.
Even with these labors of love for the College and community at their most critical phases as the husband and father of two prepared for his fifth year of teaching at Wabash, Westphal seemed calm and focused on his students.
Something far more significant was going on in Westphal's life. His father had been diagnosed with pancreatic cancer, one of the disease's deadliest forms.
"My father's diagnosis and battle with cancer put everything in proportion for me," recalls Westphal, who last year spent many hours traveling between Crawfordsville and Oklahoma to be with his dad. Surprising even his doctors after surgery and an exhausting treatment regimen, Westphal's father is beating the odds—his cancer is in remission.
"Through the experience I realized the short-term nature and frailty of even these important and beneficial projects I was working on," Westphal says. "That was actually helpful, because I didn't overreact when a particular thing didn't go exactly as I'd expected. I could be patient. And I saw the big picture—that the most important work I do is in the classroom with young men in this transitional time of their lives. Something life-changing for them may not happen every day here, but it may. And I'm in the classroom for them at that moment."
Announcing that Westphal had received tenure, Dean of the College Gary Phillips said, "Evidence of Chad's significant engagement with and impact upon the College is visible everywhere: as a nationally recognized teacher/scholar in the mathematics/computer science department; as an advocate for shared student/faculty research; as key negotiator forging the new engineering partnership with Purdue; as the driving force behind Crawfordsville's new skate park, to name but a few.
"Chad demonstrates the ability to make the complicated accessible and the seemingly impossible doable, whether working with mathematical proofs, institutional agreements, or city officials. Chad gets good things done; he elevates the standard of excellence for Wabash students and his faculty colleagues."
Anchoring Westphal's work is his confidence in the wisdom of the liberal arts—which he describes as, among other things, "training in flexibility"—and a "steady faith that drives my views on things eternal and things temporal.
"I read this the other day—that in the course of human history, very few people have gotten to choose what they wanted to do for a living. I'm one of those lucky few who was given a wide range of choices, and I'm blessed to have found something that I enjoy and that I believe is important."
Read more about the College's dual degree in engineering with Purdue University.