Voices: Higher Calling
by Evan West '99
Printer-friendly version | Email this article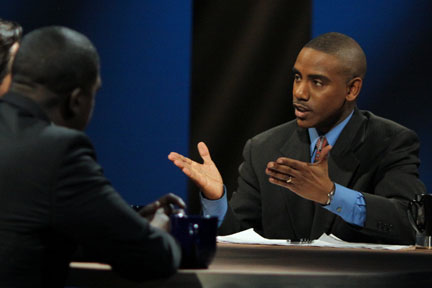 She was just another woman on a bus, and she wanted to talk to Garrard McClendon. Handsome, courteous, and gregarious, McClendon makes fast friends of strangers with a ready smile and an easy hand on the shoulder. He has a way of getting people to talk to him. He holds their gaze, intently, and is patient in conversation, with an expression that seems to say, "Go ahead. I'm listening."
So it wasn't strange that this woman approached him on the bus and wanted to talk. It was what the woman told him, and the conviction with which she said it, that took him aback.
"You're going to get paid for every word you write and every word you say," she told him.
At the time, McClendon was several years into a teaching career and was pursuing a master's degree in English from Valparaiso University. Yes, he had once had aspirations of being a journalist; at Wabash he had worked on The Bachelor and edited the newsletter of a student organization. But he was now committed to a career in education, his second love. He was getting paid for every word he taught.
He looked at the woman for a moment, waiting for an explanation. "And?" he asked, incredulous. "That's all I have to say," she replied, then got off the bus.
McClendon never saw the woman again. But now, sitting in a conference room of Chicago's WYCC-TV20, the largest minority-operated PBS affiliate in the United States, he thinks she was a kind of messenger.
McClendon was destined for a larger audience. His new call-in talk show, Off 63rd with Garrard McClendon (named after the street on which WYCC is located) began broadcasting earlier this year to viewers in five states—and soon, he hopes, to the rest of the nation. The live weekly program takes on hot-button issues with panels of in-the-news guests. But more than creating a forum for pundits and personalities, McClendon has set out to create the most interactive experience on television, and he's harnessing every new-media tool at his disposal.
When McClendon describes Off 63rd, it is clear that this pursuit of interactivity, of providing a forum for those who are most affected by the issues that make the news, is what really drives him.
"It's democratic," he says. "I want to give the public the opportunity to actually be engaged in the show. So often, producers say, 'Let's create the content, and people will watch it.' But we want people to say, 'While that show over there is telling me what to think, this show lets me say what I'm thinking.' We want the viewers to design the content, and that's what's going to make this a weekly town hall meeting."
The mission reveals McClendon's view of his own unique role as a broadcaster; he's not a journalist, he says, but a commentator, a kind of mediator whose job, above all else, is to listen. And it's listening—to his audience, to a woman on a bus, to a voice from deep within him—that has helped guide McClendon not only through his own career in the media, but through professional hardship and profound personal tragedy.
Garrard McClendon's great grandfather, William McClendon, was an African Methodist Episcopal minister and the dean of students at Morris Brown College in Atlanta. A fundraising whiz, his pastoral gift was moving to parishes and building them up. At the turn of the 20th century, as the output of steel mills on the shores of Lake Michigan swelled to keep pace with the demands of a rapidly industrializing nation, large numbers of African Americans from the South flocked to northwest Indiana in search of jobs. William McClendon moved his family to Gary to serve this community.
"He could draw a congregation quickly," McClendon says of his great grandfather. "That's the kind of minister he was—prolific, charismatic, handsome, highly educated." And although the great Civil Rights movement of the 1960s wouldn't swing into full gear for several decades, the Rev. McClendon set out to improve the quality of life for his adopted community.
"He was the kind of pastor that could come to your neighborhood and build civil rights organizations," says McClendon. "He had a silver tongue, and he would talk with banks to persuade them to be more amenable to African Americans."
As the African American migration spread to communities beyond Gary, Garrard McClendon's grandfather, also named William, settled in nearby Hammond, establishing one of the first handful of African American families in the city and the first to build a home there from the ground-up. The pioneering extended to his job—McClendon became the first African American crane operator at Bethlehem Steel there.
McClendon's father, Milton, was a U.S. Army veteran; his mother, Ruby, had moved to northwest Indiana from Tennessee with her family in the 1940s. They married in 1955 and started a family. They had Garrard, the youngest of three boys, in 1966, and he describes his childhood, in the Maywood neighborhood of east Hammond, as happy and prosperous.
"Hammond was a thriving city in the late '60s and early '70s," he says. "Growing up in east Hammond was a wonderful experience. Even though east Hammond was predominantly black, Hammond itself was predominantly white. So when we went to school every day, we were in mixed environments."
McClendon's parents often worked second jobs in addition to their primary occupations—his father, for the U.S. Postal Service, his mother, for Illinois Bell—but remained attentive to their sons, particularly when it came to education. Even hobbies, says McClendon, were a teaching opportunity.
"We always had model airplanes and radio-controlled cars, and my dad always kept model train sets," he says. "They did that to show us that in life you can have fun, but you have to be meticulous at times. You have to care about things." Milton coached the boys in Little League baseball; he encouraged the sport, McClendon says, because it is "a thinking-person's game."
At Hammond High School, McClendon excelled as a student and starred in track and cross country. His college choices included Ivy League schools, and he received a nomination to the Air Force Academy from Indiana Senator Dan Quayle. But Wabash recruiters pushed hard to convince McClendon to give the small liberal arts college a look.
"Wabash recruiters visited me the most," he says. My mom was so impressed by that, because she knew the history of Wabash. She would go to work and tell all her friends, 'Guess who came to our house. Guess who had dinner with us last night.'"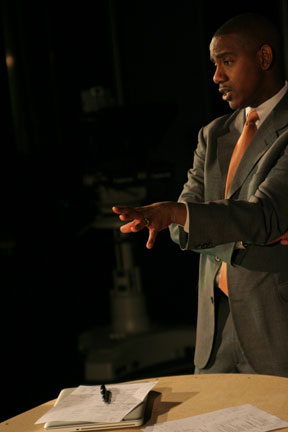 In 1984, McClendon made the trek to Crawfordsville to join the Class of 1988. Coming from the bustling Chicago exurb of Hammond to sleepier Crawfordsville took some adjustment.
"I didn't always have good experiences there," he says. "It's an isolated town. You can kind of feel out of place. It doesn't matter what color you are. If you're not from Crawfordsville, it's like, 'What is this?'"
On campus, though, McClendon thrived. He had aspirations of becoming a journalist, but Wabash offered no formal instruction in the subject. So he wrote and photographed for The Bachelor and settled for the next best thing—English.
It would prove a fateful decision. In pursuing his English major, he says, he truly found his writing voice. He credits professors in the department as important mentors in his intellectual development.
His involvement with the Malcolm X Institute was equally influential. Through MXI he met famed movie director Spike Lee and ate collared greens with poet Maya Angelou (whose verse McClendon quotes to this day). And the unwelcome he sometimes felt in Craw-fordsville didn't deter him from working as a mentor for local students and becoming English tutor of the year in the Crawfordsville Public Schools.
That work as a mentor with MXI would shape the course of his post-Wabash career. Without formal college training in journalism, McClendon saw education as an attractive and practical alternative. After teaching stints in Indianapolis and at Culver Military Academy, he moved back to northwest Indiana to start a master's degree in English at Valparaiso University, and went on to teach education courses at Purdue University Calumet.
Then he got another push from his family. His father's brother, Ulysses Napoleon McClendon—"Uncle Nap"—asked him, "What the hell you stopping for?"
McClendon heeded his uncle's advice and began working toward a Ph.D. at Loyola University in Chicago while teaching at Calumet College of St. Joseph. In the meantime, he launched the McClendon Report, a multifaceted enterprise that included consulting, media production, and publishing. By 2004, McClendon had a full-time college-level teaching gig. He was a successful business owner and author. He and his wife, Quanica, whom he had married in 1997, had two happy, healthy children. It seemed McClendon had it made.
But he wasn't satisfied. He couldn't shake the feeling that he was destined for something else. And he was getting unsolicited advice that seemed to confirm the feeling. There was the woman on the
bus, and then, later, a friend, who told him, "Teaching in the classroom is cool, but you're cheating the world if you're not on radio and TV."
"It was like television was calling," says McClendon. "I thought to myself, You've got to have a larger audience, man. You have to reach people in their homes, without them having to come to you, or you go to them. That image kept hitting in my mind."
Never one to wait for an opportunity, McClendon created his own. He began self-producing television and radio shows that aired on a Chicago-area cable access channel and an AM station in Hammond. As the popularity of the shows grew, WVON-1690 AM in Chicago, the most prominent black-oriented talk station in Chicago, picked up the radio show. In 2008, WGN-CLTV, a cable news station in Chicago, started producing Garrard McClendon LIVE, and just four years after setting out to expand his audience beyond the classroom, he was appearing in thousands of homes and interviewing the likes of Jesse Jackson. In 2009, his show had been on the air for a year, and McClendon was becoming a popular media fixture in the nation's third-largest city.
It should have been a good year.
The call came on the afternoon of October 19, 2009. McClendon was getting his show ready to go on the air. It was his wife. She told him he should leave the office, then asked him to hand the phone to his producer, Jerry Riles. The two walked out to the parking lot, and Riles told McClendon the news his wife hadn't wanted him to hear in a crowded television studio. McClendon's parents, Milton and Ruby, ages 78 and 76, had been found murdered in a forest preserve near Calumet City, IL.
Riles offered to drive McClendon to his parents' house in Hammond, but McClendon felt that he needed to be alone, to somehow absorb the blow of what he had heard. He agreed to follow Riles, and as the two pulled onto the Dan Ryan Expressway to leave Chicago for Indiana, McClendon noticed something strange.
"When I found out what happened, of course I was stunned, kind of in shock," he says. "Total disbelief. But I was on the Dan Ryan Expressway, and it was completely empty—at rush hour. It was like a sign. The Dan Ryan is never empty. My producer was in front of me in the traffic, and he noticed it, too. It was surreal. Something was going on that day. And then this calm came over me."
In the calm, McClendon says he heard a message. "It was God," he says. "He told me, 'You're going to see police tape, FBI agents, county police, local police. Your family is going to be there. Your friends are going to be there. You're going to see news trucks. It's going to be crowded. It's going to be chaotic.' And then came the most important, and difficult, part of the message: 'I need you to instantly forgive the perpetrators of this situation,' is what I heard. After that, it was like the grief just kind of left me. So when I got to my parents' home and saw all the stuff that God told me I would see, I was calm. I was at peace. And to this day, I'm at peace. I've forgiven the perpetrators."
The home of McClendon's parents, which they had built in 1981 —the culmination of a lifetime of hard work—had been ransacked and burglarized, and their car had been stolen. Within a few days, authorities arrested two young men, ages 17 and 18, from the neigh-borhood—the very type of young people whose lives McClendon sought to improve through his work as an educator and broadcaster. It was a tragic irony that made the already chilling news story all the more explosive, sparking outrage throughout the Chicago area.
That a son of the victims was a popular media personality meant that the case would remain very public until its conclusion—the second perpetrator was sentenced in November 2010—and meant that McClendon, despite his pain and anger, would have to endure the ordeal in the public eye. But he didn't shy from the glare. His forgiveness—expressed repeatedly in newspaper articles and on TV and radio shows—became a kind of salve on the wound the crime had inflicted on the community.
"When I testified during the hearings," says McClendon, "I told the perpetrators, 'It's done. The court system will punish you. It's not my job to punish you; it's my job to forgive you.' And I let it go. And that's a lesson that two of the most beautiful people I've ever met in my life—my parents—taught me. My mom used to say, 'When you wake up on the wrong side of the bed, find something right.' So I had to find something right that day, a day that was so wrong. You do that through spirit, through your love of God. My faith in Jesus Christ got me through that situation."
The WYCC studio is dark on a quiet Thursday afternoon, save for a couple of bright lights that illuminate a half-constructed plywood desk. A production crew discusses the minutia of making a TV show—adjusting lighting, shooting b-roll, running credits. From time to time, producer Allison Hunter preempts the discussion to remind the group of the bigger picture.
"People want a voice," she says. "And we're going to produce this show with the audacity of perspective."
Off 63rd is to be the station's flagship program. The first episode will air in a week. As the crew works out the details, McClendon stands off to the side, listening. He is deeply engrossed in the conversation, turning to each speaker as they raise questions and suggestions, sometimes narrowing his gaze, other times holding his fist under his chin in a pensive gesture. McClendon, who has built a career with his gift of gab, is just as good a listener. And even though it's his name on the marquee, he lets a good half-hour of the meeting pass before letting his voice be heard.
Next week—and for 46 more weeks beyond—when the airwaves cast his voice across five states, he will have to be on. He will interview politicians, athletes, and celebrities. He will take calls and read e-mails, Web posts, and Tweets.
"We will achieve great programming and higher knowledge by letting people express what they feel, regardless of what I say. My job is to make the viewer and the panelists the stars. I just keep the thing going like Barnum and Bailey."
Off 63rd is more than just a TV show. For McClendon, it is a kind of redemption. Last September, less than a year after his parents were found murdered, after McClendon had helped console a grieving city over the death of his own parents, CLTV suddenly, and with little explanation, canceled Garrard McClendon LIVE. If such a professional setback seems minor compared to McClendon's terrible personal loss, the two, taken together, presented the kind of moment that can break a man's spirit.
McClendon would not be broken. This enterprise of his—raising important issues and giving the public a forum in which to debate them—is more than a career. It is a calling, an act of faith. Although you won't hear McClendon delivering sermons on the air, he regards the need to reach people as a kind of ministry, one whose impact extends far beyond the airwaves. Twice, released convicts called Garrard McClendon LIVE to talk about wanting to better their lives, but that it was difficult to find work; McClendon used his connections to find work for both of them. He hopes that his new show will have the same kind of impact.
"It's like my show is more spiritual than anything else," he says, "and that's not really on purpose. It's not like I'm preaching. I'm not trying to give people some kind of spiritual experience. I want people to be able to contact me. And let me tell you what's happened: People who've been in serious trouble call the show. People who have lost loved ones to tragedy—they call me. And I speak with these people, on the show and off the show. I've been to funerals and graduations. It's not good enough to be just a talk show host. I'm not in this thing for entertainment. I'm in this thing for something much bigger."
---

Ax or Ask?
In 1995 Garrard McClendon wrote Ax or Ask? The African American Guide to Better English, an instructional guide geared toward helping students improve their language skills. The book has been reprinted seven times and is currently taught in 30 school districts.
The book stems from McClendon's belief that opportunity and success are rooted in the ability to communicate well.
"I'm just basically trying to get teachers, parents, and school administrators to be more conscious of students—particularly African American students—who need to be able to speak standard English in environments that require it," he says. "That's one of the first lines of discrimination, when certain words are mispronounced, or grammar is used incorrectly."