Learning from Master
by Steve Charles
Printer-friendly version | Email this article
We're well into our conversation at John E's Restaurant on Louisville's southeast side before Mark Gehl '98 realizes this city landmark is the place where his career started. Where Phil Deamer '67, programmer, software designer, and founder of Mission Critical Systems, hired him, even though Gehl was an economics major with but one computer science class to his credit.
"I had no idea what I was going to do after graduation," says Gehl, who outside of his studies was one of the college's top young photographers. "I thought about going into photography, something more artistic, where I could work with my hands, building and problem solving.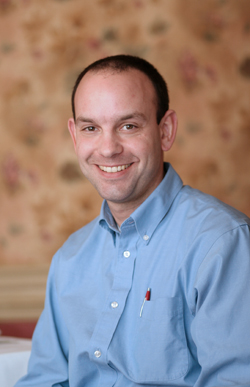 "I discovered programming is problem-solving, just with a different set of skills. And it's more creative than you might think."
Particularly in the hands of Deamer. Hired out of Wabash by GE which later sold its computer department to Honeywell, Deamer had helped write the database management system adopted by the Swedish government for its welfare system, a powerful new tool led to the first piece of privacy legislation in the world.
When Deamer returned to GE, he brought the software and program with him, and servicing that system would eventually become the genesis of Mission Critical Systems.

"That database management stuff Phil wrote in the early 70s is essentially what Oracle is, but he was writing it 10 years before Oracle," Gehl explains. "So to learn from Phil was like learning from the master.
"And I was the apprentice. There were days when I would sit next to Phil and watch him program for three or four hours. Unless you've done it, it's hard to understand just how much you can learn from just watching someone like that—watching someone do what they are the best at.
"I liked it a lot, and the more dedicated I was, the faster I progressed," Gehl says, noting that he joined Mission Critical when the company was converting GE from the Bull mainframe system Mission Critical supported to the Unix system. It was a move that would make the company obsolete and eventually lead to end, but during the conversion process Gehl had a staff of seven and he and his colleague, Brian Harrington, were on call 24/7.
"I could work all the time if I wanted to, and I liked that," Gehl recalls. "It felt good being productive, getting more responsibility from Phil, solving problems."
Gehl began to teach programming to the new employees, Scott Salai '07 among them.
"For the first five years the fun aspect of my life was getting better at what I was doing and learning from Phil, but more recently aspect teaching what I could to others became the most rewarding."
After the conversion to Unix was completed in 2007, the staff was cut to five employees, and the economic realities of 2009 caused Mission Critical to downsize again in March. Harrington remains with the company, and Salai plans to take business strategy courses at Purdue this fall.
Gehl had actually considered leaving some time and is "treating the event as a good thing," taking some time off and reflecting on what he'll do next.
He's most grateful for what he was able to learn from scratch at the side of a master programmer, and what he was able to pass along.
"With computers today coming with gigabytes or memory and terabytes of disk space, some of the art of programming is being lost," he says. "I had the chance to learn from one of the artists."