From the Archives: The Founders
by Beth Swift
Printer-friendly version | Email this article
As I look over the history of Wabash I often focus on a veteran professor, the life of an alum or one of our former presidents.
But in thinking about what I might write for this issue of the magazine my thoughts flew to the men who created Wabash College. They were young men. They came from the East to establish churches and schools in the wilderness known as the "Western Country". Hanover College, the Indiana Academy (which would rise to become IU) and Wabash College were all founded by a fairly tight knit group of energetic young Presbyterians.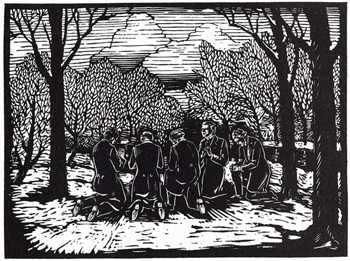 The first Board of Trustees of Wabash, then known as the Prudential Committee, were a young bunch, full of energy and a strong faith that their humble venture would prosper.
So, while the story of the founding and the kneeling in the snow has been told many times, the story of these young men is less well known. What follows are brief sketches of a few of our founders and first members of the faculty and their contributions to Wabash.
Edmund O. Hovey is, of all of the founders, a name still recognized on campus. His cottage nestles beside the Caleb Mills House and a more appropriate place could not be found. Hovey, like Mills, was a graduate of Dartmouth and of the Andover seminary. Only 31 years old when he attended the founding meeting, Hovey was the second member of the Prudential Committee. Like so many of the other early trustees, Edmund was a Home Missionary to the Wabash Country.
Newly ordained and married the day he and his bride started west, it was Hovey who recruited his friend Caleb Mills to a position in the new academy at Crawfordsville. It was also Hovey who recruited the first three presidents of Wabash, and Hovey who raised the lion's share of the money to get Wabash up and running. Clearly Hovey was at the heart of this new venture and right beside him was Mills. These two young men lived and worked side by side their entire lives in the service of Wabash. When, in his seventies, Hovey lay dying, it was Mills at his bedside to hear his final words which included a blessing for his beloved Wabash College.
It is fitting that we next look at James Thomson, the eldest of several brothers. James graduated from Miami of Ohio and Lane Seminary. He was sent to Crawfordsville to establish a Presbyterian church and to minister to the pioneers of this frontier outpost. Often described as the prime mover in the founding of Wabash, James was 31 years old when he invited other likeminded men to his home for the founding convention. He served as the first President of the Prudential Committee and it can safely be said without his drive and devotion to the cause of education, Wabash might not have risen at all.
John Steele Thomson, younger brother of James, was born in Ohio in December of 1804. He too received his college education at Miami of Ohio, was ordained and came to Indiana as a Home Missionary. He served Fountain County, then re-assigned to a post in Waveland, just south of Crawfordsville. The post he had held in Fountain County was assumed by Hovey. Present at the founding, John, 28 years old at that time, was appointed the first financial agent of the college. In 1834 he was chosen to teach mathematics and became the third member of the faculty. Perhaps John's biggest contribution to this young college was the energetic speech he gave which persuaded the town of Crawfordsville to give the money raised for a female academy to rebuild the College after the disastrous fire of 1838. John died in 1843 at the age of 39.
Samuel Merrill attended Dartmouth, like Caleb Mills and Edmund Hovey. Merrill was a native of Peacham, Vermont, the hometown of Mary Carter Hovey whose father was the schoolmaster at the Peacham Academy. Merrill served Wabash as a trustee from 1833-1854 and was just forty years old when he joined the Prudential Committee, as the Board of Trustees were known at that time. A man widely known and respected throughout Indiana, he served as a President of the Indiana Historical Society, President of the State Bank of Indiana and the Madison and Indianapolis Railroad. In 1850 he bought a well-known bookstore which later became the publishing house Bobbs-Merrill.
Samuel Gardiner Lowry, 32 years old at the founding, served Wabash as a Trustee from 1832-1857. He was a missionary based out of Crawfordsville and for two years was also a traveling agent for this young school. As with so many of the men who served the College, of his six sons, five attended Wabash and three graduated from here. Much like James Thomson, Lowry was a member of the Board of Wabash until he moved to Minnesota in 1857. When the College marked its semi-centennial in 1882 he attended and played an "active role". Samuel Lowry was the last surviving founder when he died in 1886.
James A. Carnahan studied in the Log College of Livonia, Indiana and finished his training for the ministry at the Auburn Seminary in NY. Carnahan returned to Indiana as a Home Missionary to 'labor in Indiana at a salary of $400 per year' and organized several congregations in Indiana: West Lafayette, Frankfort, Monticello and Dayton. "When this pioneer preacher began his work in 1830, Indiana was a wilderness. Indianapolis and Terre Haute were only 10 years old, Crawfordsville 8 and Lafayette 5…Dense forests, muddy trails, ignorance and prejudice against education made the work of the early missionaries difficult."|
With his commanding presence, strong constitution and superior education, James Carnahan was just the man for this work in the Northwest. "Six feet tall, weighing 220 pounds, erect in carriage, forceful in manner and speech, he was a most striking character, famous at log rolling and eloquent in the pulpit. President Tuttle of Wabash College said of him, 'He would ride all day on horseback in the worst weather and over the worst roads and preach with wonderful vigor at night in the a cabin, schoolhouse or church. He and James Thomson were the 'Sons of Thunder' in this wilderness." At the time of the founding Carnahan was only 30 years old. Father Carnahan as he was lovingly known in his later years died in January of 1879, having served Wabash as a Trustee from its founding until his death, 46 years in all.
Carnahan, like the other missionaries in this state, were stretched to the limit to provide services to the various churches they were establishing. There was clearly a shortage of educated ministers in Indiana and at this time a journey of 150 miles might take thirteen days or more. These bold young men all agreed that what was needed in this part of the state was an academy to train preachers and teachers. They had identified other young men who were inclined to enter the ministry, if a way could be found to educate them locally. With much hard work, strong faith and the energy of youth, they built a college in the Wabash country.
As I think about these founding men and early faculty, I feel that they might recognize in the students of today the same sort of young man they knew and taught. Men like themselves at that age, earnest fellows with a thirst for knowledge and the drive to succeed. Just as the students were in the 1830's, as they have been throughout the history, and as they continue to be today – sharp, determined and full of youthful energy.