Larry Bennett: Reviving a Masterwork
by Steve Charles
Printer-friendly version | Email this article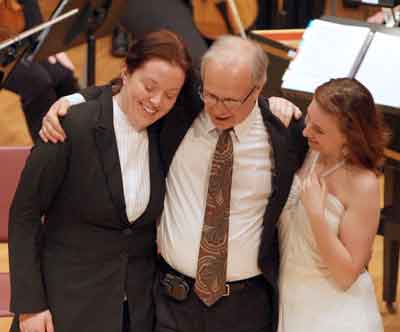 Wabash Professor of Music Larry Bennett and the Indiana University Baroque Orchestra made musical history on February 22, reviving on the Salter Hall stage a masterpiece that had not performed for more than 260 years.

Bennett had rediscovered the piece during his research in Meiningen, Germany in 1995.

It was a triumphant performance, and one that was repeated at IU's Auer Hall a week later.

In photo: Professor Larry Bennett takes a bow with sopranos Elizabeth Pearse and Alize Roznyai following the first performance of Holzbauer's Hypermnestra in 268 years.