Larry Bennett: Reviving a Masterwork
by Steve Charles
Printer-friendly version | Email this article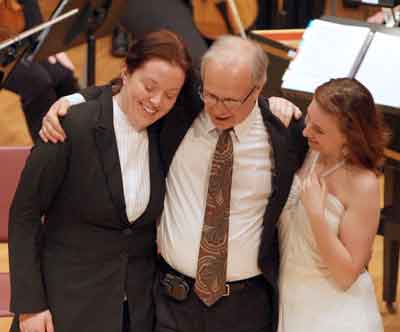 Wabash Professor of Music Larry Bennett and the Indiana University Baroque Orchestra made musical history on February 22, reviving on the Salter Hall stage a masterpiece that had not performed for more than 260 years.

Bennett had rediscovered the piece during his research in Meiningen, Germany in 1995.

It was a triumphant performance, and one that was repeated at IU's Auer Hall a week later.

Read about Bennett's rediscovery of the piece here

Read about the preparation for the performance here and here

See photo albums from the performance in Salter Hall here and here.

Read a review of the IU performance here.

In photo: Professor Larry Bennett takes a bow with sopranos Elizabeth Pearse and Alize Roznyai following the first performance of Holzbauer's Hypermnestra in 268 years.