Dedication Celebrates Bachner's Legacy
by Steve Charles
Printer-friendly version | Email this article
It was the sort of day Mike Bachner '70 loved.

More than 150 people from numerous environmental organizations joined Bachner's family and friends from Wabash College and the Crawfordsville community on Saturday to dedicate the Mike Bachner Nature Reserve in memory of the outdoorsman, environmentalist, and Wabash College bookstore manager.

"For my father, traveling on the creek was always about the adventure, and about the story you could tell when you got back," Bachner's daughter, Madeline, told those gathered around the large wooden sign marking the Reserve. "What we have to learn from that and be reminded of is that when we put in on Sugar Creek, here or anywhere else, or on any trip we take, it's not about executing a smooth plan, it's about having an adventure and telling people about it.

"That's how we can educate people, that's how we can impassion them to use these beautiful wild places, and that's how we preserve them."

See photo albums here and here.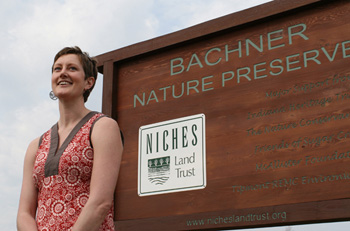 The Reserve, a 41-acre field which includes an access point to Sugar Creek, is a joint effort between the NICHES Land Trust, Friends of Sugar Creek, the Nature Conservancy, Indiana Heritage Trust, Pheasants Forever, Tipmont REMC, McCallister Foundation and the Indiana Plant and Wildflower Foundation. More than 5,000 trees are being planted in the field (about 3,000 of those by volunteers yesterday).

The seeds for the project were planted during a conversation between Wabash Professors David Krohne and Doug Calisch during an immersion learning trip with Wabash students in the Amazon Basin. Krohne serves of the NICHES board, Calisch with the Friends of Sugar Creek, and as good friends of Bachner's they were looking for an appropriate way to honor the man who had called Sugar Creek "my own little slice of wilderness."

"This is a fabulous turnout," Krohne told those gathered, "and it honors Mike Bachner, the creek, and this place that will become a forest in about 100 years."

"I'm really so excited to see so many people out here," said NICHES Executive Director Gus Nyberg. "This project has been a wonderful opportunity for us to be involved in this community, and I'm looking forward to working with everyone down here and watching this forest grow.

"I know how important Sugar Creek is to people throughout the state of Indiana, which many people will agree is the best stream in the state."

"One of the special aspects of Sugar Creek is that it has the largest bloc of formerly glaciated forest in the entire state," Nyberg concluded. "It affords us the best opportunity to protect populations of songbirds and other species in this type of forest—the beginning of an effort to achieve a truly meaningful and lasting conservation on the Indiana landscape."

NICHES' vision for the Sugar Creek valley is to preserve and grow the forests and ensure that future generations have access to free-flowing clean waters "teaming with bass, darters, and dragonflies."

Friends of Sugar Creek President Zach Cain thanked the crowd for "supporting Mike, his memory, and this project.

"The mission of the Friends of Sugar Creek is to preserve, protect, and promote appreciation of Sugar Creek," Cain said. "It came to our attention several years ago that people were losing access to the creek. It was really a problem, and it was getting hard to get canoes in and harder to find places to stop and get out without worrying about being towed or run off. It was choking off access to the creek.

"All the pieces came together, and we got some memorial contributions after Mike Bachner's memorial service, Matt and Angie Williams did a lot of work to find this property, and with NICHES, the Nature Conservancy, and the Coal Creek Chapter of Pheasants Forever we were able to work together to get this property. And it's going to be a beautiful place, a great place for hiking, fishing, and access to the creek.

"I can't say enough about the hard work that went into getting this place, especially to NICHES, who really took hold of this project."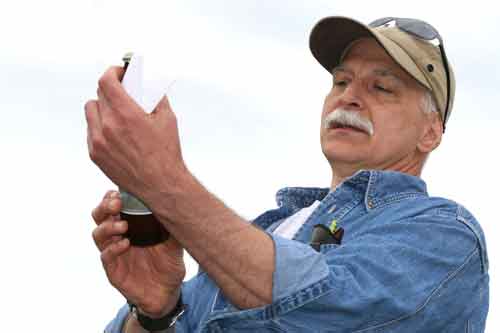 In one of the most moving moments of the day, Mike's brother, Chuck Bachner, read a poem, "Planting Trees," by Wendell Berry, one of Mike's favorite writers: "I return to the ground its original music./It will rise out the horizon of the grass, and over the heads/of the weeds, and it will rise over/the horizon of men's heads……/Let me desire and wish well the life/ these trees may live when I/ no longer rise in the mornings/ to be pleased by the green of them/ shining, and their shadows on the ground,/and the sound of the wind in them."
"This crowd, this day, and this place are a testament to Mike Bachner and his contagious love of nature and of the water," Calisch told the crowd. With a smile he displayed a gift Wabash senior Nathan Rutz, past president of the College's Students for Sustainability, had prepared for the occasion—a special Bachner Reserve home-brewed beer.

"Nathan has supplied me with a six-pack to give to the family," Calisch said, then read the label aloud: "Bachner Reserve Ale, brewed and bottled in celebration of the opening of the Bachner Nature Reserve, named in memory of Mike Bachner, Class of 1970."

Introducing Madeline Bachner, Calisch recalled seeing her for the first time when she was a little girl.

"She had come back from the woods wearing clover necklaces, face painted with bloodroot, and holding a basket she had woven together from grapevine," Calisch said. "There was no doubt that this young woman was going to be a naturalist."

With a Master's of Science degree in environmental education, Ms. Bachner has worked as a traveling natural history teacher and currently lives in Jackson Hole Wyoming, where she is a guide of wildlife tours in Yellowstone and Grand Tetons National Park.

"It's really moving to see so many people here today," she said. "My dad would be absolutely jubilant to see so many people supporting this."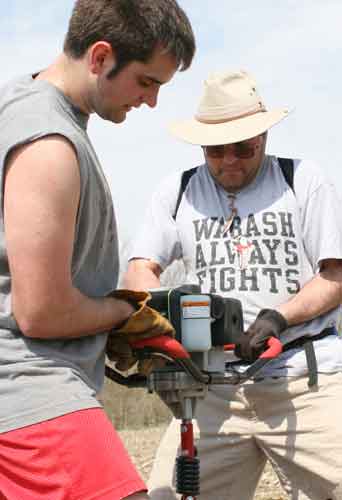 She mentioned the recent passage in Wyoming of a bill to protect parts of the Wyoming range from further gas and oil development

"To come here and see the same sort of protection happening in Indiana is wonderful," she said. "I hope many people have many adventures here and continue to appreciate and love the place."

That love began immediately following the dedication, as more than 70 people spent the rest of the afternoon planting more than 2,000 of the 5,000-plus trees that will be planted on the property.

Many of those working took a brief break to watch a large bird sailing overhead, and those who knew another Bachner family story couldn't miss the significance.

After Mike died at age 58 in November 2006, his family went to Shades State Park, one of Mike's favorite places, for comfort. The one consolation they could find was the presence of a bald eagle, a bird Mike had reveled in seeing in increasing numbers on the creek.

For some, the bald eagle flying over the volunteers at the Bachner Reserve yesterday seemed a symbol of a wild and beautiful legacy. And for others, much more.
In photos: Madeline Bachner thanks those gathered for the dedication; Professor Doug Calisch reads the label from the special "Bachner Reserve" beer; Pete Guiden '12 and Professor Paul Vasquez work an auger to dig the hole for one of the thousands of trees being planted on the Reserve.