Driving General Johnson
by Tom Runge '71
Printer-friendly version | Email this article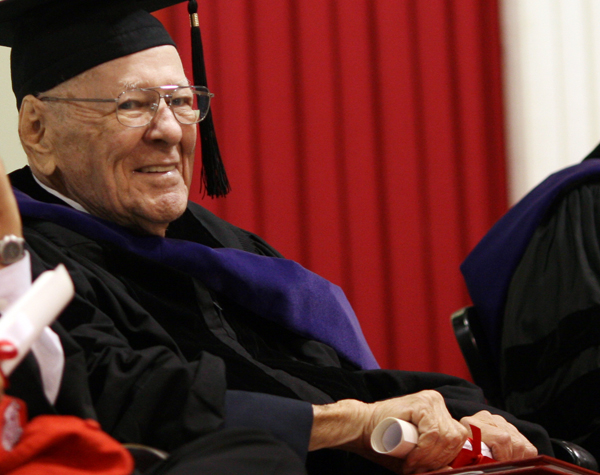 The executive summary: Major General Earl "Punk" Johnson, USAF (Ret.). Wabash Class of 1938. Air Force Pilot. General officer. Patriot. Class agent. Warrior. History maker. All around good guy. You'll read elsewhere that General Johnson received an honorary degree from Wabash at our 2008 Commencement. My role was the easiest one I've had at Wabash—spend Commencement Day with the General.
I first met General Johnson at his home several years ago. Wabash Magazine editor Steve Charles and I traveled to see the General in Orlando. Steve interviewed him for the better part of a day. I sat there, like a little boy, listening to the incredible stories. As General Johnson talked, I could smell the aviation fuel, see the flak, and feel every single thing the aircraft was doing. It was deja vu, all over again. It was good!
Earlier, General Johnson had told me to call him "Punk". I gave him the same reply I gave when Father Ted Hesburgh, president emeritus of Notre Dame and classmate of my father, told me to call him "Ted." "Sir, I just can't do that" was all I could get out of my mouth.
As we left the general that day, I asked Steve to take a picture of us. I never do that—I tend to break a lot of cameras when I am on the lens side of the picture. It was important to me, that day, to have my picture with the General…important.
It was our privilege, Carol and me, to escort General Johnson during the Commencement day activities. The general's mobility isn't what it once was and Carol and I quickly offered to help wherever we could. After all, he was one of us. And as we learned over many Air Force years, that's all that matters. No need to be asked…no need to offer…just do it. It's right. It's fitting. It's proper. It what we do. You can call it "wingman consideration" or "mutual support" or whatever…
The General is 92. He retired from the Air Force when I was in pilot training. He was a "bomber guy" and I was a "fighter guy". That means we're automatically supposed to give each other unending grief. But wait—a Colonel doesn't give a General any grief, let alone unending…that's not the way it works.
The General majored in economics and was a member of the Phi Delt house. I was also an econ major, but an independent. However, our real fraternity was Alpha Foxtrot Papa—Air Force Pilot. That fraternity, just like Wabash College, spans the decades and the continents. That fraternity knows no time. Pledgeship in that fraternity is a big deal—nobody sneaks in.
I watched in awe as General Johnson made his way through the Commencement festivities. He greeted everyone with a warm smile and solid handshake. H was moved, genuinely moved, when the crowd erupted at the end of his degree presentation in a lengthy standing ovation. He was humble as many, many people stopped us after the ceremony just to shake his hand and thank him for what he has done for our country. He deeply enjoyed the chance to talk with Tim O'Brien, noted author on the Vietnam war. Tim also received and Honorary degree from Wabash that day. I watched as two Wabash men who might have every reason to not be friends, General Johnson and Mitsu Goto '55 from Japan, embraced and caught up with each other.

From a purely personal level, fascinating is not a big enough word to describe the day. General Johnson and I talked about everything from flying airplanes (I think we both consider that topic #1!) to Wabash, to the Phi Delt house, to Crawfordsville, to digital cameras, to printing photos, to earrings and facial hair. Yep—we covered the gamut.
As I drove home that evening, I thought to myself. As I grow ever older, I want to somehow, some way, be more like Major General Earl Johnson, USAF (Ret.), all around good guy. It's a privilege to call him "Sir!"