Faculty Notes: First and Foremost a Teacher
by Dan Rogers
Printer-friendly version | Email this article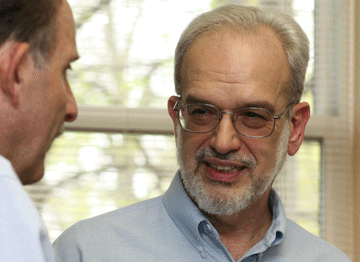 During his 21-year tenure at Wabash, John Byrnes has played several important roles at the College: an innovator with teaching technology, the principal force behind redesigning old Yandes into the new Detchon Center, immersion trip pioneer, fierce advocate for off-campus studies, author of several articles and reviews on German literature and culture, and, at one time, chair of the Department of Modern Languages & Literatures for 13 continuous years.
John has been here long enough now to have hired every current member of the department. Brought to Wabash in 1987 during a period of transition in Modern Languages, John was, in fact, first tenured at Idaho State University in 1982 as an associate professor of German and French. He continued that tradition here at Wabash, teaching in both languages.
When called upon last semester to break his sabbatical and return to help the department, John took up the mantle of senior professor in French and brought the year to a successful conclusion.
Beyond myriad professional and administrative responsibilities John has shouldered over the last 21 years, he has been, first and foremost, a teacher. It is fitting then that we let some of his students speak to this, his first and most enduring passion. Of the many letters we received from former students, several common themes stand out.
Students speak of him as "generous with his time," "tough but fair," a professor who "raised expectations," "a thoughtful and challenging teacher." One student recalls the following:
"When he congratulated me for earning Distinction on comps, it went something like this: 'Congratulations. Could you please tell me what case is followed by the preposition 'neben'? If you know it now, then why did you get it wrong on the test?'"
Former student, Fulbright winner, and Ph.D. candidate Jared Sonnicksen '01 put it best when he told John on the eve of his retirement:
"After 21 years, you have reached the end of a massive German sentence. I am honored and delighted that I have been part of that, and I fondly and frequently 're-read' it in my mind.
"And the Wabash Community for sure is likewise thankful, that you have written for us this superbly log, articulate, informative, and unforgettable sentence."