Weather Doesn't Dampen Graduation
by Howard W. Hewitt
Printer-friendly version | Email this article
Cold, wind and rain did not dampen the brightest of days for the young men and their families on Wabash College's 170th graduation day. The College graduated 186 seniors on Mother's Day. There were plenty of proud fathers too.
Poor weather forced the ceremonies from the campus mall to Chadwick Court. But President Patrick White assured the crowd the weather was "glorious."
"Not the weather outside," the President told the graduates, "but the weather inside and the weather in our hearts. Because we're confident in our hearts that in the days ahead you'll make your own weather."
The President said mothers could receive no better Mother's Day gift than their son's graduation from Wabash College. But it was a very special day for fathers as well.
A big part of every graduation is the legacies. The fathers, grandfathers, uncles and brothers who watch family members graduate. There were 39 legacies in this year's senior class. See
"It means a great deal. I'm very proud of him," said Kevin Benefiel '81, of his son Ty's Sunday graduation. "I know how hard he's worked the past four years. He's been very focused and I just couldn't be happier. I feel very fortunate and very proud."
Fred Miller '76 had twice the reason to be proud watching his sons Steve and Jon graduate. The Miller family legacy photo included seven Wabash men.
"John and Steve followed me here but they made their own choices to come," Fred Miller said. "But it's been a great experience and we all love this College very much. It's just a thrill to be here on this day."
And as the Miller family illustrates, there is no finality to graduation day. "No. It's just a beginning; it's part of a legacy," Fred Miller said. "The college just goes on and on. Its just the beginning."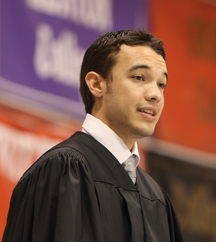 Chris Geggie and John Moore followed in the footsteps of seniors before them to deliver the graduation addresses.
Geggie told the graduating Wabash men that while their community service efforts at Wabash are laudable, it's not enough.
"We do so much here at Wabash, but in our time here I see that we're focused too much on ourselves, making sure that we get that A-Plus, going the extra nine yards to insure our already pristine academic records, both students and faculty members," Geggie said. "Don't get me wrong, this is good but at the end of the day can you respond affirmatively when you ask yourself, 'have I done my daily good deed to make my community a better place for our children?' We do so much here at Wabash, but we can do much more."
Mid-speech Geggie asked the graduates to stand as he asked if they had served in various service positions as he ran off several opportunities. He thanked them and again made a plea for those men to go forward, small in number but strong as Little Giants.
"This year we have five guys going into Teach for America, three going to the Peace Corps, a big number are interning to serve the community in various capacities at hospitals, at the Chicago International Children's Film Festival, and as special needs counselors, and going to grad schools in various professions that will help our community.
"But it's not enough. We can and must do more."
Geggie is a Latin and Greek double major from Alhambra, California. The son of Paul and Olivia Geggie, Chris served his fraternity, Sigma Chi, as Risk Manager, Pledge Trainer, Philanthropy Chair, and Newsletter Editor. He received the McLain Prize in Classics, the Albert M. Gavit Scholarship, the Dill Scholarship, and the Givens Scholarship. A talented pianist and organist, Chris received the Fine Arts Award for Piano Performance. He was inducted into the Wabash chapter of Phi Beta Kappa.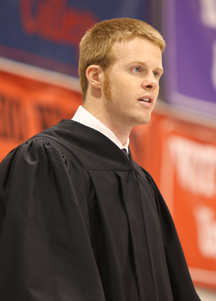 Moore urged the graduates to look within and find love to build strong lives.
"Tomorrow can be more than an ordinary day for those of us who will walk across this stage this afternoon," he said. "Perhaps the easiest thing to do in life is to live passively, and, therefore, avoid criticism and the pains of disappointment other people might bring with them.
"Yet this sacrifice comes at far too high a price because perhaps the worst thing to have to realize in life is that your memories are hollow and those you could have loved are no longer by your side. Still, we take that risk every day we fail to acknowledge those who have helped provide meaning to our lives, and fail to reach out to others who may do the same."
Moore said the cliche which Wabash men repeat that the College prepares them for life more than a job really goes deeper. "There are people who might say these sentiments of mine are all part of the natural maturing process, but I doubt that is true because regardless of whether or not we've nailed down the next step on our journey, the most pressing question for people like us is one of application. It's not if we're going to make a difference in the lives of others, but when."
The words had to make Mark Moore '79, John's father, very proud on a very special day. His wife, an ordained pastor, gave the invocation during Baccalaureate. Then he got to watch his son give one of two graduation addresses.
"It was very exciting in Baccalaureate this morning to see the men walk in and my wife give the invocation," he said. I was very happy John chose Wabash and very happy with the time he's had. He's had a very different experience than I had but a great experience nevertheless."
Moore is an English major from Carmel, Indiana. The son of Mark ('79) and Ruth Moore, John served as President of Phi Gamma Delta. He is a Wabash College Honor Scholarship recipient and was inducted into the Wabash chapter of Phi Beta Kappa.
Graduation Day activities began with a Baccalaureate service in the Chapel. Rev. John Van Nuys '83 gave the Baccalaureate address.
Honorary Degree Recipients
Joseph D. Barnette, Jr. '61
Honorary Doctor of Laws
Mr. Barnette is a 1961 graduate of Wabash College and spent much of his career in banking, rising to the position of Chairman and CEO of Bank One Indiana. After retiring from banking, he became the President of Sexton Properties, an Indianapolis real estate and development company. He served has served Wabash as a Trustee since 1986 and was Chairman of the Board for nine years. During his tenure at the helm of the Board, Wabash engaged its alumni in new and innovative ways; nearly doubled its endowment; stabilized its enrollment; and developed unprecedented Immersion Learning and internships for Wabash students.
Barnette was honored Saturday as well. His official portrait was unveiled following the Board of Trustees May meeting.

Major General Earl L. Johnson '38
Honorary Doctor of Laws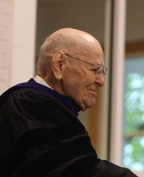 Shortly after graduating from Wabash in 1938, General Johnson enlisted in the United States Army Air Corps and would spend the next 31 years of his life piloting aircraft, instructing new pilots, and commanding bomber wings for the Air Force. He served in the South Pacific during World War II and later returned to Guam to command bombing missions during the Vietnam War. General Johnson was the instructor for the 509th Atomic Wing, which would later drop the atomic bombs on Hiroshima and Nagasaki, thus ending World War II. He received numerous military honors, including the Distinguished Flying Cross and the Bronze Star. After his retirement from the Air Force, General Johnson founded International Realty of Orlando, a Central Florida-based real estate and development firm.

Tim O'Brien
Honorary Doctor of Humane Letters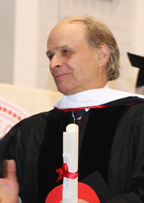 A liberal arts graduate of Macalester College and decorated veteran of the Vietnam War, Mr. O'Brien is one of America's greatest contemporary writers. His memoir, essays, and novels take readers on journeys through combat zones in war, love, and life, and blur the distinctions between fact and fiction. Mr. O'Brien's memoir If I Die in a Combat Zone, his National Book Award-winning novel Going After Cacciato, and his Pulitzer Prize-nominated novel The Things They Carried are regularly studied in Wabash classrooms, and he gave a public reading at Wabash in the fall of 1994. Time magazine named In the Lake in the Woods its Best Work of Fiction in 1994. In 1999, the title story of The Things They Carried was selected for inclusion in the Best American Short Stories of the Century. Mr. O'Brien presently holds the Mitte Chair in Creative Writing at Texas State University, San Marcos.
Junior Marshals
Collin Patrick Smith is a junior economics major from Schererville, Indiana. He is a member of Beta Theta Pi and was a member of the Wabash basketball team for two seasons. Collin received the Warren Shearer Award this spring, and he is the son of Paul and Joan Smith.

Bradley Bruce Armstrong is an economics and mathematics double major from Fort Wayne, Indiana. He is a member of Delta Tau Delta and the Sphinx Club. Bradley received the George Lovell Award this spring, and he is the son of Scott and Barbara Armstrong.