Big Bash Attendance Awards Shattered in 2007
by Jim Amidon
Printer-friendly version | Email this article
The Fourth Annual Big Bash Reunion Weekend was by far the biggest bash in Wabash reunion history. More than 370 alumni returned to campus with their families to share food and fellowship over three straight days of sunshine and warm feelings.
Director of Alumni and Parent Relations Tom Runge '71 served as master of ceremonies for the weekend-ending Big Bash Awards Brunch, at which classes and reunion chairs were honored for hard work and participation.
Click here to see photographs of the award winners.
To see all of the photos from Big Bash, click the links below:
Friday and Saturday at Big Bash
Winning top honors for having the highest percentage of his class return for Big Bash was 50th-reunion chairman John Yanko '57. In one of the closest competitions in history, 33.3 percent of the Class of 1957 returned to campus to capture the 1909 Trophy Cup. The Class of 1967 came in a close second with 31 percent of the class back on campus to sign the official Alumni Register.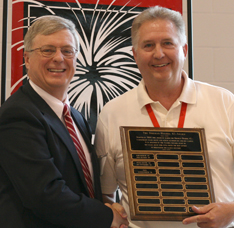 Not to be outdone, the men of the Class of 1967 won the 1928 Attendance Trophy with 66 alumni returning for their 40th reunion. The men of 1967 shattered the previous record of 54 returning alumni. Clark Dickerson, Earl Houck, and Duane Hile were honored for their tireless efforts to round up the class.
The same group won Saturday's Alumni Chapel Sing competition. The Class of 1967 had by far the largest number of singers, all clad in matching red shirts — and they sang both verses of the longest fight song in the country. The Class of 1957 took second, followed by the classes of 1962 and 1987 in third and fourth place, respectively.
Clark Dickerson '67 (pictured above left) received the Dorman Hughes '43 Award, which honors the reunion chair or class agent who has worked the hardest to drive attendance and participation. The award winner is chosen by the Alumni and Parent Relations staff.
One final award was presented Sunday. The Edmund O. Hovey Annual Giving Award is presented to the Class Agents whose class has the highest annual giving percentage. This year the competition wasn't that close with 53 percent of the Class of 1962 making a gift to this year's Annual Fund. Receiving the honor were Terry Fewell, Earl Arnett, and Phil Johnson.
More than 370 alumni signed the Alumni Register, blasting the previous reunion record of 340 set last year. Among the alumni returning to campus were men from 36 states, the District of Columbia, and four foreign countries. Scott Cougill '87 and his family traveled the farthest, arriving Thursday from Thailand. Tom Milligan '57 and his wife, June, came all the way from Johannesburg, South Africa. Brandon Mitchener '87 flew in from Brussels to attend his 20th reunion.
Alumni Director Tom Runge jokingly awarded Dean Joe Emmick '92 the honor for having traveled the shortest distance — one block from his home on West Wabash Avenue.