A Picture-Perfect Commencement Weekend
by Howard W. Hewitt
Printer-friendly version | Email this article
Standing on the College Mall on a perfect, sunny afternoon, two Wabash seniors urged classmates to live humanely and carry with them the important lessons learned during four years at Wabash College at the 169th Commencement Ceremony.
President Patrick White continued his predecessors' long-standing tradition of using Caleb Mills' school bell to 'ring out' the 160 members of the Class of 2007. (See photos and download high-resolution images from graduation ceremony here and here and here. And, more candid shots from before and after the official proceedings can be found here.)
Greg Strodtman., a history major from Indianapolis, talked of the many challenges facing the world and a Wabash man's responsibility to act. "We may only be 160 men, but we are 160 men that will hold positions of power and authority sooner than any of us can imagine," he said. "We can, each and every one of us, make a difference, if only we choose to do so.
"The world needs leaders. They are needed in schools and in churches, town halls and state governments. They are need in non-profit organizations, business, and to protect the weakest in our society.
"Wabash, can we choose the path to become those leaders?"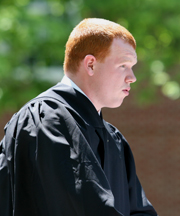 Millikan, a religion major from Newburgh, Indiana, suggested such challenges can be met if the men of 2007 remember Wabash's most important lesson – "how to fail."
He said each Wabash man has failed and had to fail in order to reach Sunday's ceremony. "But the lesson that is so valuable does not come in the failure, but in how you respond to it," Millikan suggested.
The football lineman and pre-med student told of his personal failure with organic chemistry. "But I didn't give up. I went to the professor, who was more than happy to work with me, and with his help, I managed to pull a decent grade.
"I had failed, but through dedication and help from professors who just love to teach, I overcame my failure."
Seeing failure and tackling it and choosing a life path was the challenge the two seniors set forth for the graduates. "We all stand on the top of the mountain and see many paths in front of us, each leading in a different direction," Strodtman said. "Some of these paths lead to even higher paths to climb. This, then, is our challenge: we must, each and every one of us, select our higher paths.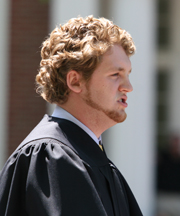 "These choices will determine what our lives ultimately meant to those closest to us, but furthermore, to the world from which we cannot seclude ourselves. If we fail to think, act, lead and live as gentlemen, then what has this all been for?"
The courage to act is part of the lesson learned at Wabash College, Millikan said. "Wabash teaches wisdom," Millikan said. "Most who consider wisdom think of it as only arising from experience and that by definition it can not be taught or passed down from teacher to student. This is almost always the case, but I feel Wabash is an exception to the rule.
"Quite simply put, the foundation of wisdom is knowing what it is that you don't know; being conscious of your own lack of knowledge. This is humbling, but as with failure, it has many benefits. This lessons helps Wabash men to avoid the typical arrogance that may arise from graduating, or the sense we have it all figured out.
"Wabash has taught us that in attempting to figure out lie's mysteries, we will only expose more to be explored and discovered."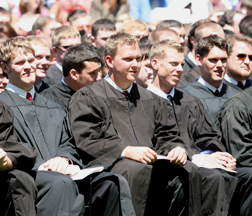 The president presented each graduate his diploma, including 28 Cum Laude, 26 Magna Cum Laude, and 12 Summa Cum Laude. Under beautiful clear skies, White charged the young men to take Wabash with them into life. "Wabash does not end at the edge of this campus," he said. "And neither does the Gentleman's Rule."
A distinguished Wabash graduate and long-time professor received honorary degrees. Russell L. Nichols '63, retiring president of Hanover College, will retire next month. During his career he taught at Wabash, Eastern Illinois University, Hillsdale College, and Hanover.
Raymond Williams served as religion department chair at Wabash as was the founding director of the Wabash Center for Teaching and learning in Theology and Religion. He most recently came out of retirement to serve as Dean of the College during the 2005-06 school years.