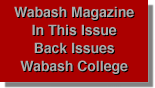 ---
Read poetry from the following students:
---


Magazine
Summer/Fall 2002

Wabash Review Goes National

Writing at Wabash is clearly on the rise.

On the heels of last year's Indiana Collegiate Journalism Awards for The Bachelor, the College's Wabash Review published its first volume of the best of undergraduate fiction, poetry, interviews, photography and creative non-fiction submitted not only from Wabash, but also from other campuses, as well.

The resulting 200-page publication, funded by the English Department with support from the Student Senate and student activities fees, is the most impressive collection of student creative writing published at Wabash to date. The addition of other undergraduate writers not only enhanced the quality of writing submitted by Wabash students, but also enchances the reputation of the Wabash writing program at colleges across the country.

"I had known that our advisors were enthused about making the Wabash Review a stellar publication, and I think we were all pretty excited to be working on it this year," says Review editor-in-chief Dave O'Neill '02. "I'd been in regular correspondence with our advisor Professor Castro about improvements we could make—adding interviews with nationally-known writers, which we added this issue, and other improvements which I hope will follow. And a lot of us wanted to make it an undergraduate review."

"With all that momentum, I felt compelled to produce an excellent publication," O'Neill says. "Partly because I think if we're going to do something like this at Wabash, we should be doing it right. But also because students really like literary reviews and this is one they'll pick up and read.. The copies I dropped off at the library disappeared like hotcakes.

O'Neill has a hard time narrowing down his favorites from the book.

"I could say something good about practically every piece in here," he says. He points to the first and last fiction entries as indicators of the quality here.

"The first piece by Marc Sheffler is a simple but very cleanly written story that opens the book," O'Neill says. "Akrasia" by Adam Baylor, who won this year's Senior
Writing Award, is the most unique piece in the book, written entirely in the second-person with a repeating pattern throughout—a five word sentence, then a seven word sentence—that you don't notice unless you're watching for it. It really develops an interesting rhythm."

Besides being distributed on the Wabash campus, the Review was sent to contributors and their college's libraries. It even showed up on the Sweetbriar College website, where on of its writers was featured.

"I think we've built a template for an excellent publication next year," O'Neill says. "I'm looking forward to see how next year's editors can improve on our book."
What are your thoughts?
Click here to submit feedback on this story.
Return to the table of contents