Just One Rule of Conduct?
At Wabash, we stand by our Gentleman's Rule.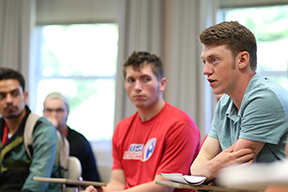 Spend ten minutes watching the nightly news or just walk through your community and you'll quickly see the need for strong, responsible leadership is everywhere; its absence in the world is startling. At Wabash College, our 900 students become leaders by living their lives with one, succinct rule of conduct:
"The student is expected to conduct himself at all times, both on and off campus, as a gentleman and a responsible citizen."
The oldest tradition at Wabash is the link our students make between the enormous freedoms they enjoy with the responsibility that goes with such freedoms. Making that link — living by the Gentleman's Rule — is the guiding principle that will help you become a Wabash man who is prepared and willing to take the lead in an ever-changing and difficult world.
Each of our students understands the connections between trust, responsibility, and freedom. You'll discover those links wherever you go on campus, where few doors are locked. You'll discover in your living unit that supervision and leadership are provided only by the men with whom you live.
Most of all, you'll discover the connections developing in yourself and your peers as together you live, work, and grow as classmates, friends, and gentlemen. At Wabash, you will be free to discover more about yourself than you ever thought possible.
Living and learning at Wabash transforms boys into men — Wabash men. By the time the president hands you a diploma at graduation, you will have become a man sure of who you are and what you know. Your decisions will be guided by your exceptional education and a clear code of ethics. You will be respected and trusted — not because of where you've been, but because of who you've become.
The challenge is great. From the first day you step on campus, our expectation is that you will live up to the example set by generations of Wabash men who have gone before and to set examples for those who will follow you.