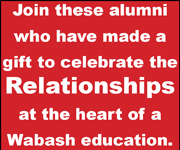 Just a few weeks ago, Wabash awarded sheepskin diplomas to 195 men in the Class of 2016. President Hess reminded them that "Wabash is your home. There will never be a place like it in your entire life. Ever."
Members of the Class of 2016 will find their way to new homes across the country and the world. Some will immediately begin their careers while others will continue their studies at the finest graduate and professional schools. Our undergraduates are also settling into new homes and roles. No matter where you find Wabash students this summer, their education continues beyond the College Mall, beyond the classroom, and beyond the field and stage.
These opportunities are made possible through the annual generosity of alumni and friends. Your philanthropic support, this year and every year, enables Wabash Men to be the beneficiaries of a truly transformative liberal arts experience—on and off campus.
Make your gift by June 30 and make a lasting impact on the lives of Wabash students.