Join Your Wabash Brothers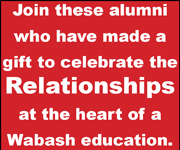 You can feel the tangible sense of excitement and momentum at Wabash thanks to the hard work of students, faculty, and coaches, the generosity of our supporters, and the wisdom of our leaders.
This past year we launched four co-curricular strategic initiatives, started construction on new student housing, and achieved a record enrollment. Add to that five nationally ranked athletic teams, a Rhodes Scholar, three Fulbright Scholars, and a top-50 national ranking (out of 1,223 schools) in the 2015 PayScale.com Return on Investment report, and Wabash's trajectory is undeniable.
You can be part of this record-setting year. We have the opportunity to expand our great tradition of philanthropy by reaching our Annual Fund goal of $3.3 million, which would be a new record.
Make your gift by June 30 and help us reach this standard of excellence.
For more giving options,
Click Here
.
Class of 2019
Miguel Aguirre-Morales
Brandon Arbuckle
Connor Armuth
Patrick Azar
Billy Bernhardt
Russell Berning
Cam Bland
Jacques Boulais
Terrence Bradley, Jr.
Brent Breese
Collin Brennan
Bryce Bridgewater
Gage Brock
Connor Brooks
Lucas Bucina
Nick Buening
Felix Bui
Trace Bulger
Scotty Bye
Jeff Byrne III
Nolan Callecod
Eric Chavez
Chase Clarkson
Serge Cobos
Sam Colaiacova
Kenny Cox
C.J. Crayton, Jr.
Brad Cullison
Luke Dant
David Daugherty
Brennan Davenport
Chris Diaz
Neil Dittmann
Tucker Dixon
Sawyer Donovan
Deakon Doub
Colby Dunigan
Jimmy Eaton
Luc Esparza
Jesus Esquivel
Nick Etter
Luke Fankhauser
Jake Fernung
Tim Fields, Jr.
Ian Finley
Nick Fishe
Charles Frey
Eric Fritchley
Jaleel Grandberry
Jordan Greenwell
Wyatt Gutierrez
Connor Guzior
Griffin Hall
Koty Hall
Evan Hansen
Zack Havlin
Sam Hayes
Walker Hedgepath
Brock Heffron
Jacob Helmer
Rithy Sakk Heng
Trevor Hix
Cal Hockemeyer
Matt Hodges
Zach Hoereth
Nick Holland
Austin Hoover
Matthew Hopkins
Joe House
Dillian Howard
Kevin Huffman
Isaac Hunter
Oni Irtija
Matt Jackson
Johnny Jager
Joel Janak
John Janak
Alex Johnson
Brandon Johnson
Myles Johnson
Nik Kajmakoski
Aadoo Khan
Zovan Kho
Zach LaRue
Erich Lange
JJ Langley
Caleb Larson
Joey Lenkey
Jack Leppert
Corey Leuters
Kyle Louks
Adam Lovan II
Collin Luckey
Will Maloney
Jordan Marshall
PJ Mays
Kyle McAtee
Trenton McCarthy
Andrew Merced
Jake Miller
Braxton Moore
Ethan Mott
Jonathan Murdock
Spencer Newmister
Wayne Nguyen
Austin Nightingale
Kevin O'Donnell
Oliver Page
Cruz Paulino-Salazar
Garrett Paull
Cole Payne
Matt Penola
George Pippen
Dallas Pitts, Jr.
Bakhann Prom
Andrew Puente
Justin Raters
Anish Rauniyar
Ryan Reeder
Byshup Rhodes
Max Roberts
Sean Roginski
Luke Rowles
Duncan Roy
Alex Rudicel, Jr.
Ron Ryan
Andrew Schenkel
Griffin Schermer
James Schulz II
Zach Secrest
Jason Shao
Ethan Shultz
Spencer Sikes
Sterling Sikes
Louis Sinn
Tanner Skeel
Braiden Slavens
Griffin Smith
Anthony Solano
Luke Soliday
Ian Songer
Ben Stachowski
Steven Stark
Sam Stewart
Christian Stiverson
Drew Tandy
Trystn Taylor
Grayson Thacker
Ryan Thomas
Michael Trebing
Patrick Troy
Dalton Vachon
Enrique Vargas
Dave Vavrinak
Nick Vedo
Max Von Deylen
Chris Vu
Ryan Wagenblast
Kevin Wagner
Ian Ward
Jonathon Weaver
Heath Whalen
Joe Whitaker
Logan White
Zane White
Justin Woodard
Jared Woodward
Isaac Wynne
Will Yank
Dale Zhang
Adam Zink
Class of 2018
Jake Alaniz
Jonathan Alcala Torres
Zach Anderson
Alex Arellano
Dan Azar
Hayden Baehl
Steve Bazin
Shane Beaman
AJ Belden
Zachary Biddle
Zach Bleisch
Bobby Blum
Thomas Boudreau
Dylan Buresh
Satch Burton
Zack Campbell
Taylor Canter
Zack Carl
Eph Chedid
Cody Cochran
Patrick Connors
Tyler Cooper
Jacob Cottey
Jared Cottingham
Jake Covert
Kirby Cox
Austin Crosley
Chase Crowe
German Cruz
Nigel Dao Dao
Darrien Dartis
Austin Davis
Dan DeGryse
Darren DeRome
Josh Derse
Alex Dickey
Joey Dierdorf II
Spase Dorsuleski
Johnny Dotlich
Jade Doty
Luke Doughty
Tyler Downing
Austin Ellingwood
Joey Estrada IV
Matt Fahey
Jacob Ferguson
Kalvin Fiechter
Matt Ford
Derek Fox
Klay Fullenkamp
Levi Garrison
Ben Geier
Sam Gellen
George Go III
Zeke Godinez
Mike Gore
Collin Graber
Dane Gray
Beau Green
Brian Gregory
KJ Griffen II
Cody Grzybowski
Luke Gunderman
PJ Hadley
A.J. Hamilton, Jr.
Jordan Hansen
Joe Hapak
Cole Harlacher
Justin Harmeson
Trey Harnden III
Austin Harrison
John Hartley
Cole Hickman
Brient Hicks
Marcus Hoekstra
Lucas Holstine
Ivan Hooper
Hank Horner
Jeff Houston
Vell Hughes
Anton Hummel
Drew Jackson
Patrick Jahnke
Ben Johnson
Jack Kellerman
William Kelly
Pat Kenney
Daniel Kimball
Taylor King
Logan Kleiman
Ek Ko
Kaz Koehring
Mitch Krum
Michael Krutz
Luke Kseniak
Lee Tyt Le Cong
Zach Leander
Tim Leath, Jr.
Nate Lewis-Cole
Stephen Lucey III
Michael Lumpkin
Jacob Miller
Manny Mitchell-Sodipe
Tyler Mix
Jon Montoya
Chandler Moore
Warren Moseman
Nathan Muha
Kevin Murphy
Kolby Myer
Noah Newcomb
Gabe Njimu Murei
Edgar Ocampo
Scottie Ogle
Ben Page
Luke Page
Tony Pascual
Zack Patton
Nick Pollock
Ty Preston
Brady Quackenbush
Sam Reel
Joe Reilly
Dakota Rhodes
Brian Rice
Tim Riley
Bryan Roberts
John Rodriguez
Jake Roehm
Chris Roman
Douglas Rourke
Maxi Rowley
Terrell Russell
Zachary Scarano
PJ Schafer
Aaron Scott
Dylan Seikel
Will Shaw
Deonte Simpson
Cory Sims
Connor Smith
Rodolfo Solis
Wade Song
Sam Surgalski
Henry Swift
Adrian Tejeda
Aaron Tincher
Bryan Tippmann
Nick Torres
Anh Viet Tran
Francisco Trejo
Gage Ulery
Miguel Valdivia
Jason VanMeter
Joe Walters
Ryan Walters
Sam Watts
Henry Webberhunt
Austin Weirich
Grant Wolf
Jonah Woods
Jacob Woodward
Robbie Wunderlich III
Class of 2017
Richie Abedin
Sammy Adams
Thomas Allgood
Jay Alston
Logan Anglin
Milo Arroyo
Collin Bell
Allen Betts
Drew Biddle
Bobby Black, Jr.
Riley Bland
Nik Boggs
Brady Boles
Vincent Bowden
Evan Bowe
Trenton Brazel
Austin Brown
Wes Brown
Ethan Buresh
Elliott Burge
Adam Burtner
Ryan Cairns
Thad Castro
Puzzie Cheng
Levi Chitty
Drake Christen
TJ Colley, Jr.
Dillon Cron
Cole Crouch
Felipe Cuatecontzi
Wes Deutscher
AD Douglas II
Austin Dukes
Jeff Dyke
Austin Earl
Isaac Empson
Ashton Faramelli
Nolan Fenwick
Chase Francoeur
Adan Garcia
Mac Gardiner
Dustin Gardner
Brett Gierke
Cam Glaze
Mike Green
Ryan Gross
Nick Gwinn
Mazin Hakim
Mohammed Hasnat
Austin Heise
Luis Hernandez Blanco
Michael Herrmann
Kenton Hicks
Corey Hoffman
Dave Hurwich
Tommy Isola
Geno James III
Reno Jamison
Bilal Jawed
Dayton Jennings
Shamir Johnson
Trevor Johnson
Stephan Jones
Free Kashon
Audie Kaufman
James Kennedy
Zack King
Taner Kiral
Jensen Kirch
Luke Knutson
Patrick Kroll
Linc Kyle
Conner Lenahan
Noah Levi
Griffin Levy
Erin Lewellen
Blair Littrell
Buddy Lobermann IV
Kolby Lopp
Connor Ludwig
Simon Ma
Zac Maciejewski
Mike Makio
Dylan Mayer
Dan McCormick
Mason McKinney
CJ McMann III
Dalton Miller
Dan Miller
Kyle Morgan
Kyle Nardi
Nathan Neal
Paul Nguyen
Will Nolan
Mac Norton
Alan Ortiz
Joel Paquin
Riley Pelton
Delon Pettiford
Pete Piazza
Dugan Polizotto
Rod Porras
Drew Powell
Carson Powell
Karl Prasher
Adam Rains
Anthony Repay
Alex Reyna
Christian Rhodes
Connor Rice
Andrew Roginski
Harrison Schafer
Dan Scofield
Matt Scott
Brand Selvia
Loukas Sinnis
Greg Sklar
Jordan Smith
Tyler Smith
Matt Spaulding
Aaron Stewart-Curet
Jacob Stone
Kyle Stucker
Connor Stumm
Deryion Sturdivant
Jimmy Suess
Keegan Sullivan
Chris Szostek
Tre' Taylor
Colin Thompson
Daniel Thompson
Jacob Van Wassenhove
Wesley Virt
Ben Wade
Holten Warriner
Benjamin Washer
Alex Wimber
Aaron Wirthwein
Shane Xuan
Yang Yang
Class of 2016
Adam Alexander
Adam Antalis
Ryan Anzalone
Elias Arellano Villanueva
Ian Artis, Jr.
Kendall Baker
Jake Barclay
Chris Barrer
Christian Beardsley
Grant Benefiel
Sean Best
Chris Biehl
Matt Binder
Josh Bleisch
Nathan Bode
Daniel Bowes
Craig Brainard
Chase Bramlet
Drew Breuckman
Chris Broecker
Wes Brown
Patrick Bryant
Austin Burton
Ty Campbell
Saul Cardiel-Lopez
Robbie Carter
Sean Cavanaugh
Cole Chapman
AJ Clark
Eddie Cmehil
Jake Cooper
Jordan Culp
Chris Dabbs II
Jon Daron
Cameron Dennis
Gabe Di Fecchio
Matt Dickerson, Jr.
Bryan Elliott
Kyle Ennis
Noah Eppler
T.J. Evans, Jr.
Ethan Farmer
James Fritz III
Max Gallivan
Tom Garrity
Arturo Granados Estrada
Justin Green
Zach Greene
Jordan Grooms
Seth Gunderman
Michael Haffner
Brock Hammond
Sam Hanes
Tim Hanson
Shariff Harrison
Spence Harrison
Brian Hayhurst
Joseph He
Sam Heidorn
Alex Hernandez
Clayton Highum
Fabian House
Addison Hummel
Elliot Johns
Nash Jones
Truman Jones
Marcus Kammrath
Connor Karns
James Kennedy IV
Bryce Kilian
Ivan Koutsopatriy
Inbum Lee
Albert Li
Sam Mattingly
Tyler McCullen
Sean McGrath
Chris McGue
Dylan Miller
Kurt Miller
Michael Miller
Taylor Miller
Anthony Milto
Nick Minaudo
Jeremy Minor
Kaleb Morris
Jacob Mull
Tyler Munjas
Joe Murphy
Austin Myers
Mark Myers
Eric Need
Jake Norley
Nelson Novack
Dave Oliger
Steven Peters
Aren Peterson
JP Piercey
Brent Poling
Scott Purucker
Daniel Purvlicis
Clayton Randolph
Graham Redweik
Mitch Reeves
Tyler Regnier
Bauer Schmeltz
Sean Scully
Clayton Servies
Ben Shank
Chris Shrack
Mitch Singleton
Josh Smith
Michael Smith
Paul Snyder
Ross Sponsler
Chris Stazinski
Cam Stepler
Willie Strong, Jr.
Andrew Sunde
Joshua Tapper
Jerel Taylor
Jake Thompson
Brett Thumm
Brent Tomb
Tyler Trepton
Sam Vaught
Nam Vo, Jr.
Adam Wadlington
Alex Waters
Quentin Watson
Dono Whitney
Brian Wittman
Brandon Wongngamnit II
Justin Woods
Chase Young
Jonathon Young
KJ Zelenika
Mason Zurek
Class of 2015
Carter Adams
Emiliano Aguilar, Jr.
AJ Akinribade
Tyler Andrews
Ashish Baiju
Douglas Baker
Steve Batchelder
Ollie Bauer
Matt Beard
John Beardmore
Aaron Betson
Adam Boehm
Patrick Bondi
Zach Boston
Nick Boyce
Ben Bradshaw
Austin Budell
Matt Bupp
Eric Charles
Aeknoor Cheema
Alex Cisneros
Bailey Combs
Joey Conti
Evan Coudriet
Fritz Coutchie III
Adalid Cruz Vazquez
Drew Dettmer
Corey Egler
Kiah Eibert
Ben Finley
Will Folsom
Peter Fouts
Nick Freeman
Grayden Gilmore
Logan Goodrich
Ethan Groff
Ryan Guerrettaz
David Gunderman
Connor Hammerle
Tyler Hampton
Tadhg Hannon
Tyler Hardcastle
Wes Hauser
Alex Hawkins
Campbell Higbie
Houston Hodges
Todd Hoogland
Jocelyn Hopkinson
Ryan Horner
Blake Jennings
Patrick Jones
Kalp Juthani
Taylor Kenyon
Sky King
Grant Klembara
Patrick Kvachkoff
Garrett Lynette
Zach Mahone
Jimmy Maxwell
Will McLachlan
Joe Mount
Nathan Mueller
David Newhart
Max Nguyen
Kris Nickle
Benjamin Niksch
Kasey Oetting
Tyler Owensby
Pat Parham
Anthony Pigues
Eddie Pingel
Tommy Poynter
Patrick Rezek
Andrew Rodgers
Ryne Ruddock
Jeff Samuel, Jr.
Josh Santana
Clint Scarborough
Nick Schenkel
Stephen Sklar
Nick Sommer
Jingwei Song
Lucas Stippler
Joe Sukup
Isaac Taylor
Will Thompson
Mark Troiano
Pierce Velderman II
Jordan Wagner
Luke Walker
Tanner Watson
Andrew Wilson
Travis Wilson
Patrick Wright
Hongli Yang
Lucas Zromkoski
Class of 2014
Wes Adams
Robert Albright
Austin Althoff
Alex Amerling
Jon Anleitner
Ian Baumgardner
Brian Beardmore
Ryan Beeker
Joel Beier
Kevin Bennett
Ramsey Bradke
Spencer Burk
Jonathan Bush
Jim Caum
Andy Chorpenning
Zach Churney
Ben Cook
Jorge Diaz-Aguilar
Kevin Downey
Jordan Fenton
Alex Hirsch
Luke Holm
Francisco Huerta
Nik Jones
Nate Koelper
Charlie Kolisek
Cory Kopitzke
James Kraus
Jon Laird
Ian MacDougall
Evan McFarland
Derrick McQuiston
Matthew Michaloski
J.T. Miller
Scott Morrison
Andrew Nguyen
Spencer Peters
Jake Ponton
Mark Riffle
Dave Roaten
Jacob Scherb
Alex Schrader
Nate Scola
Jake Sheridan
Patrick Singleton
Harrison Slater
Reid Smith
Cam Sobleski
Drew Songer
Patrick Stroud
Bobby Thompson
Chet Turnbeaugh
Jared Valentine
Andy Walsh
Darius Ward
Jeremy Wentzel
Bradley Wise
Charles Wu
Wes Zimmerman
Class of 2013
Jake Ahler
Rudy Altergott
Alex Beck
Austin Broadwater
Michael Carper
Julian Cernuda Alarcon
Patrick Clegg
Colten Craigin
Ryan Cronin
Michael Demeter
Rob Dyer
Edward Evans, Jr.
Riley Floyd
C.J. Francoeur
Clint Garrison
Alex Gillham
Chris Gorman
James Gorman
Joe Granger
Ian Grant
Tyler Griffin
Evan Groninger
Francisco Guzman
John Haley III
Kenny Harris
Jose Herrera
Charles Hintz
Michael Hodge
Austin Hodges
Nick Hurt
Matt Kaczkowski
Vince Kenney
Jake Kersey
Jimmy Kervan
Arjun Kumar
Ian Leonard
Ryan Lutz
Kyle McLaughlin
Michael Jon Mondovics
Levi Noblitt
Matt Page
J.J. Peller
Grady Phillips
Michael Piggins
Trevor Poe
Carl Rivera
Alex Robbins
Bill Rosson
Frank Ruvoli
Peter Santa Maria
Pete Schmith II
Garrett Sell
Adam Soshnick
Ryan Sosinski
Josh Sparks
Samuel Spoerle
Ryker Stalbaum
Joe Stiglitz
Ronnie Sullivan, Jr.
Jordan Surenkamp
Tyler Swaim
Nick Swintz
DeVan Taylor
Zack Thompson
Montana Timmons
Alex Totten
Fabian Villanueva
Nathan Walters
Jake Waterman
Gabe Watson
Chris Widup
Garrett Wilson
Michael Wittman
D.J. Young
Class of 2012
Andre Adeyemi
Andrew Alexander
Tommy Ball, J.D.
Evan Bayless
Kyle Bender
Brett Birch
Donovan Bisbee
John Bogucki
Garett Bonk
Paul Buescher
Tyler Burke
J.D. Burns
Drew Casey
Wes Chamblee
Jeremy Coons
Trevor Counceller
Nick Curosh
Brian David
Chris Deig
Colin Dunlap
Kenny Farris
Jordan Ferguson
Eric Foust
Bryan Gantner
Sam Glowinski
Leo Helfer
Steve Henke
Reed Hepburn
Aaron Hirsch
Ike Homburg
Jonathan Horn
Tyler Koch
Brian Lares III
Daniel Lesch
Paul Liu
Thomas Logan II
Will McDonough
Chris McDougal
Adam Miller
Kyle Najar
Charles Niblick
Craig O'Connor
Mark Osnowitz
John Pennington
Billy Powers
Daniel Ranschaert
Garrett Redweik
Peter Robbins
Shaun Sahlhoff
Austin Sanders
Brian Shelbourne
Spencer Sheridan
Brock Sibert
Jeff Soller
Mike Sprowl
Sam Starbuck
Reggie Steele
Joe Stull II
Nick Su
Andrew Swart
Jack Swartout II
Michael Trevino
Tyler Wade
Donavan White
Chris Zabriskie
Luke Zinsmaster
Class of 2011
Justin Allen
Mark Babcock
Len Back
Luke Bielawski
Bill Birch IV
David Birrer
Jordan Brewer
Jarod Brock
Zach Brock
Joel Bustamante
Kenny Coggins
Rick Dent
Austin Drake
Kyle Edwards
Jason Eichler
Seth Einterz
Billy Evans
Jake Ezell
James Fitzpatrick
Andrew Forrester
Dirk Garriott
Jake German
Kyle Grand
Evan Griner
Tobey Herzog
Joe Johnson
Charlie Kelly IV
Matt Kennedy
Steve Kleitsch
Jake Kolisek
Tim Kraft
Andy Kyler
Kody LeMond
Micah Lembke
Ray Liu
Will Logan
Nick Marzotto
Steve Maynard
Jake Moore
Alex Moseman
Luke Moton
Adam Phipps
Blair Powell
Blake Powell
Nick Ramsey
Josh Raspopovich
Ricky Ritter
Luke Robbins
Gregg Schipp
Nic Schrader
Cody Schroeder
David Seibel
Andrew Sparks
Ian Starnes
Cody Stipes
Jacob Stump
Jacob Surface
Tian Tian
Cory Tiedeman
P.J. Tyson
Brad Vest
Bobby Wade
Thomas Wade
Scott Walker
Will Weber
Spencer Whitehead
Graham Youngs
Class of 2010
Kodjovi Aboni
Elliott Allen
Kevin Andrews
Emmanuel Aouad
Taylor Barrett
Aaron Bonar
Michael Burke
Alex Carr
John Dewart
Juan Diaz
Spencer Elliott
Michael Fitzpatrick
Kyle Frederick
Justin Froedge
Patrick Griffith
Chase Haltom
Ben Harvill III
John Henry
Brandon Hirsch
Will Hoffman
Josh Howard
Matt Hudson
Evan Isaacs
Gary James
Rob Janda
Cole Jeffries
Brad Jones
Christian Krenk
Zack Lanning
Keegan Leckrone
Kevin Long
Josh Lopez
Marcus Manges
Nicholas Maraman
Pat McAlister
Johnny Melind
Justin Michaels
Jarryd Morton
Kyle Nagdeman
Victor Nava
Jon O'Donnell
Drew Parrish
Scott Pond
Steve Popovich
Bobby Ritz
David Rosborough
Matt Routh
Austin Rovenstine
Matt Rushton
Matt Scheller
Chris Schweigel
Greg Slisz
Anthony Smith
Chad Sorenson
Mike Spillson
Ryan Stephens
Anthony Tellez
Mark Thomas
Seth Tichenor
Skip Tokar II
Chris Vawter
Pat White
Stanley Xu
Class of 2009
Brad Armstrong
Justin Bilby
Rob Bloss
Tom Bowman
David Braitman
Jay Brouwer
Bryan Carr
Blaine Cooper-Surma
Steve Egan
Jonny Funston
Jessie Garcia
Philip Graves
Trent Hagerty
Emanuel Harper IV
Wade Heiny
John Higgins
Elliott Holden
John Holmes
John Holmes
Jay Horrey
Jake Huston
Jim Inman
Hugh Jackson
Miles Jansen
Michael Kaster
Brent Kent
Austin Kline
Matthew Lee
Jim Leuck
Patrick Long
Roger Market
Danny Masterson
George Mavrelis
Victor Meng
Joe Merkley
JT Moore
Zach Morken
Patrick Murrell
Tony Neymeiyer
Joseph Niezer
Tom Norman
Mike Nowak
Tom Pizarek
Stephen Prunier
Campbell Robbins
George Salfity
Tim Surber
Mark Turpin
Juan Carlos Venis
Ryan Waldon
Mike Wartman
Mike Washburn
Andy Weeks
Kevin Witt
Chris Wojciechowski
Ted Zimmer III
Class of 2008
Wes Anderson
Will Arvin
Josh Bellis
Shawn Bennett
Ben Bly
Bob Boarman
Matt Bowers
Bob Brandt
John Brauchie
Larryjoe Brown
Jeremy Burton
Eric Carroll
Alex Coates
Jared Conaway
Dave Culp
Andy DeRolf
Andy Deig
Eric Eder
Tom Elliott, Jr.
Craig Engledow
Chad Finley, JD
Alex Goga
Ryan Grand
Gabe Guerrero
Brian Hilts
Drew Howk
Michael-Paul Hutchins
Jesse James
Wes Jinks
John Kasey
Clay Koehler
Wassim Labaki, MD
Geoffrey Lambert
Ryan Leagre
Alex Loucks
Feng Mai
Kyle McClammer
Phillip Merriett
Jonathan Miller
Steven Miller
Ndeto Mwose
Andrew Newkirk
Matt Olivarez
J.P. Patterson
Cary Pruett
Tim Rickard
Rick Scheer
Mike Schultz
Austin Shurtz, MD
Jason Simons
Lincoln Smith
Aaron Spolarich
Chandler Troy
Kyle Trusgnich
John Tsintis
Homer Twigg IV
Tim Ulrey
Mason Upton
Matt Walter
Brian Weil
David Wood
Derek Woods
Class of 2007
Daniel Albrecht
Ahson Ali
Ryan Anderson
Jon Arbuckle
Zac Benedict
Sam Borrelli
Don Juan Brown
Tony Caldwell
Allen Chatt III
Josh Coons
Roy Cowan
Ben Cunningham, Ed.S.
Kaizad Daruwala
Ross Dillard
Adam Dybel
Brandon Ehrie
Ben Esbaum
Don Feeney
Matt Feipel
Josh Foster
Zach Foughty
Dennis Frazee
Keith Garrard
Aaron Gebhart
Nick Gregory
Scott Hamilton
Kiel Hansen
Simon Hoehn
Charlie Hoogland
James Jared III
Matt Kanter
Adam Kirsch
Frank Knez III
David Koch
Kyle Long
Jake Lundorf
Andrew McKone
Christopher McNicholas
John Meara
Randy Mendoza II
Adam Miller
Joshua Owens
Holly Paul^
Joshua Paul*
Kevin Pazour
Braden Pemberton
Daniel Petrie
Steven Rhodes
Joe Rutski
Tim Schirack, Jr.
Kyle Sell
Gabe Smith
Zach Smith
Adrian Starnes
Ashley Stephen
Ryan Stephens
Greg Strodtman
Jared Tarney
Robert Van Kirk
Adam Van Zee
Geoff Walker
Kyle Weaver
Drew Weintraut
Chris White
Kay Widdows
Ted Williams
Michael Zielinski
John Zuber
Class of 2006
Ben Abratigue
Joe Alerding, Jr.
Taylor Backs
Mark Bains
Alex Barnstead
Pat Beymer
Chris Bly
Brad Boas
Jared Bogan
Michael Bohling
Steve Bollinger
J.P. Bryan
Nathan Carroll
Kyle Coffey
Aaron Cook
Caleb Dann
Andy DeYoung
Stephen Dewart
Patrick Drake
Denis Farr
David Fitzgerald
Anne Ford
Dane Fowler
Kimmer Graham
Chip Habegger
Russell Harbaugh
Glen Heck
Drew Hoffman
Chris Jackson
Pete Kempf
Jake Koeneman
Sam Ladowski
Collin Lanam
John Maddox
Greg Mahoney
Johnny Martin
Joe Martin
Colin McClelland
Kevin Meyer
Ryan Monroe
Joe Moore II
Zach Mulholland
Aaron Nicely
Jimmy Owens
Dunmoni Owolabi
Marques Pflum
Leo Priemer
Thomas Rice
Matt Ripley
Bryan Roesler
Brian Rooksberry
Brandon Roop
Travis Ross
James Satkus
Josh Schoeff
Matt Schulz
Joseph Seger
Aaron Selby
Ivan Settimba
Cory Shafer
Jeff Sostak
Derek Turner
Barry Tyler, Jr.
Justin Vander Iest
Elliot Vice
Nick Wahlstrom
Brandon Weddell
Andrew Wells
Justin Wesley
Tamarco White
Charlie Wohlhuter II
Mike Woods
Class of 2005
Terry Archambeault
Corey Asay
Nate Bell
Eric Bright
Beau Browning
Jon Button
Jason Cantu
Andy Cartwright
Kevin Casey
Brandon Clifton
Brendan Clougherty
Parker Collins
Daniel Creasap
Jeff Crew
Mark Cross
Mark Dietzen
Nathan Dinger
John Dustman
Zach Eichel
Michael Einterz, Jr., Esq.
Eric Engledow
Colin Fahey
Ryan Feeback
Curtis Ferguson II
Aaron Flagg
Greg Fulmer
Jon Gard
Sean Gerold
Tony GiaQuinta
Bill Goff
Justin Grimmer
JJ Guthrie-Alpert
Brandon Hayes
Draik Hecksel
Ben Hewitt
Jon Horne
Justin Jannuzzi
Chris Jorgensen
Scott Kentner
Adam Layton
Bobby Love
Abraham Lucas
A.J. Lyman
Jason McClure
Drew McCoy
Andrew McGlothlen
Brock Medsker
John Meyer
Adam Miller
Josh Mills
Joe Motuliak
Dane Musil
Mark Novakovich
Josh Petruniw
David Pryzbylski
Daniel Rodriguez
Michael Ruffing
Jacob Rump
Parker Sawyers
Marty Schap
Evan Schmit
Greg Schrage
Jonathan Schwarz
Colin Smith
Jason Sprague
Nathan Storey
Zach Sundstrom
Matt Tanney
David Wagner
Jeremy West
Kyle West
Brad Williams
Nick Williams
Kris Yoder-Eastes
Class of 2004
Matt Abid
Fred Ainsley, Jr.
Chris Anderson
Mark Ayers
Alex Barefoot
Patrick Barrett
Justin Bauserman
Andrew Beyer
Steve Birrer
Jordan Boomer
Nick Bourff
Michael Bricker
Josh Bronaugh
Jesus Campos
Brian Clem
Reece Collins
Dustin DeNeal, BA, JD
Seth Ditchcreek
Aaron Drake
Jason Ellis
Nick Fanelli
Dean Fox II
Adan Garcia
Zeljko Gavranovic
Kyle Havlik
Sean Hayes
Joe Heller
Juan Carlo Hernandez
David Jancha
Stu Johnson
Chris Jones
Frank Kantroski
Erik Kroger
Cody Lawson
Hank Leach
James Litton III
Dan Loth
Nathan Lundquist
Mike Lynch
Mike Mack
Marc Magnussen
Kyle Maloney
Dan McClamroch
Michael McConnell
Matt Miller
Joe Mills
Artie Montes IV
Michael Morin
Chris Morris
Hadi Motiee
Joe Mulvey
Roger Neal
Josh Nicholson
Kevin Nolan
Derek Nutty
Nick Ohmer
Olmy Olmstead
Weston Overturf
Jacob Pactor
Alan Patton
Brandon Peacock
Sebastian Peers
Jason Pike
Adam Pope
Andy Prellwitz
Jeremy Priest
Tony Quandt
Ben Reichner
Mike Reidy
Sam Rheinhardt
Scott Riley, Jr.
Michael Roark
George Robinette
Jeremy Robinson
Pete Rohlfer
Andrew Roy
Brad Sadri
Ben Scanlon
Dave Schoenefeld
Caleb Selby
Bob Shaver
Andy Shepherd
Mark Shreve
Cam Starnes
Matt Storm
Mark Stout
Daniel Sweet
Matthew Symons
Brandon Thornburg
Ben Tooley
Ty Trusgnich
Todd Vogel
Joe Warfel
Tony Warren
Justin Waters
Steve White
Jim Young
Seth Zirkle
Class of 2003
Garrett Alson
Chris Barry
Greg Bernhardt, CPA
Adam Berry
Jason Bethay
Jason Binder
Geoff Bleau
Joe Bombagetti III
Jamie Bopp
Nate Boulais
Dennis Bowers II
Seamus Boyce, Esq.
Derick Busenbark
Damon Carl
Kip Chase
Mason Dangler
Jonathan Dilley
Justin Dirig
Jeremy Fackenthal, Ph.D.
D.J. Finch, Jr.
Andy Ford
Alex Fruth
Adam Futscher
Casey Gioielli IV
Melecio Gonzalez, Jr.
Sam Gorr
Karl Grimmer, Jr.
Brent Harris
Jonathan Hoke
Reed Hoyer
Clay Jones
Walter Keeley
Mohammed Khan
John Kirk
Chris Knoll
Logan Kuhne
Dan Matz
Scott Medsker
Tom Meeker
George Milberger
Jody Oster
Jason Palin
Matthew Phelps
Maury Raycroft
Nick Roersma
David Ross
Marc Rowe
Joe Scanlon
Jason Scheiderer
Andrew Shelton
Charlie Shrode
Ryan Smith
Marcus Spillson
Eric Spoor
Joshua Stanton
David Stockwell
Josh Tatum
Jaymes Teeters
Tony Unfried
Jeremy Vanscoy
David Weglarz
John West
Josh Wilson
James Wyatt
Class of 2002
Jim Abercrombie
Dan Altman
Josh Banks
Nathan Butler
Brooks Cannon
Kurt Casper
Michael Charbonneau
Allen Clingler
Ryan Clougherty
Adam Collins
Ryan Daming
Jon DeSmet
Chris Fabina
Joe Fuerst
Chris Futscher
Grant Goshorn
Nick Guzik
Jeremy Herrmann
Joe Hisch
Scott Hoyer
Eriks Janelsins
Dan King
Bernard Manker IV
R.J. Morgan
Jon-Myckle Price
Ben Prickel
David Seabeck
Ben Seib
Eric Shreve
John Spence III
Jeffrey Stines
Rick Strasser
Jordan Vaughn
Ben Wagner
Class of 2001
Scott Adams
Zak Allmand
Bobby Beyer
Jake Bradley
Scott Brannon
Andy Bridge, M.D.
Aaron Buehler
Ed Buell, Esq.
Bert Bunton III
Brian Castle
Ryan Claxton
Mike Coffey II
Jon Conkright
Aaron Doll
Shane Dunigan
Mike Foster
Adam Fronczek
Eric Fulmer
Rick Gale
David Greene
Logan Hughes
Kevin Hunt
Phil Kesler
Brian Knapp, M.D.
Doug Kowalski
Seth Kreigh
Hunie Kwon
Jack Mansfield, Jr.
Scott McBride
Hugh McClelland IV
Gary Mineart
Davey Neal
Nick Negovetich
Nick Nussbaum, M.D.
Joe Osborne
Amish Patel
Leland Ping
Derek Richey
Ben Robinson
Klint Schwenk
Doug Springer
Tyler Staggs
Brian Steed
Joe Stoutner, CFP
Khurram Tahir
Joe Trebley
Scott Wallace
Mark Wallis
Matt Warner
Derrick Williams
David Woessner
John Wright
Class of 2000
Jason Androff
Greg Augspurger
Corey Barnard
Todd Barton
Scott Berger
Mike Biberstine
Jeremy Bird
Kevin Brechting
Greg Charnes II
Matt Clark
Chad Cleaver
Timothy Craft
Jeremiah Crouch
Michael Dickerson
Pat East
Josh Estelle
John Fleming
Jay Dee Flynn
Kyle Hall
James Hamstra
Jon Haug
Chris Huffer
Matthew Kriech
Scott Long
Mario Massillamany
Douglas McMeyer
Patrick Miller
Ryan Mills
Jeremy Overton
Adam Packer
Brad Prather
Nate Pulley
Jeff Rice
Cary Richey
Brady Rife
Peter Riordan
Brad Schmitt
Greg Schnarr, J.D.
Michael Shelbourne
Sean Simmons
Scott Snell
Shawn Spear
Stephen Storey
Terry Tharpe
Greg Thomas
Joshua Thompson
Ryan Tipps
Ryan Vaughn
Kris Walker
Drew Watters
Bastian Wonschik
Class of 1999
Andrew Arnold
Mike Ball
Dave Bowen
Aman Brar
Matt Buche
Gary Campbell
Mark Cevallos
Troy Clark
Dave Coates
Eric Dieter
Mark Elrod
Jack Fenimore
John Festa
Jared Hall
Craig Higgs
Bill Hinz, M.D.
Ryan Holmes
Bill Hoover
Jacob Isaacs
Kim King II
Josh Kline
Albert Kovacs
Seth Little
James Mann
Steve Mathys
Chris McBride, Ph.D.
Jim McCall
Derek Nelson
Jim Olberding
Josh Patty
Nick Prihoda
Tony Reyes
Adam Salon
Tom Sarver
Scott Schroeder
John Sowers
Jason Stair
Chris Stewart
Chad Tabor
Rob Walker
Marc Welch
Ben Whitehouse
Matt Whitmire
David Whittaker
Alex Will
Ryan Will
Matt Zopel
Class of 1998
Nathan Armstrong
Scott Backus
Beau Barrett
Dave Barrett
Dan Bartnicki
Scott Benedict
Jason Bennett
Keenan Blanchford
Jeremy Bottoms
Jason Bridges
Michael Burns, Esq.
Ray Claycomb
Drew Cougill
Jeff Cromer
Chris Davis
Roy Early
Dan Emerson
David Ferrell
Jon Findlay
Tim Flint
David Froedge
Justin Fronek
Kevin Gearheart
Jake Gilbert
Brad Glass
Sean Guilfoy
Jimmy Haffner
Mark Hannah
Eric Jaryszak
Theodore Johnson
Ryan Kamp
Brian Kopp
Pete Logan
Steve Mackin
Travis Merrill
Jamie Miles
Pat Miller
Kris Monson
Josh Moudy
Ed Negovetich, Jr.
Brad Neumann
Chris Pesavento
Adam Quick
Andy Rankin
Sean Sharma
Jake Smith
John Stafford
Shawn Stephenson
Peter Suffield
Brian Tucker
Kalpesh Unune
Mike Vance
Bart Waclawik
Jonathan Walsh
Aaron Warnke, Esq.
James Wiskotoni
Brian Woebkenberg
Wes Zirkle
Class of 1997
Josh Beard
David Brown
Justin Castle
John Castro
Ben Clarke
Mike Clump
John Cole
Grant Comer
Scott Drake
Frank Duncan III
Brent Eaton
Derrick Ferguson
Jeff Fulmer
Joe Gianoli
Reese Hamilton
Matt Hilgefort
Joel Houseman
John Jefferson
Josh Kendrick
Brian Kerr
Ethan Kirchner
Joe Klen
Chad Lovelace
Parker Lyons
Mark McCullough, Jr.
Brian Merkler
Deon Miles
Craig Miller
Andrew Naugle
Jeff Nicoson
Andy Perkins
Pat Pienias
Clay Robinson
Josh Robinson
Chris Ruel
Rex Ryker
Tom Stafford
Matt Swift
Micah Tragesser
Jared White
Class of 1996
John Archie
Tony Basch
Chris Beasley
James Blackwell III
Matt Bottoms
Dave Boulware
Jonathon Bradley
Andy Brannon
Roger Busch II
Thane Bushong
Terrence Butler
Chris Carpenter
Brad Catlin
Burke Chegar, M.D.
Alex Costa
Lonnie Dusch
Pete Eitel
Tom Elliott
Kyle Falconbury
Kevin Ferguson
John Fields
Brian Flanigan
Sean Granger
Brian Hartman
Jeremy Hartnett
Sean Holland
Adam Homo
Tony Hudson
Chris Ings
Jawad Javed
Patrick Jones
Toby Kachur
Chad Kestner
Klint Krouse, PsyD
Aaron Larson
Eric Lee
Joe Lopez
Chris Lux
Trent Newcomb
Chek Ng
Hash Patel
Pat Pettengill
Kelly Pfledderer
Jason Ravenscroft
Ethan Roe
Jason Saunders
Jeff Shearer
Keith Shelton
Todd Spurgeon
Brad Stalter
Shawn Tabor
Mike Tempel, M.D.
Chip Timmons
Jon Turpa
Dan Vukas
Bill Warren
Mike Yoder
Class of 1995
Greg Benitez
Tony Bieszczat
Matt Brown
Jon Bumgarner
Dan Carpenter
Brett Crousore
Brian Dillman
Jason Farrior
Arvin Gallanosa
Jim Hawksworth
Jeff Hiester
John Hinz, Ph.D.
Lannie Hough, Jr.
Jim Koers
Herm Kothe IV
Sang Kwon
Patrick Lee, M.D.
Mike Lustina
Sean Lyons
Steve Martin
Thoma Mattox II
Rob McCall
David McElhiney, Jr.
Shawn Means
Sean Murphy
Mike Orrison, Jr.
Matt Parker
Kevin Pastore
Steve Pfanstiel
Don Piro, Jr.
Ryan Pitcock
Ryan Poor
Kyle Rapp
Kyle Rettberg
Mike Rogers
Jim Rusnak
Michael Sadler
Joe Samreta
Sean Satterfield
Roy Sexton
Jason Shelton
Kevin Stalker
John Terry
Adam Vela
Philip Ware
Rob Weber
Class of 1994
Nate Baker
E.J. Becker III
Pat Beidelman
Alex Bickell
Tony Blank
Joe Blastick
Shawn Bullock
Brendon Cassidy
AnTai Cen
Shawn Cox
Kane Dawson
Scot Dawson
Mark Deal
Mark Demske
Topher Doerr
Andy Dorrel
Shawn Dunahue
Mike Erne
Eric Eversole
Darnell Frazier
Jason Hand
Darren Hartman
Keith Hefner
Lee Hoagland, M.D.
Jason Hollingsworth
Kevin Hornick
Tony Inciriaga
Karl Kercheval
Scott Kord
Mike Kristensen
Damon Leichty
Bill Leppert
Jack Littrell
Jim McCord
Eddie Midha
Mike Morreale, Jr.
Jim Pearce
Dale Rader
Emilio Robles, Jr.
Kirk Rockwell
Chris Rowland
Chris Runge
Eric Snively
Tim Spears
Craig Stark
Derrick Stout
Mark Sweeting
Joel Tragesser
Jay Waxler
Tom Welch, CFP
Paul Weltzin, R.N.
Chuck Whybrew, Esq.
Chris Willig, D.D.S.
Rick Zink
Class of 1993
Khurshaid Alam
David Barrett
Chad Bishop
John Britton
Mike Butler
Dirk Caldwell
Scott Campbell
Jason Cantrell
Stephen Cantrell
Chad Chester
Mike Crnkovich
Blake Crousore
Tom Danielewicz
Brian DeWald
Bob Dombrowski
Jon Duffy
Scott Ervin
Will Fecht, Jr.
Jared Fennell
Dom Glover
Garry Groh
Todd Gross
Mark Gumz
Dave Harrison
Phil Hoagland II
Tim Hoftiezer, D.D.S.
Anthony Inzerello
Greg Jania
Bill Kepler
Rodney Kratz
Andy Luckey
Kevin Lusk
Brian Mantel
Steve Marcou
Dave McGimpsey
Mike McGinley
Jim McWilliams
Chris Mesecar
Jon Montgomery
Emman Ndow
Conor O'Daniel
Jared Owens
Patrick Panozzo
Mike Runyon
Brad Rutkowski
Eric Schoettle
David Smail
Scott Smith, Esq.
Jon Sturgill
Jeffry Thornsberry
John Turk
Eric Verduin
David Waldman
Mike Warren
Chad Weare
Drew Welborn
Mike Wells
D.J. West
Brett Wolfe
Steve Woods
Lorne Zielaskowski
Brian Zimmer
Dave Zimmerman
Class of 1992
Frank Amidon
Andy Baucco
Ted Berry
Andy Bieberich
Ron Blum
Bob Brady
Kenyatta Brame
Pablo Bukata
Jonathan Burke
Jamey Callane
Jay Church
Ron Dostal, Jr.
Chad Duran
Garth Eberhart
Joe Emmick
Damian Freeze
Mike Gaby, CPA
Rich Graves
Todd Green
Jim Herr
Thomas Holton
Greg Horman
Peter Horvath
Jonathan Hunt
Paul Jefferson
Chris Kelleher
Jim Kerr
Troy LaRue
Brad Lambert
Jeff Lampert
Mark Lapierre
Andy Lien
Jason Little
Mike Lohorn
Mike Lowes
Mike Martin, JD
James Monk
John Moore
Cameron Morgan
Marc Nichols
Todd Ostrowski
Michael Overdorf
Bill Padgett
Rob Paugh
Scott Perkins
Tony Ridolfo, Jr.
Rob Rudicel, Sr.
Trent Scherer
Rod Scott
Greg Simmons
Andy Smith
Matt Sobolewski, Esq.
Phil Sorak
Jason Sprunger
Mark Sutton
Keith Veal
Jeremy Walker
Alonzo Weems
Bob Weiss
Kevin Wild
Class of 1991
Kip Aitken
Steve Amick
Jim Barnes
Byron Beebe
Brent Bolick
Franklin Breckenridge, Jr.
Ted Brogan
Brian Burdick
Brett Burke
John Cheek
Tim Cobb
Marty Coffey
Tracy Cope
Tony Costantino
Chris Cotton
Drew Crousore
Mike Crowder
Mike Cunningham, Jr.
Erik Dafforn
Eric Danforth
Michael David, Ph.D.
Mark Decaroli
Brian Deleget
Kevin Enyeart
Chris Ervin
Sean Fahey
Scott Firestine
George Fischer
Tom Fisher
Matt Franks
Tim Gatewood, M.D.
Curt Gongwer
Jeff Grabill
Brad Graden
Spider Grove
Jeff Gunter
Jason Hamilton
Scott Handlon
Matt Hanson
J.R. Harvey
Mike Hawksworth
Troy Hockemeyer
Kevin Holle
Xiansheng Jiang
John Keith
Mark Kosior
Mike Langford
Eric Lee
Daniel Lindahl
Lance Liston
Tom Lutz
Timothy Lyons
Jeff Marlett
Brad Mayhew
Bill McClure
Greg Mead
Leo Meskis
Jason Miller
Miles Miller
Lance More
Roland Morin
Dave Moss
Tim Oliver
John Olivieri
Gail Pebworth
David Pippen
Ron Pitcock
John Plaster
Steve Reedy
Scott Royer
Doug Saunders, J.D.
Tom Stanko
Dave Stensland, M.D.
Matt Stephens
Dave Stone
Eric Strehl
Adam Tavitas
Mike Teders
Marty Tuohy
Steve Turk
Mathe Van Heeswijk
Hugh Vandivier
Matt Vessely
Tom Watson
Brad Weaver
Doug Welp
Bryan Wickens
Steve Williamson
Dennis Wilson
Jeff Wilson
Class of 1990
Nelson Alexander
Joe Anderson, Jr.
Mark Baker
Kevin Beausir
Keith Bickley
Patrick Blair
Mike Brandt
Dave Brewer
Roger Brown
John Buehner
Andy Burgess
Brett Butler
Dean Cantrell
Eric Elman
Mike Fulton
Scott Furnish
Doug Glover
Phil Goss
John Hauber
Andrew Hecker
Scott Hollingsworth
David Horvath
Kelley House
Dave Hufford
Jamie Hurst
Fahmeed Hyder
Jon Jessup
Asad Khan
Todd Lukens
Mitch Marcus
Mike McCarty
Loren McCoy
Patrick McEuen
Andrew Miller
Steve Palmer
Jon Porter
Matt Price
Scott Richardson
Chris Rozzi
Scott Ruhl
Mike Sanchez
Mike Seale
Munir Shah
Brian Shepherd
Kevin Sheridan
Greg Shine
Jim Sinex
Chad Taylor
Bart Walker
Class of 1989
Scott Alexander
Bryan Anderson
Mike Axel
Jay Baltisberger
Scott Baum
Rich Berry II
Karl Blessinger
Jeff Boggess
Steven Boha, M.D.
Chris Bojrab
Dave Brake
Benjamin Brown, Jr.
Chris Brown
Brandt Burdick
Dave Callecod
Frank Cardis, Jr.
Geoff Coates, Ph.D.
Bill Cosper
Dan Couch
Daren Courter
Eric Dawes
Phillip Dewey
Steve Doerger
Tom Dow, Ph.D.
Andrew Easton
John Edwards
Kevin Egan
Art Equihua
Mark Fentz
Brian Ford
Jim Galvin
Eric Granger
Matt Griffith, Esq.
Tom Gunderman
Terry Hamilton
Michael Hatchett
Rhys Helt
Scott Hemmerlein
Jim Joven
Pete Keenan
Martin Kirkwood
David Kress
Tony Lentych
Carl Maertz, Jr.
Jim Meger
Drew Northern
Pat O'Hara
John Panozzo
Paul Parkison
Jeff Perkins
Doug Piazza
Joe Pieters
Jay Pippen
John Plunkett
David Reed
John Reith
Dave Relue
Jim Satchwill
Mark Scott
Curt Selby
Jim Selvio
John Shank, D.D.S.
Tom Sinex
Jay Smith III
Andrew Smith
Brendan Smith
Chad Smith
Kurt Snyder, Esq.
Eric Stauffer
Mike Sullivan II, CFP
Zhen-Ming Tan
Joe Turk, Jr.
Dave Urbanski
Phil Westerman
Jeff Wiggins
Scott Wilson
Tom Wright II
Class of 1988
Dave Adich
Bill Ahrbecker
Karsten Alva-Jorgensen
Loren Anderson III
Gary Bacon
Brad Baldauf
Jeb Ball
Brian Beesley
Brock Berta
Rich Bramer
Adam Brazus
Ed Broecker
Matthew Brown
Rick Burgett
Paul Christian
Chris Colson
Sean Conner
Steve Cox
Erik Dove
Karl Ellensohn
John Elliott
Jeff Emmick
Jeff Fetterer
Mark Fritz
Geoff Goodman
Lee Hargitt III
Ryan Hartzog
Dave Hawksworth III
Larry Hemingway
Drew Houseman
Chuck Hurst
Terry Jackson
Chris Janak
Rob Jones II
Marty Kaiser
Jim Kelleher
Mike Keller
Stefan Kreisher
David Levi
Jim Lewis
Marc Lorber
King Lumpkin IV
Dave Mares
Joe Masner II
Doug Mawhorr
Garrard McClendon
Brian McGue
J.C. Morgan
Tim Morrison
Arun Muralidhar
Eric Nizamoff
Robert Pfeifer
Tom Plake
Adam Price
Steve Prince
Len Pysh
Tom Quackenbush, Jr.
Jeff Qualkinbush
Scott Quick
Mark Ratekin
Greg Redding
Rich Rejer, Jr.
Roger Rhodes
Nick Roth
Andrew Roush
Brent Scheib
Scott Schrader
Trent Scott
Ruchir Sehra
Gregory Shaheen
Jeff Short
Seung Sim
Mike Simmons, Jr.
Scott Smalstig
Tim Smerz
Jon Smith
Tim Smith
Kurt Spoerle
Jeff Stahly
Eric Stark III
Greg Teague
Joe Trumpey
Scott Uloth
Alan Vieck
Eric Walts
Jim Williams
Jim Wszolek
Jon Zink
Class of 1987
Jim Amidon, Jr.
George Azar
Steve Badger, Esq.
Ben Beringer
Paul Boger, Jr.
John Brady
Bob Brennan
Erik Burriss
Bill Butcher
Greg Castanias
Scott Cougill
Tom Edwards
Kurt Eisgruber
David Givens, Jr.
Allan Gordus, Jr.
Mike Gregory
Anthony Hart
Thomas Hedrick
Jay Herrmann, M.D.
Evan Hurst
Tim Jeffers
Steven Jones
Bob Kachur
Bill Kaiser, Jr.
Mike Khamis
Chuck Killion
John Kirk
Tim Lewis
Tyce Light
David McLaren
Bob Minardo
Jim Miner
Mike Mull, M.D.
Bill Niemier
Dave Nisius, Ph.D.
Kevin Noll
Ken Ogorek
Todd Peters
Mike Rapier
Jeff Relue
Mike Ricks
D.J. Riese II
Fritz Rohrkaste
Chris Sangalis
Tom Seroczynski II
Tim Servies
Ken Siepman
Bodie Stegelmann
Chris Stephenson
John Stonehill
Bernie Stuckey
Jo Throckmorton
Mike Trier
Darin Wallace
Dave Woodward
Von Wright
Class of 1986
Andy Auter
Michael Beason
Wayne Booker
Mike Busch
Jeremy Cage
Jim Carr
Will Christensen
John Clark
Karl Cooke, USN
Dan DeGryse
Steve DeLano
Tim Doyle
Scott Eggers
Rafael Fletes, Jr.
Neil Goodnight
Rick Hammerle
John Harvey
Mike Haugh
Eric Hiser
John Hutchinson
Chris Joll
David Litherland
Tim Maguire
John Marsteller
Jeff Martin
Tim Metzinger
Mike Molloy, Jr.
Greg Nottingham
Tim Oakes
Chris Potee
Sherm Potter
Todd Randolph
Kevin Ranken
Mike Reding
Jim Riddle
Kurt Rohrbach
Eric Rowland
Sean Royce
Jeff Schafer
Doug Schrader
Dan Slagel
David Starr
Tracy Swaim
Dan Swain
Mike Thorp
Andy West
Steve Whitaker
Andy Woods
Allen Yow
Class of 1985
Mike Abbott
John Adams
Tony Altavilla
Wayne Bewley
Ron Bigler
Chris Black
Pete Blank, D.D.S.
Bill Brady
Dave Bromund
Chris Burgess
Melissa Butler
Kyle Carr, M.D.
Brad Carr
Ralph Chacon
Jonathan Chumley
Todd Clark
Chris Coble
Randy Combs
Nick Crnkovich
Adam Crowe
Jim Davlin V
Tom Denari
Drew Dickerson
Jeff Dickison
Bob Dion, Jr.
Jason Dyer
Paul Dzurovcik
Greg Estell
John George
Mike Gilvary
Bob Gregerson
Marty Gregor
Bill Harrington
Steve Hayes
Scott Himsel, J.D.
Mike Hodges
Steve Hoffman
Dan Kraft
Scott Lahr
G.B. Landrigan
Buckley Latona
Glen Leer
Mike Martin
Tim McMillan
Houston Mills, Jr.
Gerry Myers
Cory Olson
Scott Powers
Steve Ramsey, CLU
Mike Raters
Kevin Roy
Brian Shinkle
Dave Stewart
Steve Watkins
Chuck White
Greg Zorich
Tom d'Ambrosio
Class of 1984
Jeff Baldwin, Esq.
John Barr
Tom Binford
Brent Branstetter
Kevin Crowe
Nick D'Angelo
Tom Dean
Scott Douglas
Bart Durham
Rob Fleming, Jr.
Joe Foye
Todd Glass
Stig Hammond
Bill Havlin
Mark Henry
Wayne Hentrup
Don Herring
Bruce Heslin
Tim Heston
John Houser
Thom Irelan
Tom Jeffers, Jr.
Chris Johnson
Ray Jovanovich
Jim Kilbane
Casey Kurth
Andy Lebamoff
Charlie Merz
Mike Need
Jim Nossett
Rob O'Dell
Brian O'Grady
Cyril Oake
Goehrig Orr
Tim Padgett
Dave Parry
George Patton, Jr.
Jerry Pederson, Esq.
Mike Ploski
Jeff Qualls, M.D.
Scott Rathgaber
Eric Roth
John Ryan
Henry Sabetti III
Ilya Schwartzman
Ricky Seward
Brian Shively
John Smith
Joe Sommerville, Ph.D.
Jeff Stack
Brian Tonner
Mark VanderHagen
Jeff Ward
Bret Weathers
Tracy Williams
Pete Wilson
Class of 1983
Bruce Allee
Eugene Anderson
Kevin Banks
Randy Bayless
Brad Benbow, Sr.
Joe Bondi
Gary Brazel
Dave Broecker
Jerry Clingerman
Dan Cueller
Andy Danckers
Tom Davis
Clyde Dawson II
Chris Denari
Doug Dewire
Jim Dimos
Rick Dravet
Jim Dyer
Brad Eads
Michael Einterz
Jon Finley
Kyle Foyer
Susan Francoeur-Amich^
Eric Green
Rick Gunderman
Chris Halkides
Craig Harmon
Dave Hayhurst
Tony Hinkle
Tim Hodges, M.D., Ph. D.
Dave Holland
Steve Hornak III
Lyndall Huggler
George Jones III
Jay Kelly, Jr.
Bill Kennedy, Jr.
Paul Kyriakides
Chip Lang, Jr.
Chris Leagre
Kurt Lightcap
Erik Lindseth
Mark Maddox
Paul Maginot
Mark Magura
Mike Mahan
Eric Mannel, Ph.D.
Greg Mauch
Brad Maxwell, Ph.D.
Mac McLaughlin, Jr.
Gregory Milakis
Alan Miller
Greg Miller
David Phillips
Laura Renz^
Chris Riegel
John Roberts, Jr.
Fred Roetter
Tom Schabel, Jr.
Dave Servies
Rob Shook III
Ed Stephens
Brent Stingley II
Kevin Swaim
Mike Sweeney
Dan Taylor
Chris Thompson
John Van Nuys
Tony Warfield
Jeff Warmke
Bill Wheeler
Mike Whelan
Andy Wilkinson
Eric Young
Class of 1982
Larry Adams
Chuck Alexander III
Mark Bernat, J.D.
Scott Biederman
Rich Blastic
Tom Briere
Greg Bruzas
Craig Buche
Chris Carr
Roy Dessloch
John Donovan
Scott Dreher
Luke Eades
Brian Edelman
Fred Emhardt
Keith Ennis
Clay Estep
Martin Fitz
John Gerometta, M.D.
Tim Haffner
Mark Hatfield
Kevin Hibner
Art Howe
Michael Huber
Jake Jaquiss
DJ Johnson
Don Johnson
Frank Kolisek
John Larson
Mike Laudick
Mike Lewinski
Bill Luckey, Jr.
Pete Metzelaars
Gerald Myers
David Newby
Joe Pavlik
Greg Peckham
Dan Peters
Mac Petty
Joe Pfennig
Dave Rogers
Rick Sasso, M.D.
Mark Sausser
David Schilling
Dave Schrader
Scott Shearon
Tim Skimina
Jim Snyder
Mark Sterk
Geoff Swope
Tom Thompson
Rick Tunin
Carl Wagner
Don Wagner
Tony Will, Jr.
Alan Willadsen
Pete Witczak
Mark Worrell
Michael Yeakey II
Class of 1981
Kevin Altman
John Ashworth III
Dean Beckman
Mark Benne
Joe Boomhower
Brian Bowerman
Chris Braun
Allan Clauser, Jr.
Jim Cooper
Doug Coplen
Bryan Daniels
Kirk Dixon
Tom Elliott
Eric Faires
Lou Fenoglio
Joe Fistrovich, Jr.
Larry Frye
Gus Galante
Mel Gore
Steve Hartenstein
John Helm
John Hilbrich
Cris Johnston
Scott Jones
Terry Jones
Fred Kendall
Mike Kraus, FACP
Doug Kvachkoff
Mark Lazar
Mike Leagre
David Lewis
Rolf Loescher, M.D.
Bill Macon, Jr.
Greg McGowan
Mark McGrady
Doug McKay
Don Miller
Kirk Miller
Carl Myers, O.D.
Stephen Pavy
Tom Phillips
David Powell
Steve Pruett
Phil Purcell
Steven Riggs
Ned Segelken
Rick Skertic
Frank Smaron
Dave Steiner, PE
Rolland Strasser
Jeff Struewing
Steve Thomas
Stan Thompson
Ron Vogel
Jay Want
Monty Woolsey
Pete Wright
Kevin Young
Randy Zromkoski
Class of 1980
Paul Atkenson
Dan Bohn
Tom Brandes
Bob Cebul, M.D.
Rich Clark
Terry Fox
Brent Fulton
David Galloway, Sr.
Bill Goebel
Michael Gullifor
Herbie Highsmith
Joe Impicciche
Curt Keller
Tim Kennedy
Alex Klefeker
Michael Lambert
Chris Lanane
Michael Maddox
Emmett McAuliffe, Jr.
Mark Merkle
Gene Mszar
Duane Murphy
Mario Obejas
Mark Oetting
Larry Palmer
John Pea
Brad Petit
Charles Pockras
Jim Renshaw
John Reuter, Jr.
Doug Rogers
Greg Rose
Charles Routh
Ron Rychlak
Jud Scott
Dave Stein
Brad Sterrenberg
Ross Strodel
Ken Turchi
Bill Tutwiler
Bob Vogt
Clay Whitney
Class of 1979
Mike Ackerson
Jay Allen
Brad Ballentine
Tom Barnes
Ron Belden
Mike Bentz
Mark Bevelhimer
Douglas Bies
Charles Bookwalter III
Russ Bostick
Brenda Brazill^
Bob Breshock
John Brown
Gary Cavanaugh
Tim Conroy, M.D.
Fred Cook, Jr.
Ralph Dixon III
Daniel Dovenbarger, Esq.
Frank Fish, M.D.
Matt Forrester
Tom Galvin
Brent Gray
Jim Griffis
Dave Hensel
Joe Higgs, Jr.
Briane House
Tim Hulett
Tim Kelly
Bob Klee
Ed Knipstein*
Sandra Knipstein^
Byron Lamm
Fred Lane
Pete Lanman
Stephen Lazar
Kevin Lungren
Ron Martin
Al McLaughlin
Carl Michaelis II
Jim Miner
Randy Moore, M.D.
Mark Moore
Dan Murad
Ehud Neor
Fred Neuhouser
Greg Opfel
Marc Overhage
Chuck Phelps
John Powell
Brent Renfro
Pat Rhodes
Clay Robbins
Mark Roche
Derek Roenfeldt
Robert Rose
Chris Ruttle
Kevin Scheid
Tom Shoemaker
Mark Slack
Jack Tandy
Van Taylor
Jon Toops
Dan Walters
Todd Whitmore
Class of 1978
Bruce Andersen
Alex Antalis
Randy Aten
Paul Brooks
Kevin Budke
Twine Campbell III
Bruce Carl
Allen Cebula
Jim Chatt II
Jim Clouse
Brett Coldiron
John Cunningham
Pete Davis
Tom Dyer
Brad Dykes
Jim Engledow
Terry Evitts
Mark Fredrick
Bob Grand
Bill Hall II
Miles Holsworth
Gordie Huncilman
Eli Jackson III
Paul Karasch
John Kay
Mike Keele
Gene King, Jr.
Ray LaDriere II
Mark Ladd
John Leighton
Jeff Lundy
Doug Lyday
Okey Mbadike
Marty Mickle
Dudley Miller
Thomas Modrowski
David Moore
Mark Noffsinger
Clint O'Connor
Jim Pace III
Mark Renshaw
Cary Riggs
Don Rossler
Frank Sellke, M.D.
Thad Seymour, Ph.D.
Tim Sipe
Dan Skaggs
Dan Skinner
Ralph Smith
Dale Sorenson, D.D.S.
Dave Sorg
Mark Stuaan
Bruce Terrey
Bob Walsh, Jr.
Steve Wright
Class of 1977
Marc Adams
Randy Allen
Tom Babel
Tom Barley
Bob Baur, Jr.
Greg Birk
Ted Bowling
Tom Boyer
Bob Brandt
Dave Brooks, Esq.
Dan Broughton
Doug Carl
Chick Clements
Kevin Clifford
Bob Dickson
Chip Eberle III
Bob Einterz
Mark Englert
Ted Ferguson
Phillip Garrett
Jeff Gunning
Herm Haffner
Steve Heimann
David Herzog
Jim Hoyt
Greg Huebner
Hutch Hutchins
Stan Huth
Ronald Izynski
Tim Kathman
Keith Kehlbeck
John Kerezy
Bob Kniskern
Karl Lawall
Terry Mahoney
Dave Masten
Vic Melchiorre, Jr.
Rick Moll
Michael Murphy
Gary Nondorf
Kevin O'Shaughnessy
Dave Rea
Bob Rea
Gary Reamey
Randy Rippy
Dan Rizzardini
Steve Rogers
Mark Shaffner
Tim Sheets
David Smith
Bob Snodgrass
Don Stinnette
Robin Stout
Mark Stutz
Ray Swisher, MSC, USN
Peter Trybula
Mark Van Buskirk
Don Wellen, Jr.
Tom Wilson, Jr.
Rhenwick Young
John Ziegler
Class of 1976
Clark Anderson
Len Anglis
Bill Ashby, Sr.
Pat Bechdol
Mike Braun
Mark Briel
Aubrey Bright
Mike Brown
Joe Buser
Clinton Carbon
Rick Cavanaugh
Mike Coffey
John Collins
Stephen Cox
Dick Currey
Bob Dale
Mike Darmon
Dan DeBard, Sr.
Bob Deschner
Mike Fumagalli
Tim Gagen
John Gerard
Roddy Goings
David Hadley
Lu Hamilton III*
Liz Hamilton^
Mike Hartman
Bill Hill III
Bumper Hostetler
Roy Howell
Steve Hunt
Ed Jones
Mike Kilpatrick
David Kitcoff
Dana Kolter
Rob Matthews, Jr.
Mac McNaught, Jr.
Mark Miles
Fred Miller, Jr.
John Miller
Joe Mims
Murph Murphy III
Jerry Ness
Tom Newton
Barney Niezer
Chip Olson II
Larry Pribyl
Dan Scheerer
Tom Shelton
Greg Spencer
Tom Stanberry
Bill Stark
Dennis Steelman
Gregg Sweeney
Dick Sword
Tom Trent, Jr.
Mike Uhl
Dave Wagner
Ed Wanamaker
Bruce Williams
Roger Wilson
David deLorenzo
Class of 1975
John Asbury
Jim Ashbaugh
John Beardsley
Bob Betz
Mike Burkett
John Carey III
Bob Chamness
Willyerd Collier, J.D.
Bob Crowell, M.D.
Mark Dill
Jim Duguid
Dan Edquist
Bill Fell
Jeff Fisher
Keven Forney
Tom Giesting
Kymn Harp
Tom Hartry
Tim Hawley
Jack Haywood
Pat Healey
Joe Hockberger
Mike Kiley
Darrell Kingery
Bill Ledbetter, M.D.
Phil Leffel III
Jack Lilly
Dennis Maciejewski
Thomas Mahoney
Paul Mamula, Ph.D.
Mark Miller-McLemore
Henry O'Connell
Dale Petrie
Tim Schroer
Rob Sherwin
Rick Shonkwiler II
Harlow Stevens, Jr.
Jeff Trefz
Steve Wagner
Mark Winter
Paul Woolls, Esq.
Class of 1974
Rick Adams
Chris Baker
Jeff Birk
Bob Black
Mary Bleau^
Tom Bridge
Chip Burgess
Terry Bushing
Terry Coffinbarger
Robert Cooper
Fred Creech III
Mark Dewart
Mike Eckerle
Floyd Fetter
Terry Gaff
Mike German
Carl Gibson
John Gildea, CPA
Doug Given
Carl Gjeldum
Bob Hall
Bob Harris
Kurt Homann
Bruce Ikawa
Keith Isenberg
Chuck Johnston
Mike Keating
Ben Kessler
Kevin Marsh
Dan Masten
Tom Maury
Craig May
Jim McDaniel
Mike Medler
Kevin Mitchell
John Musgrave
Steve Nelson
Phil Nysewander
Bill O'Bryan, Jr.
Chris Patchell
Jim Pattison
Ray Peterson
Brent Petit
Ralph Rohrer
Steve Santello
Mark Schnepper
Martin See
Paul Tipps
John Van Drie, Jr.
Rick Weber
Hal Wendling
Clifford Williams
Terry Wise
Robert Witzerman
Class of 1973
John Albrecht
Pete Allen
George Angelone
Rick Appley
Greg Bartels
Paul Bisset
Jim Braddock
Frank Buerger, USN Ret.
Aurelian Bukatko
Mike Burnley
John Busch
Lee Clark
Nate Clark
Joe Collings
Bill Dale
John Feick
Jack Foos
Douglas Freeman
Steve Ganson
John Garber
John Gastineau
Ted Grossnickle
Bruce Guebard
Joe Haklin
Les Howard
Dennis Kepchar
Bob Kissling
Jim Lau
Jim Laurent
Rob Lempke, Jr.
Thom Liffick
John Lowe
Pete Mallers
Larry McLaughlin
Chet Miller
David Moody
Craig Moorman
Steve Morris
Jim Mullen
Steven Murphy
Barbara Norton^
Nelson Ong
Chuck Orme-Rogers
JR Reynolds
Ray Roembke, Jr.
Chuck Rudesill
Steve Shaber, Sr.
Lemuel Stigler
Tom Stocks III
Jim Thomas III
Tom Walsh
Ray White
Tim Whiteman
Larry Wilson
Charles Young
Class of 1972
Bill Badgley
Ben Barnes, Jr.
Jeff Baxter
Reed Birney, USN (Ret.)
Rex Boner
Steve Brammell
John Bridge
Victor Buktenica
Skip Burhans II
Fred Butler
Bruce Cameron, M.D.
Dave Campbell
Brad Chillson
Steve Crowley
Curt Daniels
Jerry Dreyer
Kim Ebert
John Failey
Tom Federenko
Rick Fobes
Brad Goff
Dan Grube
Michael Hammond
Art Hansen III
Mike Hiatt
Mike Howard
Roger Hurd
Steve Hussey
Mark Jones
John Kemper
Rod Kenley
Pierce Klemmt
Doug Lehman, Esq.
Hugh McClelland III
Bruce McGar
Jim McQuillan
Tom McShane
John Mynsberge
Bill Nielsen, Jr.
Gregg Ottinger
Mike Prunier
Tom Pulver
Chuck Ransom
Tom Ristine
Don Russell
Burt Schell III
Ron Sharpe
Don Shelbourne
Tom Smith
Gregg Spitler
Mike Vahey
Don Van Deursen
Norman Weichbrodt
Cyril Welter
Terry Weston
Hayden Wetzel
Kerry Wilson
Bill Wilson
Steve York, USMC (Ret.)
Jim Zavesky
Class of 1971
Skip Adams III
Jerry Anderson
Jim Ball
Bob Bogigian
Bruce Bradway, Ph.D.
Jim Bromley
John Brown
Rufus Burton
Kai Chin
Steve Covey
Sue Dart^
Russell Dart*
Bill Davnie III
Mike Dill
Andy Dziubinskyj
Jeff Eaton
Nelson Flynn
Dave Graham
Dave Gray
Rick Gregory
Fred Haase
Gary Hansen, M.D.
Bill Hausmann
Pete Hawley
Gordon Hayes, Jr.
Trey Holland III
Ken Huff
Ron Israel
Clark Johnson
Brad Johnson
Bruce Julian
John Kalb
Jim Kamplain
Allen Kepchar
Gene Kepple
Sam Kirtley
Judy Lammering^
John Lathrop
Mike Lemon
Cathy Long^
Dave Main
Tom Martella
Steve McDaniel
Alex Miller, USN (Ret.)
Dick Morford
Dennis Myers
Keith Nelson
Jon Pactor
Garrett Paul
Jim Peters
Dave Pfanschmidt
Larry Phelps, Esq.
Ed Pitkin
Bob Prentiss
Mark Ramey
Mark Randak
Victor Ransom, Jr.
Greg Rasmussen
Jim Rendel
Phil Rifner
Carl Royal
Tom Runge
John Ryder
Martin Schaap
Orlo Shoop, CW4, USA Ret.
John Street
Pete Toft
Steve Weliever
Steve Wildman, Ph.D.
Andy Young
Class of 1970
Kenneth Abbott, M.D.
Jay Armstrong
Dave Ault
Tim Backensto
Lew Beckwith
Bob Carpenter
Steve Charles
Phil Clark
Jeff Copp
Chuck Crowley
Bob Danielson
Steve Davis, CPA
John Davis, Jr.
Paul Day
Peter Durant
Bernie Emkes
Bob Fahl
John Fischer
Charley German
Mike Godan
Mike Gregory, CPA
James Gruver
Mark Hall
Les Hearson
Mike Henry
Bob Herold
Dan Holderbaum
Ken Inman
Bud Jones
Joe Katzenberger
Mike Kelley
George Kumis
Bob Leslie
Frank Ling, M.D.
Dwight Lunderman
Ronan Marra
Carol McDonald^
Bill McLane, Jr.
Dave McSwane
Jeff Nickloy
Dave Obergfell
Bill Olsen
Jess Paul III
Tom Petska
Bob Pollom
Jim Pope
Jeff Price
Phil Radtke
Don Reed
Tom Roberts
Ed Scahill
Dave Shane
Paul Sheffner
Phil Sidebottom
Bob Siegmann
Dan Simmons
George Simpson, Jr.
John Spray
Jim Swayzee
Dave Vogt
Randy Waitman
George Walton
Dale Warmbir
Dave Weigel, Esq.
Class of 1969
Mark Albertson III
Phil Allen
George Anagnos
Bill Andrews
John Antonelli
Gary Ault
Stuart Barb
Ron Berg
Fred Bradshaw
Bob Brandes, Jr.
Jack Brown
Bob Bruce, Jr.
John Burrell
Rick Campbell, Jr.
Dave Carlson
Bill Christoph
Jay Cragwall, Jr.
Ken Crawford
John Crook
John Culley, Jr.
Ken Diddie
John Dowd
Richard Elson
Howard Ervin III
Jerry Fanger
Steve Finger
Bob Flynn
Steve Fox
Fred Gale
Rob Gorham, Jr., Ph. D.
Tom Gran
Ivan Green, M.D.
David Hafling
Bob Hall
Harry Hanson
Al Hart, Jr.
Tom Hunter
Dave Knott
Alison Kothe
Rik Lineback
Bill Mabin
Bob McVicker
J.B. Michael
Steve Mihalko
Richard Moak
Wayne Monroe
Art Morelli
Brad Mullendore
Jerry Neal
Dave Pancost
Larry Parker
David Parkhill
Ron Patton
John Perry
Joe Phelan
Russell Pollard
Charlie Raiser
Tom Ridolfo
Dave Sadler
Steve Sallot III
Gene Schofield
John Schroeder
Bob Shearer
John Showalter
Steve Sirmin
Chris Snodgrass
Doug Sparks
Bob Spear
Jack Spurway, Jr.
Dan Stauber
Steve Steinkeler, M.D.
Dennis Stokes
Ted Wachs
Gary Wade
William Waldschmidt
John Wiley
Jim Willhite
Fred Wilson, Jr.
Class of 1968
Mike Akers, Ph.D.
Tom Allen
Chuck Anderson
Ben Austin, Sr.
Dave Avery
Stan Baker
Tom Bambrey
Steve Bowen
Van Butler
Jim Byrn
Dick Callaway
Dave Cook
Ed Cox
Mike Douglas
Michael Dybel
Todd Eads
Bob Faul
Mike Gallagher
Ed Garrigan
Tim Gorman
Rich Gower
John Greves
Lee Grogg
Dave Hagen
Steve Hansen
Alan Hatfield
Art Hegewald III
Tom Hill
Dave Hizer
Jim Hutcheson
Bob Hyatt
Fred Jean
Steve Johnson
Jim Kelley
Peter Kennedy III
Elaine Kenneson^
Ken Koepke
Wayne Kornas
Stan Kowaleski, Jr.
Chuck Kraft
Steve Laramore
John Leahy
Sam Milligan, FACP
Jim Millikin
Jeff Moon
Doug Morton
Qais Noaman
John Oesterle
Tom Popejoy
Jim Powers
Jason Reed
Walt Riesing, Jr.
Jon Roe
Jim Roper, USAF (Ret.)
John Schlechte
Fred Schurger
Roger Senkbeil
Randy Slickers
Brian Smith
Terry Smith
Walt Snodell III, CPA
Mike Stayton
Rich Stout
Dan Susie
Mark Sutton
Jim Tulley
Jon VanScyoc
Dan Vannatter
Terry Walsh*
Bob Weesner
Jim Williams
Raymond Williams
Phil Wilson
Tom Wilson
Claude Wise
Class of 1967
Nelson Bahler
Elizabeth Ball^
Greg Ball*
Ed Bell
Dave Bloomer
Alan Boone
David Brannin
Tom Brown, Jr.
Randy Brown
Ron Brown
Jack Brumbaugh
Mike Butler
John Carry
Rich Chilausky
Steve Claffey
Jim Clynch
Jeremy Coffman
Ed Cook
Phil Coons, M.D.
Steve Coons
Ed Culver
Paul Cunningham, USAF Ret.
Mike Curry
Dave Decker
Clark Dickerson
John Evans, USMC (Ret.)
Mike Fortier
Steve Golliher
John Goodrich, Sr.
Dennis Harrell
Mike Harvey
Rick Helm
Dennis Henry
Duane Hile
Steve Hopper
Earl Houck
Jim Hover
Bill Ingle III
David Jones
Wendy Kish
Phil Kucinski
Larry Landis
Bob Larzelere, Ph.D.
Haines Lockhart, Jr.
Joe Lwanga
Peer Lykke
Mark Mader
John May
David Merrell
Dave Montieth
John Moody
Bruce Newby
Tom Perry
Dan Petrak
Bob Pinschmidt, Jr.
Alan Pyle
Linda Randak^
Larry Remble
Jack Robertson
Robbie Robinson
Jerry Schaefer
Mike Seifried
Fred Siegel
Roger Smith
Gene Snipes
Bob Sonnemaker
Jim Stahler, MSW
John Sturman, Jr.
Pete Talbot
Steve Tietz
Phil Trueblood
Larry Underwood
Bill Vander Haar
Jack Webster
Tom Werner
Andy Williams
Alan Witte
Steve Wood
John Zimmerman
Class of 1966
Jon Abels
James Ackil
James Adamson
Harry Antibus
Charley Ayers
Charlie Bell
Bill Berry
Cal Black
Jerry Blossom
Keith Blume
Allan Bredenfoerder
Steven Brenner
Dave Briscoe
Riley Brissman
Joan Brosius-Tack^
Mike Burke Kirby
Lee Cline
John Coligan, Ph.D.
Bill Cook
Tom Corwin
Bill Davis, Jr.
Dean Davis
Jack Davis
Lynn Dick
Harry Elliott
Bill Exline
John Fargher
Bill Ferguson
Jay Fisher III
John Flanagan
Lowell Flickinger, Ret.
Jerry Fohrman
Louise Forsythe^
Karl Fritch
Greg Garman
Jim Gineris
John Gisler
Steve Gould
Bill Grantz, Jr.
Dick Gray
Jim Griffin
Carl Halgren
Jack Hauber
Larry Haugh
Steve Heiny
Herb Heneman III
John Herrin, Jr.
Jan Hesser
Steve Hildebrand
Bill Hill
Lon Hixson
Jon Holdread
Ken Jaros, Ph.D.
Jerry Jefferies
Ernie Johnson
David Kendall
Leroy Kercher
Lee Kochman
Dave Krattebol
Reuel Launey III
Bill Lawler
John Lennes, Jr.
Clifton Liter
George Love, Jr.
Jim Lowery
Ned Luce
Roger Lumpp II
Mel Machuca
Stuart Mahler
Bob Main
David Matsey
Larry McNair II
Jack Meng, Jr.
Ray Metzger
Don Miller
John Miller
Tom Moorman
Joe Murphy
Jack Nahigian
Gene Neal, Jr.
Squier Neal
Mark Nilsson
Alfred Nucci
Tom Ochsenschlager
David Ogden
Rich Otten
Jon Park
Mark Paulson
John Phares
John Pickerill
Don Race, M.D.
Bob Rakestraw
Bill Ray, Jr.
Tom Raycroft
Dave Riddle
Tony Ridolfo
Bill Robb, Jr.
James Roeder
Max Rudicel
Don Rupprecht
Hal Ryan
Frank Sanford
Ken Schild
Judy Schmutte^
Steve Schnacke
Jerry Sedmak
Jim Sedmak
Brent Smith
Bob Smith
Bill Smits
John Snodgrass
Paul Spade
Bill Steger*
John Stone, Jr.
Terry Storey
Bill Summers
Bob Takacs
George Taybos, D.D.S.
Roger Thies
Bill Todd
Rod Townsend
Jim VanDolah
Stan Vogel
Dick Vozel
Stan Walker, USA (Ret)
Dale Waller
Dave Ware
Mel Washburn
Jim Wason
Dennis Whigham
Tom Wilhelmus
Jay Williams, Jr.
Ken Wood, Jr.
Jerry Wood
Howard Wooden III
Class of 1965
Morrie Adams
Carl Alfrey
Allan Anderson
Dave Arnett
Steve Babic
Bruce Baker
Lori Batchelder^
John Batchelder*
Pat Becherer
Bill Berg
Larry Blount
P.T. Buntin
Neal Butler
Jim Carroll
Roger Colehower
Ralph Cory
Norm Daikoku
Ross De Vuyst
Gary Dillon
Sam Farrah
Jim German, D.O.
Bill Gilman
Thomas Goldstein
Dave Hadley, Jr.
Fred Halstead
Joe Hoffmann
Dick Hughes
John Kegerreis
Kass Kovalcheck, Jr.
John Labavitch
Bob MacCallum
Bob Martin III
Trippe Matthews, CPM
Mickey Metzler
Ralph Michna, USN (Ret.)
Bill Millikan, Jr.
Kent Moore
Harry Nicol
Larry Niemann
Joe O'Rourke, Jr.
Peter Pactor
Harrison Parker
Jay Patterson, Jr.
Harry Phillips
Rich Polk
Jerry Porter
Bruce Proctor
Steve Queener
James Ross
Pete Ruthenburg
Don Schmidt
Page Stephens
LeRoy Stoner
Steve Theis
Mike Tynan
Bill Van Deest
Mike Weeks, M.D.
Tim Werbe III
Phil Wescott
Dave Whaley
Terry White
Tom Williams
Phil Young
Fred Zuck
Class of 1964
Bob Adams
Paul Alessi
Richard Allen
Bill Augspurger
Chris Birch
Tom Boyd
John Brookmeyer, Jr.
Walt Bubelis
Bruce Bubenzer
Dudley Burgess
Mark Camblin
Jim Childress
Dan Collier
David Dean
Dick Durham III
Stewart Ellis
John Fox, Jr.
Gary Gherardini
Dennis Gibbs
Chris Gross
John Groustra
Terry Hadley
Todd Hanlin
Frank Harris III
David Herkner
Fred Kraft
Skip Lindeman, Jr.
Bob Lindstrom
David Litterst
Dave Livengood
Jim McCabe
Kent Merrill
John Mikesell
Philip Miller
Steve Miller
Jim Millican II
Bob Mitchell
Jim Morris
Ron Nichols
Bert Nicholson
Dave Petering
Jon Pontzius
Bill Robbins III
Bob Roeder
Troy Scott III
David Scott
Bob Sehr, Jr.
Dick Shelain
Stan Sibell
Tad Sinnock
Jerry Smith
Dave Stamper
Mike Tuberty
John Tweedle
Don Vorce, Jr.
Dave Watkins
Al Yoder III
Class of 1963
Roger Alig
Rolf Amsler
Tom Billings
Mike Boyd, Jr.
George Brattain
Richard Brown
Frank Cassell
Steve Coons
Dan Crofts
Bill Diener
Jim Endicott
Kent Evans
Warren Ford
John Gibbs
Tom Halgren
Doug Hawthorne
Pete Hedges
Dave Hockensmith
Johnny Hsieh
Larry Hutchison
Steve Jay
Dave Johnson
Rusty Johnson
Steve Klug
Bob Kruse, Jr.
John LaBounty
Nancy Litzenberger^
Bill Lowery
Tom McCully
Earl McGimpsey
Lincoln McGurk III
Phil Mikesell
Mark Miller
Tom Milligan
Rusty Nichols
Robert Ouellette
Bruce Polizotto
John Price
Norm Schumaker
John Spiegel
Alan Stanford
Tim Steele
Woody Stephens
Tom Verachtert
Bill White, Jr.
Jan Woodfill^
Class of 1962
John Arbo
Mike Ball
Gene Blackburn
David Brink
Norm Carrico, M.D.
David Downen
Steve Drayer
Russ Duvall
Tom Emmick
Tim Emmitt
Mike Fanger
Thom Feit
Terry Fewell
Brian Fry
Bob Fuller
Tom Gaisser
Dave Gillespie
Pat Haney
Jim Hedback
George Hodges
Jim Johnson
Gary Jouris
Bob Koonz*
Bob Latham
Tom Lauritzen
Brad Lentz
Dale Lentz
Jay Littell
Jim Little
Ron McCoy
Lee McNeely
Mary Mendenhall^
Bruce Monroe
Jack Nutting
Jim O'Brien
Bill Racey
Tom Reams
Robbie Robinson
David Shuman
Tom Sinex
John Staples
Dick Stephenson
Brent Sutton
Bob Templin
Bill Thompson
Tom Whowell
Larry Williams
Mal Young, Ph.D.
Ted Zieke
Class of 1961
J.B. Bachman
Joe Barnette, Jr.
Norm Beesley
Milt Bentley
John Birdzell
Bob Bock
Dave Bohlin
Charlie Bowerman
Dave Boyd
Aus Brooks, Jr.
Doug Burns
Rusty Cleland
Tim Conlon
Jim Cumming
John Currier, Sr.
Linda Cushman^
Doug Dalrymple
Rick Dexter
John Dinsmore, USAF (Ret.)
John Dunn
Don Engler
Bill Faller
Jack Gakstatter
Ken Hapner
Steve Herman, M.D.
Sam Hildebrand
Mike Hughes, Jr.
Jim Hutcheson
Bob Jones
Bill Keim
Joe Kiley
Bill Kilgore
Mead Killion
Vince LeDonne
Walt Lippard III
Dave McAfee
Jim McMichael
Stan Miller
Jay Moore
Evan Myers
Paul Olexia
Pete Pippen
Ron Reinhart
Rob Rittenhouse
Fred Ruebeck
Chuck Shanholtzer
Denny Sheridan
Nancy Smerz^
Tom Supel
Ted Todd
Bob Voigt
Jim Wells
Charlie West
David Wilson
Jim Wood
Class of 1960
Bob Ashman
Al Askerberg, Jr.
John Bachmann
Jay Bell
Tom Bennett
Brian Blackmore
Bill Boone
Philip Bowman
Walt Bridgewater
Milt Brooks
Sherrill Colvin
David Curtis
Darrell Dick
Misty Fogg
Warren Hall
Vic Hasler
Frank Hoss
Al Huff
Bob Jackson
John Johnson
Jim Ketchen
Terry Kilgore
Dick Kite
Bob Kryter
Carol LaBorde^
Dave Lahey
Wes Lamboley
Jim Marr
Dan Millar
Bob Neal, Jr.
Scott Polizotto
Jim Price
Charlie Quillin
Omar Robinson
Fred Scott
Mike Silbert
Larry Souders
Nicolas Thireos
John Thomas, M.D.
Ralph Thomas
Grant Van Horne
Ted Wiese, Jr.
Elizabeth Wildhack^
Greg Woodham
Class of 1959
Duane Axel
Roger Billings, Jr.
Bob Bittner
Tom Black, Jr.
Judy Calkins^
Burt Carlson
Sophia Carr^
Bob Charles, Jr.
Bill Collins
Tony Dowell
Bill Dyer
Jerry Evans
Lane Ferree
Sherm Franz, M.D.
Craig Green
Charles Haffner
John Hawks
Rex Henthorn
Gloria Hill^
Herb Hill*
John Hollett III
Jim Holmes
John Horner
Walt Inman
Gary Johnson
Philip Johnson
Joe Malott
Hoyt Miller
George Million
Bob Nelson
Don Nordlund
Ray Pickett, Jr.
Mike Plummer
Carl Radebaugh
Max Riedlsperger
Ernie Schmidt, USA (Ret.)
Linda Smith^
Nancy Smith^
Jim Speer
Don Sperry
Jim Stanton
Evan Steger III
Jerry Swayzee
Bob Wedgeworth, Jr.
Bob Williams
Class of 1958
George Badgero
Dick Bottomley
Rand Burnette
Gordon Colson, M.D.
Mauri Core
Joe Costanza
Arnold Crowder
Larry Faller
Dave Galliher
Jim Govan
Carole Hinshaw^
Thomas Joyner
Jeanne Kipp^
Philip Krause
Bill Kroll
Ernie Lewis
Joyce Myers^
John Pence
Tom Reetz
Don Selle
Max Servies
Dan Steele
Tom Steele
Wilbur Webb, Jr.
Rick Weber
Frank Whitney
John Wilhelm III
Jack Wyatt
Ron deLanglade
Class of 1957
Betty Allen
Bob Allen
Jerry Boskey
Moe Brand
Chuck Canfield
Larry Chapman
Ed Elliott
Charley Goddard, Jr.
Jerry Grabill
Ken Groskopf
Elias Haddad
Bob Hobson
Jay Huffman
Ken Kimmell
John Kinsey
Joe Krause
Bob Mace
Paul Macri
Mitch Morris
John Nemeth
Thom Olshewsky
Dave Orr
Lee Osmon
Sterling Robbins
John Robertson
Chuck Rohm
Dutch Saettler, Jr.
George Seidensticker III
Gil Shoaf
Jack Stodghill
Fred Wampler
John Yanko
Class of 1956
Dean Ackmann
Cliff Clemons
Don Dinwiddie
Bob Ehrich
Ralph Fenesy
David Givens
Paul Hawksworth, Jr.
Karen Hickman^
Pete Hodges
Tom Hollett
Dick Hurckes
Buzz Koch III
Tom Kometani
Fred LaCosse
Bill Logue
Stan Matheny
Leo McDermott
Les Nell
Dan Olds
Al Pavlikowski
Jim Purdy
Frank Rasmussen
Vince Rizzo
Jerry Schneider
Bob Schwab
Marietta Seibert^
Perry Shipman
Larry Slagle
Dick Sweeney
Mike Takahashi
Bob Webster
Dick Wright
Class of 1955
Lynn Ault
Dick Barger, USN (Ret.)
Wayne Broshar
Sue Foster^
Charlie Hardy
Tom Hays
Rem Johnston III
Jean Ann Johnston^
Bob Kellogg
Mary Knight^
Roger Kumler
Mac Laetsch
Boyd Lowry
David Nall
Dick Payne
Ralph Powell
Charlie Reinhardt
Bob Reinke
Paul Trenary
Cliff Wagner
Judy Wilson Tulley^
Class of 1954
Carol Augsburger^
Ron Callen
Dick Carlson
Jim Cronin
Bjorg Dittus^
Walt Elisha
Charles Ellercamp
Bob Franklin
Bill Garrard
Bill Glascock
Jim Hogshire III
Abe Howe
Stan Huntsman
Bob Johnson
John Lehman
Vic Lindquist
John Pantzer, Jr.*
Anne Pantzer^
John Proffitt, Esq.
Ron Repking
Dick Sadler
Jim Sears, Sr.
Nancy Shenk^
Don Smith
Jim Twomey
Ralph Yount
Chuck Zimont
Class of 1953
Pat Anderson
Jacqueline Carter^
Charles Crume, Jr.
Roger Drummond
Jack Engledow
Tom Florsheim, Sr.
Bob Green
Herb Hawvermale
Calvin Hilgediek
Marjorie Korb^
Bob McLean
Bob Miller
Pete Moffett
Ray Moon
Judith Ray^
Virginia Shaw^
Jim Smith
Louis Sunderland
Jean Williams^
Class of 1952
Wilbur Appel, Jr.
Paul Arnold
Mike Austin
Betsy Beasley^
Buck Buktenica
Bob Elkins, Jr.
Don Fisher
Richard Franks
Tom Henderson
Rolly Hultsch
John Iuppenlatz
Tom Klingaman
Irmi McKinney^
Wanda Millet^
Gail Mullin
Marianne Neidow^
Jean Peters^
Bill Reinke
Bill Rippy, USAF (Ret.)
Hugh Smaltz II
Carole Stribling^
Jim Thomas
Russ Thrall
George Vann
Class of 1951
Ray Bentley
Ben Calacci
Jim Clark
Sandy Clipsham^
Bill Dunbar, Jr.
Bill Ellis
John Emery
Alan Gise
Chuck Goering
Beth Griesser^
Elmer Halwes, Jr.
Stu Jacobs
Ellwood Lewis
Nick Longsworth, Jr.
Don Martin
Dan McLaren
Bill Orman
Margaret Regnier^
Janice Rhoads^
Bob Rogers
Jack Schenck
Jack Schick
Don Shepherd
Joe Smith
Carol Yoder^
Class of 1950
Henry Ahlers*
Millie Ahlers^
Bill Clark
Freda Collings^
Hank Fahl
Jim Givens, Jr.
George Haerle
Norma Johnston^
Esther Keeling^
Douglas Leffler
Fred Lesh*
Byron Lingeman
Dick Maxwell
Tom Payne
Bill Peet
Virginia Prince^
Bob Risley
Paul Rowe
Gayle Scircle^
Bob Scircle*
Dan Ward
Class of 1949
Bob Baur, Sr.*
Joanne Baur^
Frank Beardsley, Jr.
Dick Cherry
Shirley Hendryx
Frank Himes
Ray King
Dale Milligan
Bob Ragan II
Class of 1948
Barbara Allerdice^
Dave Atchley
Bob Christian
Bill Crane
Mary Davisson^
Ralph Dennis, Jr.
Jack Erffmeyer
Dutch Freise*
Jim Haas
Clyde Marr, Jr.*
Wayne Risinger
Ben Sickler
Class of 1946
Jim Clemans
Peggy Gudbrandsen^
June Niccum^
Class of 1945
Don Korb
Class of 1944
Jay Baysinger
Wayne Cox II
James Loy
Dorothy Smitley^
Class of 1943
Paul Benz
Jeanne Meyer^
Class of 1942
Jean Denk^
George Scharf
Class of 1941
Glenn Adams
Patricia Trippet^
Jean Walhay^
Class of 1940
Guy Kinman, Jr.
Sara Kinnaman^
Naomi Lawlis^
Don Scholz
Class of 1939
Mildred Mason^
Class of 1937
Helen Van Duzer^
Class of 1919
Wendell Jay*