Annual MXI Lecture by Stephen Finley
• February 16, 2012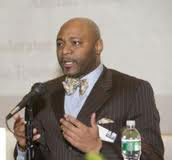 The Wabash College Malcolm X Institute of Black Studies invites the public to a talk by Stephen C. Finley at 7:30 p.m., Tuesday, February 21, in Lovell Lecture Room (101) in Baxter Hall. The title of Finley's lecture is "The Meaning of 'Mother' in Louis Farrakhan's Mother Wheel: Race, Gender, and Sexuality in the Nation of Islam's UFO."
Finley joined the faculty at Louisiana State University in the fall of 2008. He has a joint appointment in the department of philosophy and religious studies and the African and African-American studies program.
Finley received his doctorate in 2009 from Rice University, where his dissertation was accepted with distinction. Finley's research focuses on African American Religion, such as the Nation of Islam and the Black Church. It deals with such issues as embodiment, gender, and sexuality.
He was the associate editor of the Encyclopedia of African American Religious Cultures and has published numerous journal articles, book chapters, encyclopedia essays, and book reviews. He serves as associate editor of the Journal of Men, Masculinities and Spiritualities and has been elected to the executive board of the Society for the Study of Black Religion.
In addition to his evening talk, Finley will give a noon talk, "What is the Nation of Islam?" in the Malcolm X Institute, room 109.
Both talks are free and open to the public.